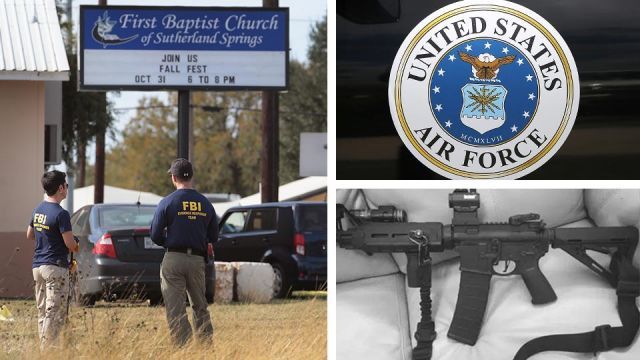 The Air Force is new reporting that they failed to follow their formal procedure of alerting federal law enforcement about the Texas Church Shooter's violent past.
The shooter, whose name will not be mentioned, should not have been allowed to purchase firearms and body armor because of his domestic violence conviction in 2014, when he was serving at Holloman Air Force Base in New Mexico.
According to Air Force spokesman Ann Stefanek, not only was he discharged from the military, he was also sentenced to a full year in prison.
"Initial information indicates that Kelley's domestic violence offense was not entered into the National Criminal Information Center database," Stefanek said in a statement released Monday.
Essentially, they are admitting that the shooter should not have been allowed to buy a gun under federal law.
The shooter posted this on his Facebook on October 29th:
New York Times article names Sutherland Springs shooter as Devin P. Kelley

Here's Kelly's Facebook Profile pic pic.twitter.com/xvdfIQ4mIo

— Hardhat Patriot (@Hardhat_Patriot) November 5, 2017
The 1968 Gun Control Act made it illegal for a licensed firearm dealer to sell a weapon to a person convicted of felonies.
Also, the Lautenberg Amendment later made it unlawful to sell to people with misdemeanor domestic violence convictions.
Thus, the shooter's supposed disqualifying convictions did not pop up when he bought the Ruger AR-556 rifle shown above.
Some lawmakers have been upset with the Air Force not altering federal law enforcement about the shooter's rough past.
Rep. Mac Thornberry, a Republican from Texas, says that his committee will be conducting a "comprehensive oversight" of the issue.
He commented that although the Air Force has their own investigation currently opened, they should get more assistance from other organizations.
"I understand that [Air Force] Secretary [Heather] Wilson has initiated an investigation, but I don't believe that the Air Force should be left to self-police after such tragic consequences. Furthermore, I am concerned that the failure to properly report domestic violence convictions may be a systemic issue," said Thornberry.
Other law makers, like New York Senator Kristen Gillibrand, were upset with how the situation was handled.
"Learning that this senseless act of violence might have been prevented if only the proper form was filled out by military investigators was absolutely devastating," said Gillibrand.
Connecticut Senator Richard Blumenthal also tweeted this:
As a member of Judiciary & Armed Services Committees, I'll call on DoD/DoJ to provide clear picture of where, why & how this process failed.

— Richard Blumenthal (@SenBlumenthal) November 7, 2017
Also, Geoffrey Corn, a former Army lawyer and now professor at South Texas College of Law in Houston, believes that there is some confusion within the Air Force and other military branches about reporting only violent crimes that result in dishonorable discharges. The shooter was discharged because of "bad conduct" for his domestic assault.
"Either the Department of Defense is reporting these convictions, or they're not," Corn said. "How is the federal statute going to be effectively implemented if they aren't reporting these convictions?"
Even Texas's Governor Greg Abbott, a very big proponent of gun ownership, admits that the shooter should not have been able to access these weapons.
"By all of the facts that we seem to know, he was not supposed to have access to a gun, so how did this happen?" Texas Gov. Greg Abbott, R, said in an interview Monday morning on CNN.
Overall, it appears as if there was some mishandling by our government in the process extending from the shooter's time with the military, to when he was back living in Texas.
With two top-five mass shootings in modern United States history happening in the past month, it will be interesting to see what unfolds in regard to gun control and mental health issues across the nation.
If you would like to donate to support the First Baptist Church, you can do so here. They are currently looking for funds which will be used for extremely high medical and funeral bills.
What do you think about this new information surrounding the Sutherland Springs Church Shooting? Do you think the Air Force should take part of the blame with this new information? Let us know.