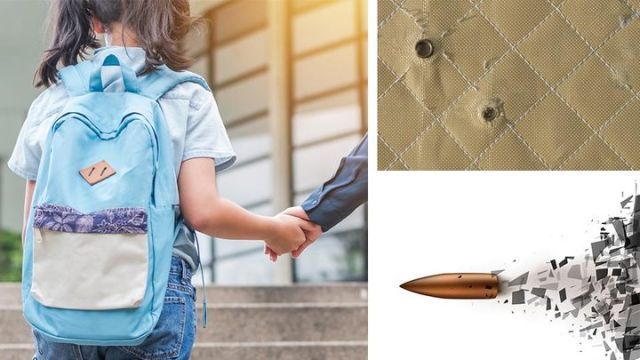 Standardized tests, peer pressure and bullying are stressful enough. But today's students (and their parents) have to cope with a whole new type of challenge — school shootings.
Are bulletproof backpacks the answer?
These incidents can grab the headlines and they are every parent's nightmare. Nevertheless, they are still statistically rare. However, both school officials and parents are trying to take every step they can to make sure kids stay safe.
To that end, private companies and some school districts have been developing and exploring products that will help protect children in the event of a mass shooting in the classroom.
For example, Florida Christian School in Miami (a non-denominational school with kids in grades K through 12) is offering a new line of educational supplies, which include bulletproof panels, which are designed to slip into student backpacks.
School officials are describing the product as a "tool" to help keep children better protected in the event of a horrific attack. As George Gulla, who is responsible for security at the school recently told reporters, "I'd rather be prepared for the worst than be stuck after saying 'Wow, I wish we would've done that."
The bulletproof panels are made by a company called Applied Fiber Concept, a firm that specializes in body armor. Experts say the panels will be able to stop bullets from most handguns, but probably not rounds coming from high-powered rifles and semi-automatic weapons.
Other companies are beginning to market products specifically designed to protect schoolchildren in the event of a mass shooting. A Massachusetts firm, called Bullet Blocker, has introduced a line of bulletproof backpacks, clothing, and binders, which are aimed (no pun intended) at stopping ammo from hitting its target.
Safety experts are skeptical
Kenneth Trump, a school safety consultant, believes this trend may only give parents a false sense of security. He warns that "After every high-profile school shooting, we have an explosion of gadgets, gurus, and charlatans. Corporations see dollar signs, and believe that schools have huge budgets to buy new products and services." But the high price tags on these items divert resources from measures that cost-effective, he argues.
For example, Cathy Paine, a school psychologist and Chairwoman of the National Association of School Psychologists' emergency assistance team explains that "It's such a rare event that an armed intruder will come in — there's a 1 in 2.5 million chance it will happen."
But the odds of being bullied and sexually harassed in school are dramatically higher, she says. Therefore, Paine argues that schools should be dedicating scarce resources to things that will improve safety on a daily basis (as opposed to remote threats).
Despite the hype, bullet-resistant school supplies usually get low marks from safety experts. They say that these products may give parents and students some peace of mind, but that in most cases they are unlikely to be the difference between life and death.  
Security expert Gregory Thomas says that "feel-good solutions like armored book bags don't hurt anything but the wallet." However, insists that an ounce of prevention is worth a pound of cure. After all, as he puts it, "you need to start with seeking out and identifying the kids that are likely to do these shootings before it happens."
— Scott O'Reilley