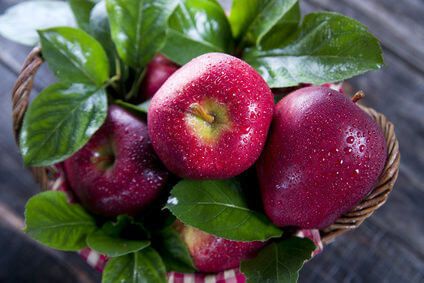 An apple a day… well, you know how the saying goes. And it's true! The health benefits of apples have been touted for centuries. Today, it's important to always select organic apples, as most of the nutrient content is located in the skin.
In fact, researchers have found that consuming an entire apple leads to greater satiety and satisfaction than eating a peeled apple or drinking apple juice. And while there are a wide variety of apples out there, each with their own unique flavor, it never hurts to spice up your daily apple.
Try some of these healthy apple dishes during the season where apples are ripe for the pickin'.
Organic Baked Sweet Potatoes With Apples
Forget sugary marshmallows, try this healthy apple version of a sweet potato side-dish.
Ingredients:
3 medium organic sweet potatoes
3 medium organic granny smith apples
1/3 cup firmly packed organic brown sugar
1 tsp organic cinnamon
1/8 tsp organic nutmeg
1 cup organic apple cider
Preparation:
Cut sweet potatoes into 1 1/2-inch chunks. Bring to boil in a large pot of water. Cook for 15 minutes until tender but still firm. Remove from heat, drain and allow to cool.
Place cooked potatoes in a 2 quart baking dish.
Core apples and cut into 1 inch pieces. Scatter among sweet potatoes and toss. Add cinnamon and nutmeg to brown sugar, then sprinkle sugar mixture over sweet potatoes and apples. Pour apple cider on top.
Cover with foil and bake for 25 minutes. Uncover and bake for 10 minutes.
Organic Apple Cider Slaw
Creamy coleslaws can pack a healthy punch of calories. Try this healthy slaw with the added benefit of apple cider vinegar and granny smiths.
Ingredients:
1 10-oz. bag organic shredded green cabbage
1 cup chopped organic granny smith apples
1/3 cup organic sour cream (or vegetarian/vegan alternative)
2 Tbsp organic mayonnaise (or vegetarian/vegan alternative)
2 tsp organic unfiltered apple cider vinegar
2 tsp organic sugar
1/4 tsp salt
dash of ground black pepper
Preparation:
In a large bowl, combine the shredded cabbage and apple. In a separate small dish, mix together the sour cream, mayonnaise, cider vinegar, sugar, salt, and pepper until the mixture is smooth.
Pour the sour cream mixture over the cabbage, and gently toss together until the cabbage is evenly coated. Cover, and refrigerate for at least 15 minutes before serving.
Organic Cranberry and Apple Stuffed Acorn Squash
This colorful and flavorful side dish is the perfect healthy accompaniment to any special meal.
Ingredients:
2 organic acorn squash
Filtered water or organic apple juice
2 organic apples cored and diced
1/2 cup organic dried cranberries
1 teaspoon organic cinnamon
2 tablespoons melted organic butter or coconut oil
Sea salt and fresh ground black pepper to taste, optional
Preparation:
Cut squash in half and with a spoon, remove pulp and seeds.
In a large baking dish place squash cut-side down.
Pour 1/4-inch boiling water into dish (or use 1/4 inch room temperature apple juice for extra sweetness). Place dish in oven and bake squash for 30 minutes at 350 deg F.
In a large bowl, combine apples, cranberries, cinnamon, butter, salt, and fresh ground black pepper to taste to make stuffing.
Remove squash from the oven after the 30 minutes.
Turn halves over and stuff center of each squash half with apple mixture.
Return to oven and bake for 30-35 minutes or until squash and apples are tender.
Organic Chicken Fruit Packet
While apples make a great snack, there's no reason not to incorporate them into the main meal.
Ingredients:
1 lb. organic boneless, skinless chicken breasts
2 organic firm pears, cored and sliced
1 organic Granny Smith apple, cored and sliced
1/2 cup organic honey mustard salad dressing
1 clove organic garlic, minced
1 tsp. organic dried thyme leaves
1/8 teaspoon pepper
Preparation:
Cut chicken into 1″ pieces. Divide chicken, pears and apple among four 18×12 inch sheets of heavy duty aluminum foil.
Drizzle with dressing and sprinkle with garlic and thyme.
Fold foil over chicken and fruit. Fold edges over 1/2″ and repeat. (If you are preparing this in the morning, brush the pears and apple with a little lemon juice so they don't turn brown.)
Allow space on sides of the packet for circulation and expansion during cooking. Place packets on grill and cover.
Grill 4-5 inches from medium heat 10-15 minutes or until chicken is thoroughly cooked and no longer pink when cut in center.
Place packets on plates, cut large X across top, and fold back foil to serve.
Organic Grilled Cinnamon Apple
Apple pies are a staple dessert, but those flaky crusts can add inches to your waistline. Let the apples be the star of the dessert by tossing a few on the grill.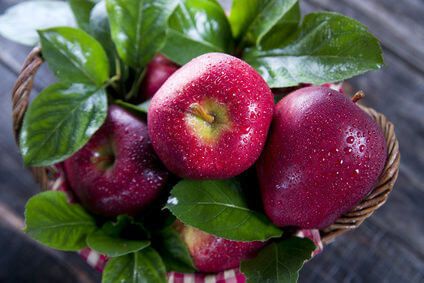 Ingredients:
2 organic apples cored and cut into thin slices
1/2 cup water
1/4 cup organic lemon juice
2 tablespoons organic brown sugar
1 teaspoon organic cinnamon
Preparation:
Preheat grill for medium heat.
Combine water and lemon juice in a large bowl.
Add apple slices to mixture. In a small bowl combine cinnamon and sugar.
Place apples on grill rack and allow to cook for 6-8 minutes on each side, turning once.
Once cooked, place apples on a large dish and sprinkle with sugar mixture.
-The Alternative Daily
Sources:
http://www.whfoods.com/genpage.php?dbid=15&tname=foodspice#howtouse
http://glutenfreecooking.about.com/od/seasonalandholiday/a/20glutenfreeapplerecipes.htm