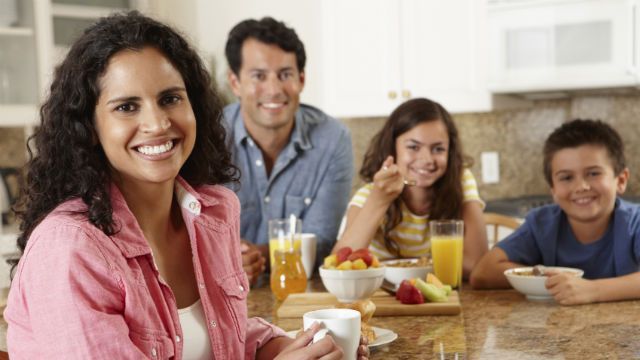 There are a number of reasons not to eat grain. Some grain, such as wheat, is linked to damaging the stomach lining, because of a protein called WGA. Some contains phytates, which may prevent vitamins and minerals from being absorbed in the body. Plus, grain contains carbohydrates… a lot… which in excess lead to obesity.
If you've chosen to go grain-free, when selecting something for your breakfast, you obviously must stay away from breakfast cereals, pancakes, and donuts (which aren't healthy anyway). So, what's a grain-free breakfast-seeker to do?
Why not start your day with a grain free breakfast that's yummy and nutritious? Here are three ideas to start you off.
Breakfast Casserole
1 pound organic, grass-fed beef (ground)
1 large sweet potato, or 2 medium, diced
2-3 cups fresh baby spinach, chopped
1 green onion, diced
10-12 large free-range eggs
Sea salt and pepper to taste
Directions:
Preheat oven to 375 degrees and grease a 9×13″ glass baking dish with coconut oil.
Prepare the veggies. Dice sweet potatoes, chop spinach, and dice up green onion.
Heat a skillet over medium-high heat. Add ground beef to skillet. Cook until browned and cooked through. Remove the beef from the skillet, keeping the grease. Add sweet potatoes to grease and cook until tender, stirring occasionally, about 10 to 15 minutes.
Remove the sweet potatoes and place into a bowl. Toss the sweet potatoes with spinach, green onion, sausage, and salt and pepper until well combined.
Place the mixture into your prepared 9×13 glass dish, spreading evenly across the bottom of the dish.
In another large bowl, beat the eggs. Pour the egg mixture evenly over the beef and veggie mixture in the dish.
Bake in preheated oven for 25 to 30 minutes, or until set. Allow to cool slightly before serving.
Cut into squares and serve.
Apple, Pecan & Chicken Butternut Squash Hash
Ingredients:
About 2 cups diced butternut squash (fresh not frozen)
1 cup diced tart apples (about 1 large apple, Granny Smith is best)
About ¼ pound organic, free-range chicken breast, cubed
¼ cup or more chopped green onions, to taste
Sea salt and fresh cracked pepper to taste
Directions:
Preheat the oven to broil (you can skip the broiling and cook everything in the pan too, but precook the butternut squash first)
After prepping the ingredients, heat a large skillet over a medium heat.
While the skillet is heating up, spread the diced butternut squash out evenly onto a parchment paper-lined cookie sheet. Place under the broiler. Broil the butternut squash till it just starts to brown in spots and develops a skin, about 10-15 minutes. Stir once halfway through cooking. Watch that it doesn't burn too much.
Remove from the oven.
While the butternut squash is baking, add the chicken breast cubes to the preheated skillet. Cook until done through, then set aside to cool.
Add some organic coconut oil to the pan.
Add all the butternut squash and apples to the pan, and continue to cook and stir the hash over medium heat until the apples just begin to soften. It helps to spread the mixture evenly around the pan, then let it sit for a moment before continuing to flip/stir it around again. This will help it to 'brown' instead of steam itself, which could result in a soggy hash.
Remove from the heat, add the chicken pieces, scallions, sea salt and cracked pepper to taste.
High-Energy Raw Breakfast Cereal
Small handful raw pecans (6-10 half nuts)
Small handful raw walnuts (6-10 half nuts)
Small handful raw almonds (8-10 whole nuts)
Small handful raw sunflower seeds
Small handful raw pumpkin seeds
Very small handful raw sesame seeds
Very small handful organic raisins
Very small handful pure, organic coconut flakes, unsweetened
Very small handful goji berries or other dried berries
Large pinch unsweetened raw cacao nibs (optional)
Fresh fruits of your choice, cut up
Directions:
Combine all of the ingredients in a cereal-sized bowl until you have the amount of cereal you want to eat.
Feel free to substitute nuts, seeds, or fruits according to taste and availability.
Pour hemp milk, almond milk, organic coconut milk, organic whole milk, or organic kefir over the cereal.
If you continue to eat grain-free food, you may notice that you have more energy, better moods, improved digestion and even more success with weight loss. So, give it a try, your body may just be glad you did. You've got nothing to lose… oh, except weight!
Note: If this is your first time completely eliminating grains from your diet, it may help a lot to talk to a doctor, nutritionist, or other health professional you trust, to make sure you're getting the necessary nutrients that your body needs from other foods.
-The Alternative Daily