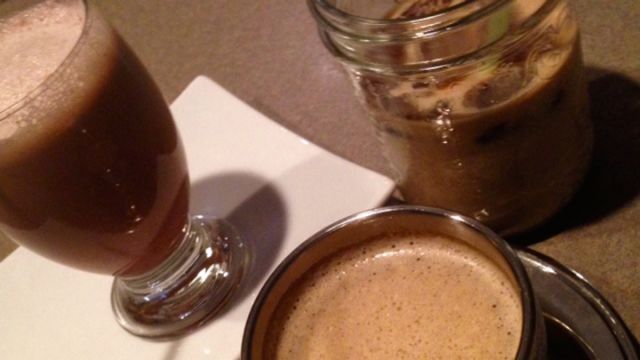 Ditch the refined sugar, processed whipped topping and the high cost of coffee shop drinks. Making your own version of popular brews at home is fun and delicious. You don't need to be a barista or own any fancy equipment — just a coffee pot and a blender will do! The best part? You can use whatever sweetener you want: raw honey, maple syrup or even stevia. All the same "perks" without the guilt.
The benefits of coffee
In recent years, researchers reported that drinking coffee is associated with a lower risk of depression among women, a lower risk of lethal prostate cancer among men and a lower risk of stroke among men and women according to Harvard Health. What once was villainized as a health risk is now proven to have some significant health benefits. That's a big "thumbs up" for coffee lovers!
Coffee shop faux pas
Things can get a little sticky when a great cup of coffee transforms into a dessert, thanks to the addition of refined sugars and processed whipped toppings. While there's no denying that coffee shop drinks do taste amazing — who doesn't love a pumpkin spice latte? — the added calories and inflammation in your body each time you indulge is disturbing, to say the least.
Chronic low-grade inflammation leads to cholesterol-clogged arteries, suggests Harvard Health. That means chronic inflammation can fuel a heart attack, stroke, peripheral artery disease and vascular dementia, a common cause of memory loss. Guess what? Refined sugar is one of the biggest culprits for causing inflammation in your body.
While grabbing that coffee shop vanilla bean latte or salted caramel mocha may seem like a good idea, you're unknowingly setting yourself up for a diet failure and also placing yourself on a path that may eventually lead to heart disease.
Create a healthier version
Here's what you can do, suggests Dr. Dwight Lundell: Eliminate inflammatory foods from your life — well, at least try to reduce them. Instead, add fresh unprocessed foods into your diet. The same principle can be used for those calorie-laden coffee shop drinks. You can still enjoy a gourmet cup of coffee worthy of your favorite coffee shop — from your own kitchen. But this version will be healthier!
Frozen Mochaccino
If you're crazy for frozen coffee drinks, then this will definitely hit the spot. This easy homemade version uses frozen coffee cubes, almond milk, raw cacao and maple syrup for sweetening.
Why use raw cacao? The powder is made by cold-pressing unroasted cocoa beans, which retains the living enzymes in the cocoa and removes the fat cacao butter. While cocoa looks the same, sadly it's not. Cocoa powder is raw cacao that has been roasted at high temperatures, which changes the molecular structure of the cocoa bean, reducing the enzyme content and lowering the overall nutritional value.
Serves 2
Prep time: 10 minutes
Ingredients
1 cup strong brewed organic coffee, cooled

1 cup almond milk (or coconut milk)

2 tbsp raw cacao (or unsweetened natural cocoa powder)

2 tbsp pure maple syrup

1/2 tsp pure vanilla extract
Instructions
1. Pour the cooled coffee into an ice cube tray and freeze until firm, at least 4 hours or overnight.
2. Combine the frozen coffee cubes, almond milk, raw cacao, maple syrup and vanilla in a blender until smooth.
3. Divide between two glasses and serve immediately.
Rich Vanilla Latte
Serves 2
Prep time: 10 minutes
Ingredients
1 cup of strong brewed organic coffee

1 cup of  almond milk (or coconut milk)

1 tsp vanilla paste (or vanilla extract)

1 tbsp coconut oil

1 tbsp raw honey

1 tsp ground cinnamon
Instructions
1. Combine all ingredients in a blender and process until light and frothy.
2. Pour evenly into two cups and sprinkle with additional ground cinnamon if desired.
Iced Coffee
Serves 2
Prep time: 10 minutes
Ingredients
1 cup of strong brewed organic coffee, cooled

1 cup of  almond milk (or coconut milk)

1/2 tsp vanilla extract

1 tbsp raw honey (or maple syrup)

1 cup of ice
Instructions
1. Combine coffee, almond milk, vanilla and raw honey.
2. Fill a tall glass with ice and add the coffee mixture. Pop a straw in and enjoy!
— Katherine Marko