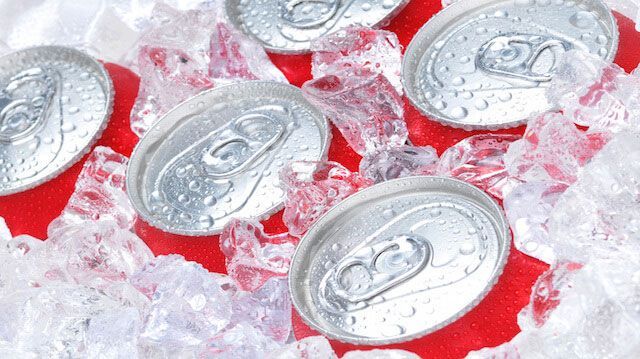 Research published in the journal Circulation shows the shocking fact that sugary drinks claim up to 184,000 adult lives each year.
Sugary drinks are proving to be deadly
"This is a single dietary factor with no intrinsic health value causing tens of thousands of deaths per year," said study co-author Dr. Dariush Mozaffarian, dean of the Friedman School of Nutrition Science & Policy at Tufts University, Massachusetts. "It's time to remove sugary beverages from the food supply."
The research looked at the sugary beverage consumption as outlined in 62 dietary surveys collected from 51 countries. It also included information on the availability of sugar in 187 countries. Altogether, the data was gathered between 1980 and 2010 from over 611,000 people.
The study focused on sugar intake from fruit drinks, energy and sports drinks, sugar-sweetened sodas, homemade sugar-sweetened drinks, and sweetened iced teas with 50 kilocalories or more in each serving. The only exclusion was 100 percent fruit juices.
Gathered data showed staggering links between sugary drinks and death
By performing meta-analyses of other published studies, the researchers were able to obtain the necessary data on the impact of sugary drinks on human health. They evaluated the studies for links between sugary beverages and health issues like diabetes, cancer, and cardiovascular disease.
They concluded that in 2010, sugary drinks were possibly responsible for the following:
  

133,000 deaths from diabetes

  

45,000 deaths from cardiovascular disease

  

6,450 cancer-related deaths
The full impact of sugary drinks on health varied quite a bit depending on the popularity with specific demographics and countries. Mexican adults under 45 years old had a 30 percent rate of sugary-drink related deaths compared to less than one percent in Japanese people above 65 years of age.
Mexico was number one in sugary-drink related deaths, the U.S. was second
In fact, out of the data gathered, it was determined that Mexico was number one in highest sugary-drink related deaths, while the U.S. came in as the second highest. Mexico had an estimated 405 deaths per million adults related to sugary beverages, and the U.S. had a total of 125 related deaths per million adults.
There was speculation that some of the high consumption of sugary drinks in Mexico and Latin America might be related to a lack of adequate amounts of safe drinking water.
The American Beverage Association countered the results with a statement declaring the study "does not show that consuming sugar-sweetened beverages causes chronic diseases."
The statement also added, "The authors themselves acknowledge that they are at best estimating effects of sugar-sweetened beverage consumption. America's beverage companies are doing our part to offer consumers the fact-based information and the beverage options they need to make the right choices for themselves and their families."
While the study was not perfect, the facts are still believed to be accurate
As stated by Dr. Mozaffarian, "You could say that this isn't perfect, but I think that if the beverage industry says we're not sure that soda causes obesity, they're just putting their heads in the sand, and we're not including all the other health impacts, like back pain, gallstones, joint disease, that are caused by obesity."
"The study is not a randomized controlled trial, so one can't be certain that it was the sugar-sweetened beverages causing the deaths," said Liz Ruder, a professor of nutrition and dietetics from the University of Pittsburgh Medical Center. "But because the authors have employed sophisticated statistical techniques and they have rich food consumption data, I believe that these data are likely to be accurate."
"There are no health benefits from sugar-sweetened beverages, and the potential impact of reducing consumption is saving tens of thousands of deaths each year," said Mozaffarian. "It should be a global priority to substantially reduce or eliminate sugar-sweetened beverages from the diet."
There's growing evidence that sugar is a huge detriment to human health. Why not make the best choice for your health and stop that soda drinking habit today!
—The Alternative Daily
Sources:
http://www.nbcnews.com/health/diet-fitness/sugary-drinks-may-kill-184-000-people-each-year-says-n384026
http://www.usatoday.com/story/news/world/2015/07/01/globalpost-mexico-sugary-drinks/29554963/
http://www.dailymail.co.uk/news/article-2296146/Sugary-drinks-kill-180-000-people-annually-diabetes-cancer-heart-disease-study-claims.html
http://now.tufts.edu/articles/put-down-soda?utm_source=Tufts+Now+-+Faculty+and+Staff&utm_campaign=62ec8f177b-Tufts_Now_internal_150701&utm_medium=email&utm_term=0_e2c82ed1e3-62ec8f177b-207417285