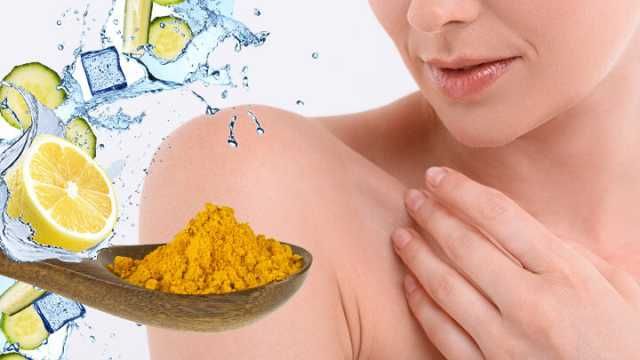 We eat a whole lot of curry in our household — and I mean a lot. We're always experimenting with new combinations, made with nutrient-rich ingredients. Chana masala is my absolute favorite stew-like curry, made with chickpeas, green chilies, a big heaping spoon of turmeric.
We've built up quite the collection of herbs and spices. And if there's one spice we're never without, it's turmeric. Dropped into our smoothies and sprinkled on our cod, I try to use this Indian herb as much as possible, especially when I'm cooking for my 87-year-old Oma.

She suffers from rheumatoid arthritis, so my goal is to fill her up with as many natural anti-inflammatories as possible — and turmeric is king. It's certainly a tasty and healthy addition to any meal, but turmeric has another incredible benefit to add to its resume.
I'm sure you've heard of golden turmeric milk, but what about turmeric ice cubes for your skin? That's right! You can combat puffiness and facial irritation with this simple and effective home remedy.
The healing powers of turmeric
The use of turmeric dates back approximately 4000 years, for culinary, beauty, religious and medical purposes. Studied extensively within the past 25 years, turmeric has been featured in over 3,000 publications. Based on the research, more than 100 components have been isolated from this golden spice.
Its rich color comes from agents known as curcuminoids, which are natural antioxidants. Used as an herbal remedy, turmeric can aid conditions such as liver ailments, arthritis, skin cancer and so much more. This is based on its wide range of properties, including anti-inflammatory, antimicrobial, carminative, anti-cancer and choleretic actions.
It's clear that turmeric is all-healing, but how can it improve the look and feel of your skin?
Exclusive: 99 Reasons Why Turmeric Is The Best Spice Ever
The benefits associated with topical application
Turmeric is great for your physical and mental health when taken internally, but it also offers powerful external benefits. Before we dive into turmeric ice cubes, here are just some of the ways in which you can benefit from topical application.
Speeds healing
Whether you have a cut, scrape or acne-related wound, turmeric ice cubes can help you heal more rapidly. Unlike chronic inflammation, a cut generally causes acute inflammation, which is why an area on your skin will be red and swollen. Although its role as an anti-inflammatory is key, turmeric also acts as a natural anti-bacterial.
Within one key study, published in the West Indian Medical Journal, researchers studied three groups of women following a Caesarean operation. They found that when using a turmeric cream, wounds healed significantly faster. Researchers concluded that using turmeric following a Caesarean can reduce your risk of complications.
In everyday life, turmeric ice cubes can most certainly assist in times of need, or you can make a paste. To enhance healing properties, combine a teaspoon of turmeric with coconut oil. Rub it onto the affected area to reduce redness, the risk of infection and scarring.
Combats acne
For those who suffer from acne, you have likely tried just about everything. Unfortunately, many over-the-counter medications and creams dry out your skin, without combatting the root cause of your acne. When turmeric is applied to problematic areas, however, it can help destroy the bacteria that cause inflammation.
For many, acne results from overactive sebaceous glands. A key sign that this is the case will be oily skin, which can be remedied by turmeric. Within a 2012 study, published in the Tropical Journal of Pharmaceutical Research, turmeric reduced sebum secretion. Although benefits were experienced after four weeks, the amount of sebum was reduced by nearly 25 percent after three months.
Slows aging
We all age, that much is certain. And although the aging process is dependent on genetics, our environment also plays a key role. From smoking to pollution, poor nutrition to sun exposure, there are plenty of extrinsic factors. This, of course, leads to age spots, wrinkles and changes in pigmentation.
To combat these effects, a diet rich in antioxidants is highly recommended. Helping to reduce oxidative stress, the curcuminoids in turmeric can reduce the effects of free radicals. Within one study, published in Immunity & Ageing, researchers concluded that turmeric may be a key ingredient to reduce the effects of aging.
Prevents skin cancer
Curcumin, one of the three curcuminoids in turmeric, has been shown to possess powerful anti-cancer benefits. In fact, it may destroy tumor cells, while allowing normal cells to thrive. At this time, this is something that traditional chemotherapy cannot do.
When aiming to combat various types of skin cancer, including basal cell carcinoma and melanoma, curcumin extract therapy has been shown to be effective — without the risk of significant adverse effects. At this time, skin squamous cell carcinoma is the most common cancer in the United States.

It's believed that there's a correlation between tanning booths, sun-damaged skin and increasing rates of skin cancer. As stated in one study, topical application of curcumin was as effective as oral administration. When using a mouse cancer model, topical curcumin suppressed tumor growth.
How to make your own turmeric ice cubes
Whether you'd like to soothe acne or reduce the appearance of puffy eyes, these ice cubes will be your secret weapon. Although I certainly recommend consuming turmeric on a daily basis, to heal from the inside out, you can also target skin conditions externally.
Turmeric Ice Cubes Ingredients
1/2 tsp turmeric root (fresh if you can get it — if not, use powder)

1/2 cucumber, sliced

1 cup aloe vera gel (real gel or juice)

1/3 cup water

1/2 lemon, juiced
Instructions
1. Blend all ingredients, then pour into a large ice cube tray.
2. Place in freezer for three to four hours, until frozen.
3. Place turmeric ice cubes inside a cheesecloth and massage over problematic areas.
Use these turmeric ice cubes as needed. Make sure to also try experimenting with a range of new turmeric recipes, including:
Regardless of your age, it's never too early to start treating your skin. After all, we're aging every day. If you invite turmeric into your day-to-day routine, you can begin to see dramatic differences in terms of pain levels, your mood, digestion and overall well-being.
Remember, "medicine" does not just come in capsule form — and turmeric is a perfect example. With its vast history and place in modern medicine, there's no denying its power. After all, health is wealth, so start investing in your spice cupboard, stocking up on this golden treatment today.
— Krista Hillis