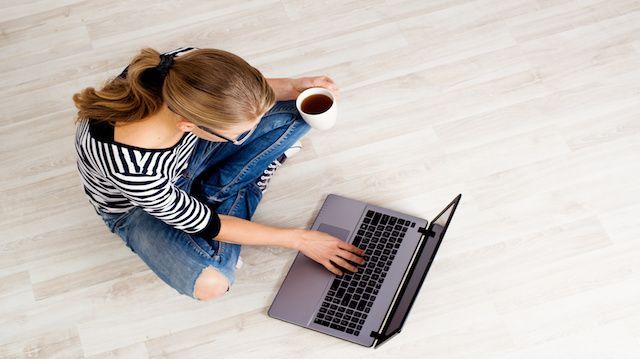 Everyone has their own, unique opinion on what constitutes the "ideal" place to live. Some prefer hot, tropical weather while others would rather bundle up in the chilly mountains. One may prioritize a great school system over a low cost of living, or privacy over community. Either way, being able to choose the quintessential "best" place to live without concern for your employer's location is a luxury not everyone can have. That is, unless you work online.
Working online allows people the benefit of working from home. And when you work from home, it goes without saying that you could live pretty much anywhere. Still, there are many factors to take into account when deciding on a place to live, such as cost of living, adequate amenities and, perhaps most importantly if you work online, fast Internet. We've done some digging and ranked some of the best places to live in America — if you can work online.
Boulder, Colorado
If you are an outdoor enthusiast, living in Boulder might be the perfect place for you to settle. The small city of just over 100,000 people boasts incredible mountainous scenery as well as a strong local farming community. The cost of living is relatively affordable, with houses averaging around $450,000 and grocery costs lower than average when compared to the rest of the country.
Internet accessibility is also ideal, where high-speed Internet with download speeds of 1 gigabit per second costs approximately $50 per month. Due to the mountainous topography of the city, 4G connectivity can be spotty in the outskirts of small towns, but it tends to be quite good within city limits.
Boulder is also home to a public school ranked second in the whole of Colorado. Fairview High School is preceded by just one other school, which is located in the extremely costly ski resort town of Aspen. 
Bellevue, Washington 
If you enjoy living by the coast, Bellevue is a great place to live. In fact, the city's name actually translates from French as "beautiful view." With a population of 129,000, the picturesque town offers beautiful parks, great bike paths and a bevvy of esteemed restaurants. The cost of living is a little more expensive than some other American cities, with homes averaging around $500,000. Still, the quality of amenities and attractions in the city makes up for the extra dollars you may have to spend on housing.
Bellevue weather is ideal, ranking above the national average, with little snow and 155 days of sun per year. Schools are also well above the national average in quality. 
Internet connectivity is advanced in the Seattle/Bellevue area, with plans offering 350 Mbps download speeds for an installation fee of $350 and no monthly payments for 60 months.
Iowa City, Iowa 
If a younger population is part of your livability criteria, you may want to consider Iowa City. Home to the University of Iowa, college students claim nearly half of the city's population of 69,000. This contributes to the town's burgeoning arts and entertainment scene and ensures that there will always be something going on.
Iowa City is known for its excellent school district, offering some of the best public schools in the state. Cost of living is extremely affordable, with houses averaging $180,000 and utility costs lower than the national average.
Due to the large student population, Internet is sure to be fast and affordable in the city. Plans with download speeds of 5 Mbps are relatively cheap, and fast Internet (10 Mbps) is available for a higher cost. Catering to the college scene, there are also numerous coffee shops and writers hubs that offer free Wi-Fi.
San Antonio, Texas 
With a warm, sunny climate and a very low cost of living, San Antonio could be your perfect permanent residence. The city is quite large when compared with other places on our list, hosting a population of 1.5 million. It also is one of the top 10 cheapest cities to live in America, with a median home price of $150,000, and groceries, health care, transportation and utilities all below the national average.
The climate of San Antonio is favorable if you prefer the heat, as the average temperature rarely falls below 55 degrees, even in the winter. School districts are above the national average. The city also offers an array of exciting restaurants, cafés and nightlife.
Internet connectivity is affordable and fast due to the city's large population. In fact, in 2014 San Antonio approved construction for Google's coveted high-speed Fiber Internet, so online speeds are sure to increase even further in the future.
Canby, Oregon
If fast Internet is your number one priority when choosing a place to live, consider Canby, Oregon. Located between Salem and Portland, the very small town of 15,000 is one of the only cities in the country to offer Gigabit Internet, the fastest broadband Internet available in the country. The price of this service is astonishingly affordable as well, costing a mere $50 per month. 
Fortunately, cost of living in Canby also happens to be quite affordable, with median home prices at around $220,000 and utilities below the national average. Amenities in the area are also favorable despite the town's small population, with an assortment of restaurants, parks and coffee shops within close proximity.
Bonus: Why not go abroad? 
Of course, if you work online you are not beholden to remain living in the United States. In theory, you could make money anywhere in the world, as long as you had adequate Internet access. If you have dreamed of the nomadic life, you could AirBnb your way around the globe while still making a decent living. 
According to the Nomad List, an organization of world travelers and remote workers, Chiang Mai, Thailand, ranks as the greatest place to live in the world for people who work online. The city offers a tropical climate, diverse wildlife, cheap cost of living and good Internet access. It is also a very safe place to live, with a friendly atmosphere and an array of local cafés and restaurants to work from. 
Would you take the plunge and become a nomad, working your way around the world? Or would you prefer to remain in the comfort of America, working from home in one of these great towns?
—Stephanie Catudal
Stephanie Catudal is a mother, writer, hiker and outdoor enthusiast.  She can often be found exploring the Ponderosa pine forests of Northern Arizona, or splashing in the cool waters of Sedona's red rock canyons with her husband and two daughters.  Steph is a holistic health enthusiast and finds strength in her personal pursuit of fitness and wellness.  She has degrees in Media, Peace and Conflict studies and is passionate about building peace both abroad and within her community.
Sources:
http://www.geekwire.com/2013/gigabit-squared-announces-pricing
http://www.forbes.com/sites/jaymcgregor/2014/08/13/the-cheapest-cities-in-the-world-to-work-remotely/#6a462ebc184c
http://www.boulderweekly.com/news/2c-or-not-2c-isnrsquot-the-question
https://k12.niche.com/rankings/public-high-schools
http://www.bestplaces.net
http://www.thestreet.com/story/13291294/7/the-15-best-places-to-live-in-the-united-states.html
http://www.pcmag.com/slideshow/story/310861/if-you-want-gigabit-internet-move-here/5
https://nomadlist.com/chiang-mai-thailand
http://www.areavibes.com