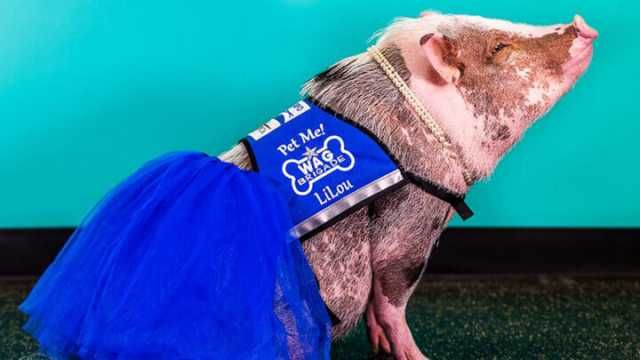 Travelers passing through San Francisco International Airport (SFO) might be surprised to see a cute animal in a tutu waiting at the gate. Meet LiLou, the airport's first therapy pig. She's there for stressed travelers flying in and out of SFO, introducing a new way to calm weary nerves.
The Wag Brigade recruits a new member
In 2013, SFO launched a new program called the "Wag Brigade." Through the San Francisco Society for the Prevention of Cruelty to Animals (SPCA), dogs certified through their Animal Assisted Therapy (AAT) Program roam the terminals. Nearly two-dozen trained therapy dogs, carefully selected for their temperament and airport suitability, wear vests that read "Pet Me!" The trained dogs meet passengers and generally make travel more enjoyable.
Now, it seems they've added a new non-canine member to the Wag Brigade. The newest recruit, LiLou, is a spotted Juliana mini pig — and she's a hit.
"It was like an A-list celebrity walking through the terminal," said SFO public information officer Doug Yakel to the New York Post, of LiLou's Monday debut. "You couldn't get 10 feet without people running up to see her or taking out their cellphones to get a picture. She really has a magical effect on people," said Yakel.
Like her canine counterparts, LiLou roams the terminals. But this little piggy entertains guests wearing costumes. She even has her nails painted red. She twirls and stands on her back legs while wearing a tutu, and other times she plays a toy piano.
Pigs make great pets too
When you think of a pet pig, you probably imagine a farm animal roaming your living room and barreling through your great grandmother's antique hutch. But nothing could be further from the truth. Mini pigs make great pets, says "Three Little Pigs," one of Canada's premier leading breeders of mini pet pigs.
They're intelligent, loyal and as dedicated as a dog. Yet, they remain relaxed and as cuddly as a kitty. And just like LiLou, mini pigs are easily trained to do tricks, walk on a leash and even use a litter box. They're also ideal pets for allergy suffers since they're hypoallergenic. So, if you've avoided getting a pet for fear your allergies would flare, why not adopt a pig?
Other "pet-friendly" airports
Several other airports have also brought in therapy animals to help soothe stressed-out travelers. Los Angeles International Airport (LAX) has the Pets Unstressing Passengers (PUP) program. Denver International has the 53-strong Canine Airport Therapy Squad (CATS). And, the Cincinnati/Northern Kentucky International Airport has Dakota, a miniature therapy horse.
"It's a proven scientific fact that petting an animal lowers blood pressure, lowers the heart rate and slows breathing down," suggests Nancy George-Michaelson, executive director of New York Therapy Animals.
For those who won't be passing through SFO anytime soon, you can find LiLou on her Instagram account, @lilou_sfpig. Meanwhile, LiLou seems quite content strutting her stuff up and down the terminal and lapping up affection from the "pig-loving" travelers.
— Katherine Marko
(Feature Photo Courtesy: ABC News)