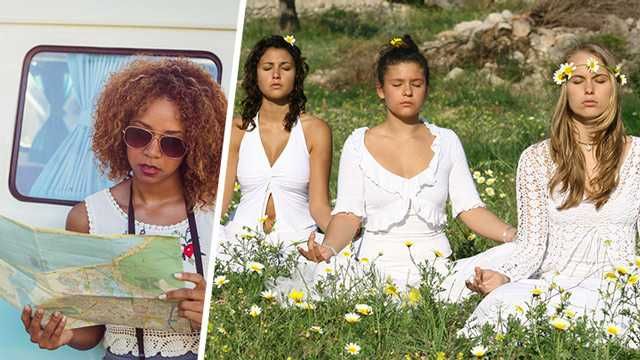 The hippie ethos is always something I've found intriguing. I was a kid during the height of the flower power era, but I'll never forget walking past a group of long-haired free-spirits from the neighborhood where I grew up. They inspired a certain amount of trepidation because they were so much bigger and older, but I also remember their carefree smiles and the happiness they exuded.
I may have missed the counter culture heyday, but for me, the spirit of brotherhood, nonconformism and ecological sustainability of that generation is something we could use a little more of.
It's not possible to travel back to the late 1960s and early 1970s, but I believe there still are some modern day destinations that can help you tap into some of the ideals the peaceniks represented. With that in mind, here are five sustainable destinations for your inner hippie.
1. The Glastonbury Festival
The green fields of Somerset, England are home to the world-famous performing music and arts series, which is held most years at the end of June.
The landscape here is steeped in mythic lore. According to legend, King Arthur was restored to health on the Isle of Avalon, pursued his quest for the Holy Grail, and was later entombed somewhere in the majestic forest hills. Not surprisingly, it is a popular destination for new-agers in search of cosmic enlightenment and aging hippies looking for herbal remedies on High Street.
In keeping with the idea of sustainability, the festival is given a rest once every five years. This "fallow" period allows the nearby residents and the environment a chance to recover from the annual influx and disruption.
2. Eugene, Oregon
Psychedelic Guru Timothy Leary said, "Turn on, tune in and drop out." In the 60s, a lot of the hippies that took his advice ended up making their way to the pristine countryside of Eugene, Oregon, where they became organic farmers, arts and crafts makers, and operators of vegetarian restaurants.
Today, hippies are the local political establishment. Not surprisingly, Eugene is a leader when it comes to fossil-fuel reduction and green energy initiatives. The annual Oregon Country Fair is a counterculture happening that is literally out of this world.
3. Burlington, Vermont
In 2015, this New England city became the first municipality in the country to run entirely on renewable energy. It's also the home of the jam band Phish, Ben & Jerry's ice cream and the Burlington Earth Clock, which is a granite sundial that can reportedly "restore inner peace and inner strength."
The hippie outlook is very much in evidence when it comes to Burlington's politics. To begin with, the municipality consistently ranks as one of the country's prettiest cities and elected officials tend to emphasize both environmental and socialist ideals. For example, progressive presidential candidate Bernie Sanders was the mayor of Burlington for almost a decade.
Burlington's year-round farmer's market may not be quite the trip that Woodstock was, but it's a great place to find organically grown produce, locally made arts and crafts, and vendors offering tie-dyed t-shirts.
4. Asheville, North Carolina
This place is often described as the Hippie Capital of the South. As you might expect, the city is renowned for its farmer's markets, live street musicians and weekly drum circles.
However, the city is known more for its outdoorsy hiking, biking and nature trails than it is for its head shops. So, if your inner hippie is seeking to commune with nature, then a visit to the nearby Pisgah National Forest, with its 60-foot natural water slide, is probably just your ticket to ride.
5. The Martin Guitar Factory
Before he went electric, Dylan played a Martin acoustic. So did John Lennon, Paul McCartney, Joni Mitchell, Neil Young and nearly every 60s folk or rock icon. Heck, the perennial hippie Willie Nelson still only plays one guitar — his beat up Martin N-20, which he calls "trigger."
Martin & Co's acoustic guitars have come to symbolize the sonic purity that defined the folk revival. The guitar manufacturer has been around for more than 180 years, so their roots go deep, but the family-owned (and privately held) company has long embraced the ideals of environmental stewardship when it comes to the selection of tonewoods and guitar-building.
For instance, they have signed on board for the Rainforest Alliance certification process, which helps ensure that their instruments meet the "highest social and environmental standards on the market."
A visit to their factory in Nazareth, Pennsylvania is a must not only for music lovers, but also for anyone one wants to see for themselves how tradition, sustainable environmental ideals and modern production practices can go hand-in-hand.
The Martin facility includes a free tour, free access to the museum and a high-end room where you can strum vintage instruments. It only takes a few hours to complete the experience, but it's a trip that sure to strike a chord with virtually any inner hippie harboring musical interests.
Connect with places on a deeper level
There are great destinations for your inner hippie in virtually every state and across the world too. At its best, flower power represented a vision of social justice, harmony between humans and nature, and higher states of consciousness. There are still places where seekers and free spirits can connect with life on a deeper level. What Shangri-La of mindfulness, inner peace and cosmic bliss awaits to turn you on?
— Scott O'Reilly