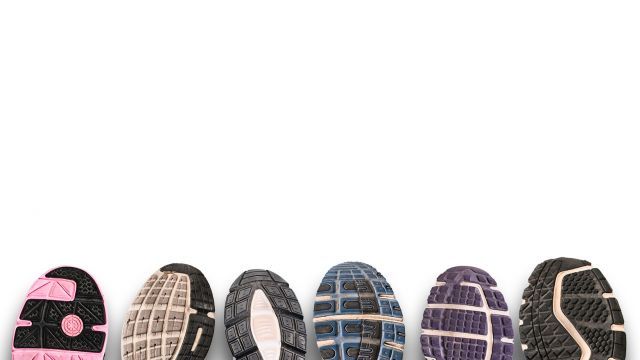 It is imperative to find the correct shoe for your feet. Wearing the wrong shoes could hurt your feet, and since everyone's feet are different, is important to try on different types.
You might do best to find an expert that can fit your foot for the perfect shoe. Here are some tips on finding the correct shoe for your feet.
You will need to a shoe that has a flexible sole, one you can twist and bend. Because you walk from heel to toe, it's important that your shoe is not stiff.
A shoe that is light and airy is the best way to go. You don't want to walk around with heavy clunky shoes weighing you down.
Make sure the shoe fits your foot. There should be enough room in the front so you can wiggle your toes, and there should be about half an inch from your toes to the front of the shoe. The width of the shoe should be enough so that, again, your toes can wiggle. When you walk ,the shoe should not slip off the back of your heel, nor should it be tight across the top of your foot.
You will need to find a shoe that has a narrow heel. A heel that flares out will make your foot flap down and slow your momentum when you're walking.
Believe it not, it's best to shop for shoes after you've been on your feet for the day, when they're a bit swollen. Be sure to wear the socks that you intend to wear with the shoes.
Never shop when you're in a hurry. You'll want to give yourself some time to try on plenty of shoes and walk around the store, preferably on a hard surface. Be aware of how they fit. Wiggle your toes, twist your shoes and be sure to try both of your shoes on. Both of your feet are not the same size or shape, They may look it, but only your shoe can tell the difference.
Once you get home with your new purchase, wear them in the house. Try not to scuff them up just in case you need to return them.
Keep track of how long you've had your shoes and how many miles you've walked in them. Your shoes will wear out – it's inevitable. They'll lose their bounce and support. It might be best to buy two pairs of a shoe you really love, so you can switch them out or replace them every 300-600 miles. If you're harder on your shoes, you may have to replace them sooner.
Most importantly, buy shoes that are comfortable. Comfortable shoes are safe shoes. They'll save you from shin splints and blisters, and they'll give you miles of walking pleasure.
-The Alternative Daily
Sources:
http://www.thewalkingsite.com/shoes.html