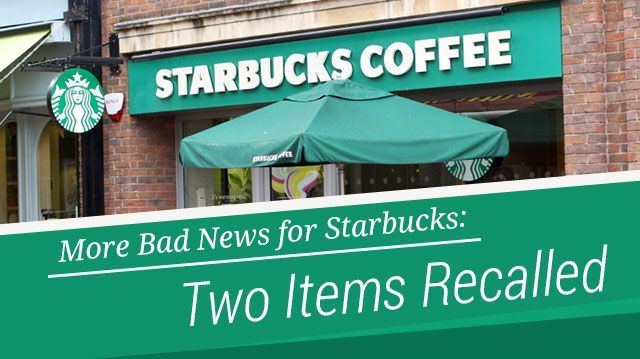 It seems that Starbucks has been under quite a bit of fire lately. We recently reported on the overwhelmingly high sugar content of the international coffee mogul's hot drinks. Now Starbucks has announced a voluntary recall of two of its food items due to listeria and the potential presence of a common allergen.
The two items that have been recalled are Starbucks' Sausage, Egg, and Cheddar Breakfast Sandwiches and Cheese & Bistro Boxes. The first was recalled due to potential contamination with listeria, and the second was recalled due to potential contamination with cashews, which can cause a life-threatening allergic reaction in people with tree nut allergies.
Listeria is a common foodborne illness that can cause digestive disturbances, muscle aches and/or fever. In healthy people, the symptoms usually pass, but for young children, elderly individuals, pregnant women and people with compromised immune systems, the infection can lead to more severe complications.
Luckily, there have been no reports of listeria infection from the sandwiches to date. The bacteria was noticed on a surface at the Progressive Gourmet, Inc. manufacturing facility and subsequently recalled. According to a Starbucks spokesperson: 
"This recall is being issued out of an abundance of caution. As soon as we were made aware of a potential supplier issue with a specific lot of Sausage, Egg and Cheddar Breakfast Sandwiches, we removed the impacted product from the select Texas, Oklahoma and Arkansas area stores that carried it." 
The sandwiches recalled in these three states were packaged in clear plastic, weighed six ounces and were labeled with a "Best Before" date of August 7, 2016. They were sold in Texas, Oklahoma and Arkansas Starbucks locations on March 3 and 4 before they were recalled and taken off of the shelves.
Starbucks' Cheese & Fruit Bistro Boxes were recalled solely in the state of Washington, due to potential contamination with cashews. This ingredient did not appear on the product's label. For most people, cashews pose no dangers. However, for those with nut allergies, the reaction can be serious, or even deadly. 
The Cheese & Fruit Bistro Boxes recalled in Washington were manufactured by Gretchen's Shoebox Express and labeled with an "Enjoy By" date of March 4, 2016. The item number is 11015085. Fortunately, there have been no reports of allergic reaction due to people with nut allergies purchasing this product.
Why not choose a healthier breakfast?
When it comes to processed foods, there are cases of contamination and recalls on a pretty regular basis. This is pretty much par for the course when we do not see our food prepared — and when it is prepared in a large factory, mistakes are inevitable. 
The good news is we don't need Starbucks! Breakfast sandwiches are incredibly easy to make without the gluten, potential contamination or carcinogenic processed meat. You can make them the night before if you're in a hurry in the morning.
Simply start with your favorite gluten-free English muffins, fry up a couple of organic, pastured eggs in some coconut oil and your favorite spices, add some organic, grass-fed cheese and, if you like, a thin slice of roasted, unprocessed, organic grass-fed meat of your choice.
As far as cheese and fruit… well, that's even easier. Slice your own organic fruits, add a few cubes of organic, grass-fed cheese and store in a container in the fridge for morning. No unwanted ingredients, and it's fresh, delicious and healthy!
Speaking of Starbucks, it's perfectly simple to brew your own healthy coffee at home, too. You'll skip the lines, and it really doesn't take that much longer!
If you choose to make your own coffee and breakfast at home, you won't have to wonder about potential safety hazards — one less thing to worry about on a busy day!
-Tanya Rakhmilevich
Tanya is a writer at The Alternative Daily with a passion for meditation, music, poetry, and overall creative and active living. She has a special interest in exploring traditional Eastern remedies and superfoods from around the globe, and enjoys spending time immersed in nature.
Sources:
http://abcnews.go.com/Health/starbucks-items-voluntarily-recalled-due-bacteria-allergen-risk/story?id=37492857
http://www.cnn.com/2016/03/08/health/starbucks-recall-food-products