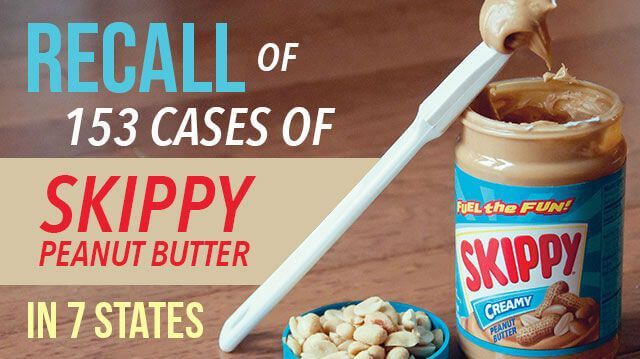 American company Hormel Foods, headquartered in Austin, Minnesota, issued a recall of 153 cases of Skippy Reduced Fat Creamy Peanut Butter. The recall comes after metal shavings were found during a routine clean of manufacturing equipment, according to the Hormel Foods press release issued on October 29.
The Skippy Reduced Fat Creamy Peanut Butter recall involves only the 16.3 ounce jars of the product with the expiration date of DEC1416LR1 and packaging code UPC 37600-10500. These identifiers can be found on the lid tops of the 16.3 ounce jars.
The distribution centers that received the recalled jars include Publix, Target and Walmart located in Georgia, Virginia, South Carolina, North Carolina, Delaware, Alabama and Arkansas, the company states on their website.
"The company is issuing the recall to ensure that consumers are made aware of the potential hazard," Hormel Foods stated in the recall press release. "No reports have been received to date of any consumer injuries or complaints."
Hormel Foods also insists, "No other sizes, varieties or other packaging configurations of SKIPPY® brand peanut butter or peanut spreads are included in this recall."
This is another recall among the many food recalls the United States has seen this year. Hopefully, Hormel Foods' voluntary recall of its peanut butter has come before any consumers are injured by the metal shavings in the product.
But why buy your peanut butter at the store when you can easily make your very own? There are an abundance of peanut butter recipes out there that are far better alternatives to a store-bought product. Making your own peanut butter will also ensure that no metal shavings will find their way into your delicious, all-natural creation.
Here is an alternative creamy peanut butter recipe that is fast and easy to make:
Place two to three cups of peanuts (salted optional) into a food processor and grind. Add four tablespoons of peanut oil to the food processor and grind again until soft. Then add two tablespoons of raw honey and continue to process until you get the desired consistency. Use, enjoy and then refrigerate.
What is your homemade peanut butter recipe?
-Stephen Seifert
Stephen Seifert is a writer, professor, adventurer and a health & fitness guru. His flare for travel and outdoor adventure allows him to enjoy culture and traditions different than his own. A healthy diet, routine fitness and constant mental development is the cornerstone to Stephen's life.
Sources:
http://www.hormelfoods.com/Newsroom/Press-Releases/2015/10/20151030
http://www.fda.gov/Safety/Recalls/ucm470175.htm