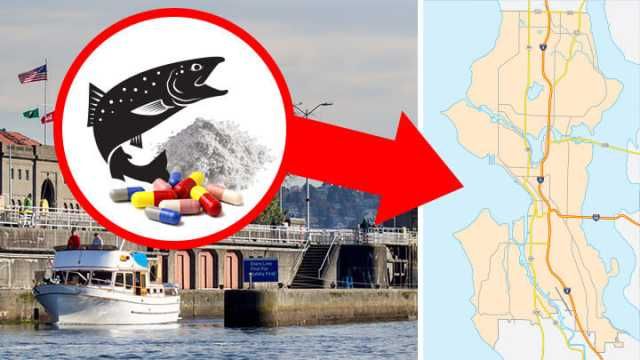 If you have salmon on the menu for this evening, take a moment and check where it came from. If it hails from Puget Sound in Seattle, you may wish to reconsider your dinner plans.
Here's the bad news: researchers have found that wild-caught salmon caught in Puget Sound may contain a wide array of contaminants. These include cocaine, OxyContin, Paxil, Valium, Flonase, fungicides, antibiotics, nicotine, caffeine and more. Yes, that's wild-caught salmon — the kind considered the safest and healthiest to eat.
Eighty-one drugs found in salmon flesh
A study published in the journal Environmental Pollution tested levels of various "contaminants of emerging concern," a.k.a. CECs, in estuaries near sewage treatment plants across the nation. Researchers took samples from estuary waters. They also checked juvenile chinook salmon and Pacific staghorn sculpin.
In the waters of Puget Sound, researchers found 81 drugs and other contaminants in the flesh of the chinook salmon. Additionally, researchers found traces of feces. The contaminant levels found in Puget Sound were some of the highest in the United States.
According to the study authors:
"Collectively, we detected 81 analytes in effluent, 25 analytes in estuary water and 42 analytes in fish tissue. A number of compounds, including sertraline, triclosan, estrone, fluoxetine, metformin and nonylphenol were detected in water and tissue at concentrations that may cause adverse effects in fish."
There's worse news. The study authors added:
"Interestingly, 29 CEC [contaminants of emerging concern] analytes were detected in effluent and fish tissue, but not in estuarine waters, indicating a high potential for bioaccumulation for these compounds."
Why do Puget Sound salmon contain contaminates?
Researchers speculate that the fish have contaminates because drug use is rampant in the region or because septic tanks are leaky. Another theory is that wastewater plants are not able to remove all of the estimated 97,000 pounds of contaminants flowing into Puget Sound each year.
On the matter, Betsy Cooper, the county's Wastewater Treatment Division permit administrator, stated:
"You have treatment doing its best to remove these, chemically and biologically, but it's not just the treatment quality, it's also the amount that we use day to day and our assumption that it just goes away. But not everything goes away."
Perhaps even more worrying is that the amount of drugs in the water near outfall pipes and in deep water may be underreported, according to researchers. Yikes. What the researchers found and measured is scary enough already.
Alert: 7 Amazing Health Benefits of Omega-3's (fights heart disease) =>
Drugs are dangerous to salmon population and marine life
Researchers are concerned that the amount of contaminants found in salmon flesh is dangerous to the fish population and to surrounding marine life. However, they are relatively dismissive of potential negative effects on human health, stating that levels are "probably" too low to affect humans.
However, if these compounds accumulate in salmon flesh, it is possible to hypothesize that they may accumulate in our flesh. This is on top of the fact that with a lot of these drugs and chemicals, researchers know very little.
I don't know about you, but I don't want Paxil or cocaine in my dinner.
How to find clean salmon to eat
Wild-caught salmon — from clean, drug-free waters — is one of the healthiest forms of fish you can eat. It's a great source of protein. Plus, it's heart and brain-healthy, with inflammation-busting omega-3 essential fatty acids.
To get the best wild-caught salmon available, opt for Alaskan wild-caught salmon whenever possible. Experts monitor these waters closely for quality. If this is not an option, do some research on the region that your salmon comes from, so that you're not munching on more than the healthy fish you bargained for.
Alert: 7 Amazing Health Benefits of Omega-3's (fights heart disease) =>
– Tanya Mead