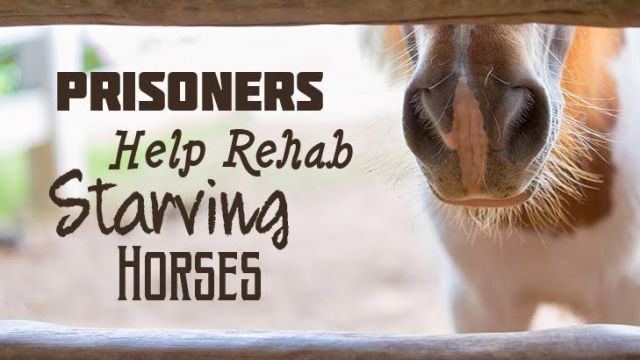 Prisoners at Kentucky's Blackburn Correctional Facility are now responsible for nursing six starved thoroughbreds back to health. While it's a life or death situation for the equines, for the men it is a chance to find meaning in the intense caretaking required by the animals.
These six were the worst of 43 horses seized from a Mercer County farm 30 miles from Lexington in late June. The Thoroughbred Retirement Foundation (TRF), which hosts rehab programs with inmates and horses, took charge of these animals. While inmates often care for retired racehorses, neglected equines in this precarious state are not usually part of a TRF program. As a TRF press release put it, these horses are being "brought back from the brink."
Abandoned horses
The 43 horses were found abandoned at a 131-acre farm leased by Charles Borell of Syracuse, N.Y. Not all of the animals were thoroughbreds. Borell has been charged with 43 counts of animal cruelty and is scheduled to appear in court on August 1, 2016. His daughter, trainer Maria Borell, has also been charged but authorities have not yet located her. Maria Borell was the trainer of Runhappy, who won last year's Breeder's Cup Sprint.
The horses were allegedly abandoned in May, and the situation was reported to authorities in early June. Not all of the horses were starving, and the majority remains at the farm in the care of volunteers. Veterinarians from Kentucky's renowned Rood and Riddle Equine Hospital are monitoring the horses daily.
Most of the horses were not owned by Borell, but were in his care. Owners are demanding their horses back, but the animals cannot be returned until definite identification and proof of ownership is obtained. One of the horses now at the prison facility is Z Charm, owned by Zayat Stables, who also own 2015 Triple Crown winner American Pharoah.
Thoroughbred Retirement Foundation
The Thoroughbred Retirement Foundation, founded in 1983, is dedicated to saving horses which can no longer compete at the racetrack. Many horses are retrained for new careers as riding horses, but others are too injured to go on to second careers. Currently, the TRF cares for 1,050 retired thoroughbreds.
TRF established vocational training programs involving horses and inmates early in its history. They now offer such programs at correctional facilities in eight states. "Upon the completion of their sentences, many former inmates who have worked with the horses have gone on to become productive, solid citizens and have been quick to give credit to the TRF program," according to TRF.
Identifying horses
Representatives from The Jockey Club, the governing body for thoroughbred registration, are attempting to establish the identity of the abandoned horses. Some of the horses are identifiable via the upper lip tattoos all racehorses receive. Representatives have taken DNA samples from the horses currently at Blackburn Correctional Facility as well as the other 37 equines. They are also photographing and documenting each horse's markings. Each horse is receiving a microchip to aid with future identification, according to The Blood Horse.
Silver Cliff
The TRF's press release quoted an inmate taking care of 14-year-old Silver Cliff, an emaciated grey gelding, as saying, "This sounds kind of crazy but I kind of identify with them. They were locked up …just like we are all locked up. I treat them the way I want to be treated. I take them out for walks, put them in a little bigger stall or pasture; give them a taste of freedom." Silver Cliff is the son of 1997 Kentucky Derby and Preakness winner Silver Charm.
Ironically, Silver Cliff formerly resided at the Blackburn Correctional Facility. He was adopted by an internationally known model named Kylie Bax, who used him as a riding horse. When she had to relocate to Europe, a mutual friend found the horse a home with a hunter/jumper rider, but it turned out Silver Cliff had physical issues precluding jumping. That's when Maria Borell apparently got into the act, saying she loved Silver Charm and would like his son as a companion horse. She signed an agreement stating she would never sell, give away or place the horse at auction without first providing written notification to Bax.
Donations for the upkeep of the horses to the TRF are greatly needed and appreciated. All contributions are tax-deductible.
–Jane Meggitt