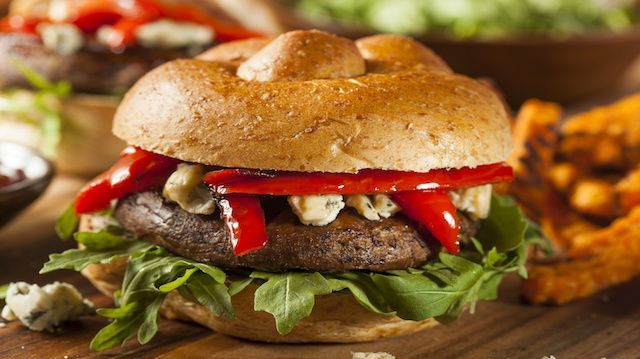 With a mere 42 calories per serving, zero grams of sugar, and five grams of protein, you can see why portobello mushrooms make great vegetarian burgers. Complete with a gluten-free bun and your favourite toppings, like goat cheese, caramelized onions and homemade roasted red pepper relish, they're a delight for any occasion.
Goat Cheese Stuffed Portobello Burger 
In this recipe, we make everything from scratch, even the buns and the relish — not a processed ingredient in sight! The relish and buns can be made ahead of time to save yourself some stress while preparing dinner for hungry mouths. Let's start with the buns…
Gluten-Free Hamburger Buns
Serves 4     
Prep time: 20 minutes     
Cook time: 15 minutes
Ingredients 
1 3/4 cups packed blanched almond flour

3/4 cup tapioca flour

1/2 tsp sea salt

1/2 tsp baking soda

1/2 tsp baking powder

3 eggs

1 tbsp honey

1 tbsp olive oil

1 tsp apple cider vinegar

1 egg white, whisked

1 tbsp sesame seeds
Instructions
Preheat the oven to 350°F. Prepare a baking sheet with parchment paper.

In a medium bowl, whisk together the almond flour, tapioca flour, salt, baking soda and baking powder.

In a large bowl, whisk together the 3 eggs, honey, olive oil and apple cider vinegar.

Pour the dry ingredients into the wet ingredients and blend well. Place the dough in the fridge for 15 minutes — this helps the dough set.

Using greased hands, form the dough into four balls and place each on the prepared baking pan. Flatten slightly with the palm of your hand.

Lightly brush the top of each bun with the egg white and sprinkle with sesame seeds. Bake for 12 to 15 minutes, until golden brown. Allow the buns to cool before cutting in half.
Roasted Red Pepper Relish
Makes 2 cups      
Prep time: 15 minutes     
Cook time: 20 minutes
Ingredients 
3 tbsp olive oil

3 1/2 cups roasted red pepper, rinsed, drained and chopped (28-oz jar)

3 cloves garlic, minced

4 1/2 tbsp white wine vinegar

2 tbsp honey

1/4 tsp cayenne pepper

1/2 tsp sea salt
Instructions
Heat the olive oil in heavy large skillet over a medium-high heat. Add the chopped red peppers and sauté for 2 minutes. Add the garlic and cook until tender, stirring often, about 5 minutes.

Mix the vinegar, honey and cayenne together in a small bowl. Add the mixture to the red peppers in the skillet.

Add the sea salt and continue to cook until all of the liquid has evaporated, stirring often, about 6 minutes. Allow to cool to room temperature before using.
Note: The relish may be prepared one day ahead of time. Simply cover and store in the refrigerator.
Portobello Burgers 
Serves 4      
Prep time 15 minutes   
Cook time 20 minutes
Ingredients 
4 medium portobello mushrooms, stems removed

1 medium, sweet onion cut into 1/2 inch slices

2 oz goat cheese

2 tbsp olive oil

1/2 tsp sea salt

1/2 tsp freshly ground black pepper
Instructions
Brush mushrooms and onion slices with olive oil. Sprinkle a 1/4 teaspoon each of the salt and pepper on the mushrooms.

Heat a large pan over a medium heat. Add the mushrooms and cook until tender, about 10 minutes, turning once.

While the mushrooms are cooking, combine the goat cheese and remaining salt and pepper.

When the mushrooms are tender, transfer them to a plate and lay cavity side up. Spoon the goat cheese mixture into each mushroom cavity, divided equally. Cover with tin foil to keep warm.    

Add the onion slices to the same pan and cook until golden, about 10 minutes, turning occasionally.

Place each mushroom cap on a half bun. Top each mushroom with onions and roasted red pepper relish. Cover with bun tops and serve.
Burgers up!
—Katherine Marko
Katherine Marko is a freelance writer, author and blog creator. Her areas of expertise include food, health, style, beauty, business and nutrition. Marko holds a Bachelor of Arts in English, a diploma in photography, graphic design and marketing, and certification in esthetics.