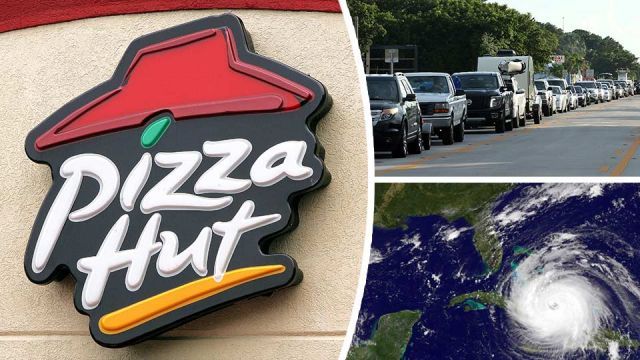 Before Hurricane Irma's arrival, a Pizza Hut manager in Jacksonville, Florida threatened to fire employees wanting to evacuate early.
This is what the manager posted at the franchise:
Pizza Hut's awesome Irma policy. 😒 Not a good look, @pizzahut pic.twitter.com/0xH0NBFDvY

— Jennifer Tanko (@imjohnnyasana) September 11, 2017
Pizza Hut note sparks outrage
According to the note, the storm was going to hit on a Tuesday. In reality, the storm hit the Jacksonville area Sunday into Monday.
The note also said that employees must return to work within 72 hours of their evacuation, despite the storm being a multiple day event with flooding that still hasn't subsided in many areas. In fact, Jacksonville Mayor Lenny Curry ordered mandatory evacuations in zones A and B, which were coastal and low-lying areas; these orders were just lifted on Monday.
Similar to Houston, although thankfully not as bad, Jacksonville ended up missing a direct hit of the storm, but was faced with record flooding as the storm traveled up the state.
Irma Causes Historic Flooding in Jacksonville – (Photo: Jax Sheriff's Office) pic.twitter.com/k8dCqgHjY2

— Breaking911 (@Breaking911) September 11, 2017
Many parts of the city are flooded, due to 10 to 20 inches of rain from the storm. Even worse, the area was hit with a bad storm surge.
To battle the negative press, Pizza Hut said its local franchise operator has addressed the situation with the manager involved. "We absolutely do not have a policy that dictates when team members can leave or return from a disaster, and the manager who posted this letter did not follow company guidelines," the company said in a statement.
Jacksonville still under a coastal flood warning
Authorities are actively looking for flood victims; fortunately, it won't be the Pizza Hut employees that decided to evacuate early. There are multiple warnings still out saying that citizens should only leave home if it's essential. As of now, over 300 people needed to be rescued due to the high storm surge along the St. John's River.
Video of our #JSO dive team out in the flooded streets of Jacksonville looking for people needing rescued. #HurricaneIrma #Irma #JSO #JAX pic.twitter.com/Rtzp1ckuaT

— Jax Sheriff's Office (@JSOPIO) September 12, 2017
#JSO reminds citizens to shelter in place. Please refrain from walking and driving around if not essential. #JAX #HurricaneIrma @CityofJax

— Jax Sheriff's Office (@JSOPIO) September 11, 2017
What's your take? Was the Pizza Hut manager in the wrong?
— Peter Amirata