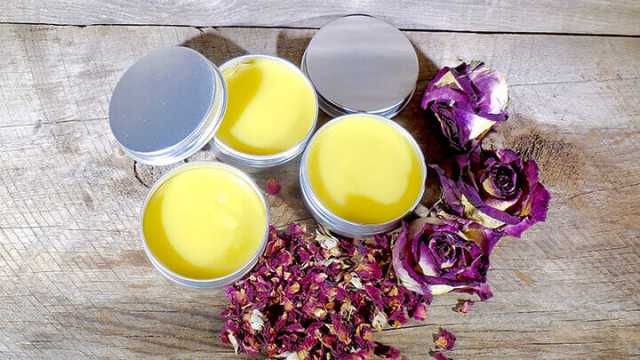 With the winter months fast approaching and cold weather on the way, make sure to have a supply of this all-natural vapor rub on hand. When you're feeling discomfort in your chest, you'll have peace of mind knowing that the ingredients are all natural. The eucalyptus and the other essential oils provide relief without any harmful side effects.
If you are dealing with a cough or congestion, simply rub this recipe on your chest as often as needed. If your nose is stuffy and congested, rub a dab under your nose for quick relief. It can also be applied when your nose is sore and irritated from all that wiping and blowing. This vapor rub will bring welcome relief from all of those symptoms.
Vapor Rub Ingredients
1/4 cup olive oil

1/2 cup coconut oil

6 tbsp beeswax

25 drops eucalyptus essential oil

20 drops peppermint essential oil

10 drops lavender essential oil

10 drops rosemary essential oil
Equipment
Small jars or tin containers for storage
Instructions
1. Measure the oils and beeswax.
2. For easy pouring, place oils and beeswax in a microwaveable glass measuring cup.

3. Place in microwave and slowly melt. It takes about 2 minutes in my microwave. I start with 1 minute then add 30 seconds at a time until melted.

4. Once melted, place in refrigerator for 5 or 10 minutes to allow it to cool before adding the essential oils.
5. Now add the essential oils.

6. Carefully pour into glass or tin containers. It will harden as it cools.

You can make this rub even stronger by melting it again and adding more essential oils as needed. Enjoy!
— Leilani Hampton