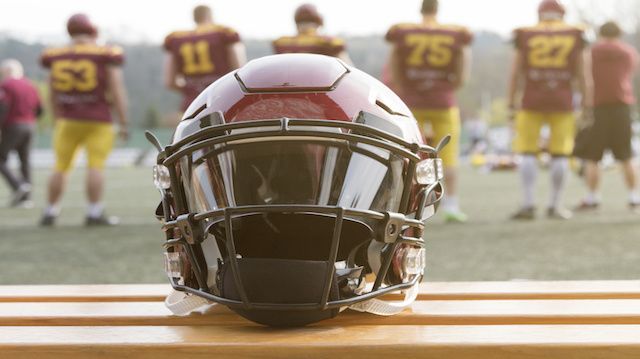 There are undoubtedly many benefits to youth sports. Through participating in school sports, kids and teens are getting exercise, learning valuable teamwork skills, and are spending time outside. Not to mention, many young people are truly passionate about the sports they play!
Although sports are great for young people, some sports like football come with a high risk of injury. At the top of the list are head injuries, such as concussions. A concussion is a brain injury, which, according to WebMD, "shakes the brain inside the skull." While some people have noticeable symptoms, such as unconsciousness, others may show no symptoms at all.
Because some concussions can lead to lasting damage to the brain, it is important to spot and treat a concussion right away. However, many sports programs for young athletes do not have sufficient medical staff present at practices and games to quickly respond to head injuries. On top of that, young players often do not wear top-quality safety equipment.
To help keep young athletes safe, a group of seventh grade students at Pine Crest School in Fort Lauderdale, Florida has invented the Force Transmission Data Collector (FTDC). The FTDC is a small device that fits inside of a helmet and measures the force of a head impact through sensors. The data is then transmitted to a smartphone or computer.
This system aims to track the cranial impacts that may lead to a head injury, and alert instructors and parents right away.
Seventh grade students M.E. Gabrielle, John Kolettis, Chase O'Brien, Trey Santarelli, and Jordan Shiff, working with teacher-advisor Keri Kolettis, have developed the FTDC app geared toward football players. However, as Gabrielle explains:
"Our hardware could go in any type of helmet because all you have to do is put the sensors in — it's not fitted for just one type of helmet.
On the inspiration behind the app, O'Brien stated: 
"We had three high school football players [across the U.S.] who all died in one month from concussions or something related to concussions. I think that was something that really motivated us."
O'Brien added: 
"It actually takes high- and middle school athletes a lot longer to recover from the concussions than it does for professional athletes. So especially for them, they receive major damage and if they receive it again it's going to be much more catastrophic than it would be for an NFL player." 
The ingenuity of the FTDC app won this creative group of students the Verizon Innovative App Challenge. Along with a $20,000 grant to Pine Crest School, the prize enables students to work with MIT professionals to develop their prototype. 
According to O'Brien, the group has big plans. He explained:
"We'd like to have multiple helmets on multiple devices so the coach can see all the players, but then that same player can also appear on a parent's phone so the parent can always check in and say, 'Hey, my kid has a concussion, I can go down and check him out.'" 
Kudos to these bright Pine Crest School students! If this device is implemented in youth football helmets across the nation, parents may be able to rest a little easier knowing their children are safer at practice — or at least that they will be alerted immediately should something go wrong.
-Tanya Rakhmilevich
Tanya is a writer at The Alternative Daily with a passion for meditation, music, poetry, and overall creative and active living. She has a special interest in exploring traditional Eastern remedies and superfoods from around the globe, and enjoys spending time immersed in nature.
Sources:
http://www.dailydot.com/technology/middle-school-students-develop-concussion-detection-sensor-verizon-award
http://appchallenge.tsaweb.org/press-room
http://www.webmd.com/brain/tc/traumatic-brain-injury-concussion-overview