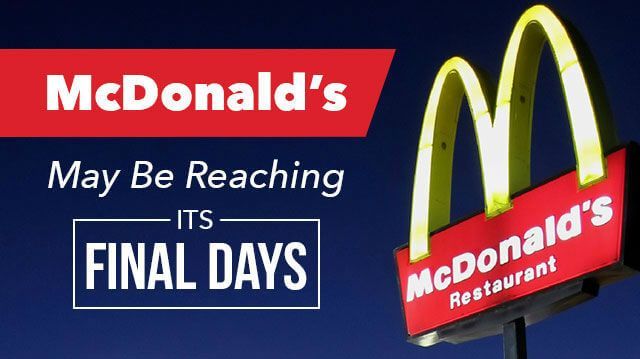 McDonald's franchisees are using words like "deep depression" and "final days" when referring to the future of their chain restaurants, according to a recent survey. A dozen plus franchisees are openly expressing their discontent about McDonald's CEO Steve Easterbrook's new vision for the company. All-day breakfast, customer service, and food quality are among the woes.  
Mark Kalinowski, a Nomura analyst, uncovered a wealth of distaste from burger-slinging franchisees. "We are in the throes of a deep depression, and nothing is changing," a franchisee commented in response to Kalinowski's survey. "The CEO is sowing the seeds of our demise. We are a quick-serve fast-food restaurant, not a fast casual like Five Guys or Chipotle. The system may be facing its final days," another franchisee stated.
Further comments like, "I have been in this business since the early 1970s but have not seen us this leaderless in all my time," continued rolling in, signifying the mutiny which may be unfolding. McDonald's corporate response to the franchisees recommended they quit and "get out of the system." 
Kalinowski's survey involved the interviews of 29 franchisees, which blanket approximately 226 of the over 14,000 McDonald's restaurants in the United States. The all-day breakfast was one topic that struck a negative chord for franchisees, which was surprising to the corporate offices.
A McDonald's spokeswoman noted in reports, "We're hearing from customers and the overwhelming majority of our 3,100 franchisees that all-day breakfast is a hit!" The spokeswoman also stated that the company received its highest brand score in two years, according to YouGov BrandIndex.   
McDonald's has employed various marketing stunts in order to boost sales, including their wide array of bizarrely-colored burger buns for purchase overseas. Recently, McDonald's launched the Modern China Burger, with buns that were described by one Chinese media source as similar to the pollution that looms over the city. 
McDonald's in the United States has to be more diligent in their changes, often with a more health conscious spin. All-day breakfast, "Create Your Taste," and removing antibiotics from chicken are all new or future changes in the Ronald McDonald kitchen. Change can be good, but McDonald's is still an unhealthy choice. 
The oversized fountain sodas, large envelope of greasy fries, processed ingredients, and burgers with calorie counts well into the hundreds are still featured in combo meals. Obesity continues to rise in the United States, with one third of the population, or 78.6 million American adults, considered obese, according to the CDC. Could the end of McDonald's be a bonus for health and wellness? Probably, but Burger King, Taco Bell, KFC, Pizza Hut, DQ, and other fast-food chains remain.
It really comes down to personal decisions about health. Making healthy food choices, exercising daily, and staying fit mentally and physically are necessary for health and well-being — and they are choices everyone has to make for themselves.
How do you feel about McDonald's?
—Stephen Seifert
Stephen Seifert is a writer, professor, adventurer and a health & fitness guru. His flare for travel and outdoor adventure allows him to enjoy culture and traditions different than his own. A healthy diet, routine fitness and constant mental development is the cornerstone to Stephen's life.
Sources:
http://www.brandindex.com/article/all-day-breakfast-improves-mcdonalds-brand-metrics
http://www.cdc.gov/obesity/data/adult.html