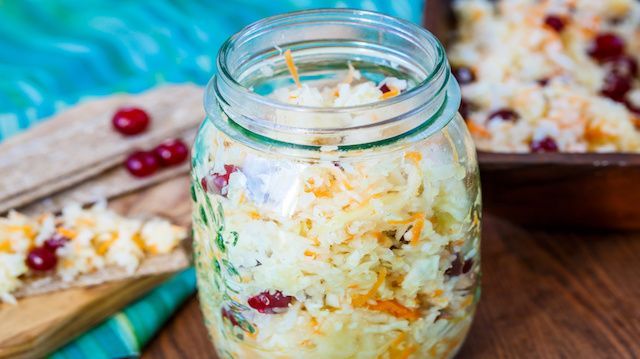 As someone who is always looking to take care of her gut health, fermented vegetables have been an integral part of my digestive wellness journey. For several years, I bought jars and jars of sauerkraut and kimchi to top my salads, eat with entrees, and add to omelets. I realized after a while that I could be making my own at home for less than half the cost.
Initially I wondered, do I have the time? Would my homemade versions last as long as store-bought versions? Would they taste as good? And, most importantly, would it really save me money after I add in my time spent and the cost of all the ingredients?
The answer to all of these questions was, thankfully, yes. 
You can make sauerkraut or kimchi for very little cost, and it only takes about 15 minutes of preparation time plus the time to wait for them to ferment. Since I like both kraut and kimchi a lot, I make a new batch every two weeks so I always have some fermenting and on hand. You may be surprised to learn that it's not as messy or stinky as many people imagine home fermentation to be… I promise!
Here are my top tips to make sure your kraut and kimchi are a success. I've also shared my favorite recipe below.
Kraut and kimchi fermentation tips:
Be sure to buy organic cabbage, onions, carrots, and other veggies you enjoy.
Sauerkraut generally only contains shredded cabbage, and kimchi contains chunks of cabbage with carrots, scallions, onions, garlic, and peppers, but many people include other veggies they may have on hand, too (beets, fennel, celery, etc.). You can customize these however you like. 
Purchasing organic means you'll avoid pesticides and get the best flavor possible with no chemicals in your fermented products, which is important since the bacteria that develops in fermented foods increases their digestive powers.
Next, be sure to sterilize your jars. You can easily do this by running them through a hot cycle in your dishwasher and letting them dry and cool thoroughly. Do not use them while they're hot. Since kraut and kimchi ferment with their natural prebiotic properties and bacteria from the air, they need to be in a temperature-stable environment. Putting them into hot jars will kill any potential benefits. 
Also, it helps to have a food processor or blender, so you can chop your ingredients up in a mess-free, quick way that also creates the perfect consistency. The shredding blade, or "S blade," works nicely and efficiently if using a food processor, but a high-speed blender will also do the job when set to the pulse cycle.
Finally, be sure you use sterile or filtered water to fill your jars, as tap water may sometimes contain contaminants.  
Recipe time! 
Here's my favorite recipe for a kraut-kimchi mix, which is less spicy than regular kimchi but contains more ingredients than regular kraut. If you'd like it to be more like traditional, spicy kimchi, add some scallions, red pepper slices, and your favorite varieties of hot pepper.
Heather's Kraut-Kimchi Mix
Makes enough to fill four 8-ounce mason jars.
1

head

of cabbage

1

tablespoon

Himalayan sea salt

6

cups

filtered water

1

cup

shredded carrots

1/2

cup

shredded onions

1

clove

garlic

4

(8-ounce)

mason jars
Remove the outer leaves of the cabbage and chop the cabbage head into 4 even pieces. Remove the core at the bottom and discard.

Add the quarters one at a time to your food processor and shred. Repeat until they are all shredded and add them to a large bowl.

Next, shred the carrots, onion, and garlic in the food processor (or pulse in a high-speed blender), and then empty them into the bowl with the cabbage. Give it all a good toss.

Begin packing your cabbage/veggie mix from the bowl into the jars and fill them almost to the top. Leave at least an inch at the top for expansion room.

Pack the jars down as tightly as possible with a wooden spoon, to prevent loose air pockets.

Fill a large jug with the water — you could use your blender pitcher if you want.

Add salt to the water and give it a good stir. I like Himalayan sea salt because it is unprocessed and all the natural minerals in the salt are present and available for your body's benefit. Iodized salt is not as rich in nutrition, and may contain additives.

Pour the salt water over the cabbage mixture in the jars. Fill almost to the top, but leave about half an inch of space for expansion.

Pack the mixture down as tightly as you can with a spoon again.

Place the lids on top of the jars and place them in an insulated lunch box, cooler, or insulated bag and close it up. You can simply put them in a pantry, but I find insulating them really makes a difference (mine tend to spoil in the pantry since the temperature is never consistent).

Set the insulated jars in a cool dark place for about 3 days.

Come back and check for bubbles, or wait 1–2 more days until lots of bubbles start to appear in the jar, indicating fermentation. The jars should look fuller, and you should see no signs of black or mold, which indicates that the fermentation went bad. I've only had this happen one time when I left mine in a pantry that had fluctuating temperatures; it has never happened when I've used an insulated cooler bag.

After 4–5 days (the optimal time), open the jars slowly, since they will bubble a bit. This means the probiotics are active and alive. If they smell like normal kraut and kimchi, they're ready. If not, put the lid back on, and leave them for 1–2 more days, making sure they are well insulated.

When they're ready to go, store them in the fridge and enjoy for 6–8 weeks.
Optional: any spices you like — black pepper, mustard seeds, caraway seeds, dill, fennel seeds, and anise seeds are all popular and delicious spices to use
Enjoy your kraut-kimchi mix daily in 1- or 2-ounce amounts with a meal, preferably with lunch. This will help promote optimal digestion all day long. Fermented vegetables will also work to improve your immune system and overall wellness the more you eat them.
Budget benefits
My organic ingredients cost in total $7. They yielded four jars of kraut/kimchi, which comes out to a little under $2 per jar. This cost may fluctuate a bit depending on where you buy your veggies, but not by a drastic amount. There is the additional cost of the jars, but they are reusable.
Most organic jars of sauerkraut and kimchi cost about $5 in stores, and many grocers do not carry organic varieties. So for me, I saved over 50 percent, and they took no time to make. I also think they taste better, and I love that I can control the salt and other ingredients in them.
Making your own fermented vegetables at home is a great way to always have a probiotic food on hand that your body will love and thank you for. As you do this more often, it becomes easier and more routine. I encourage you to give it a try, even if you just start with a head of cabbage, salt, and water for basic sauerkraut.
Do you make your own kimchi and kraut? If so, please feel free to leave your favorite recipe, and any tips you have for home fermentation success!
—Heather McClees
Heather McClees is a professional health journalist and Certified Holistic Nutritionist from South Carolina.She received her B.S. Degree in Nutrition Science and Dietetics, and is most passionate about helping others discover the gift of of holistic health, showing others how to create healthy recipes based on their favorite foods, physical fitness and yoga, and creative writing.
Sources:
http://www.health.com/health/article/0,,20410300,00.html
https://www.organicfacts.net/health-benefits/other/health-benefits-of-kimchi.html