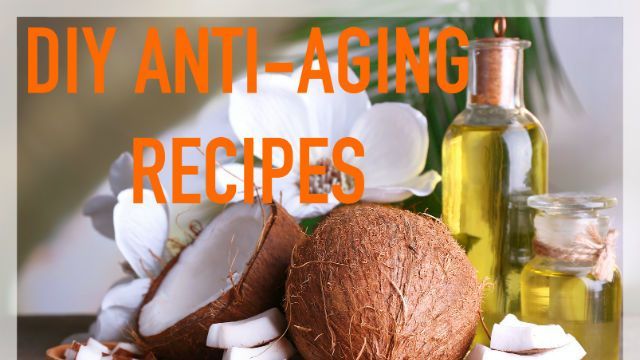 Coconut oil is great for the skin and full of anti-aging properties. Sebum is a naturally occurring substance that our skin produces to protect itself. Coconut oil mimics sebum, adding a protective layer to your skin. In addition to this, coconut oil helps reduce wrinkles. Why? Because coconut oil helps promote collagen production. Collagen is the main component of connective tissue, which is crucial for our skin. Try some of these DIY facials to help your skin look younger and more vibrant.
Coconut Coffee Exfoliating Facial Scrub
This tasty facial scrub is great for removing dead skin skin and revealing your true glowing skin underneath.
Ingredients:
1 cup ground coffee
1 cup coconut sugar
1/4 cup coconut oil
1/4 cup castor oil
1 teaspoon vanilla extract
Instructions:
Mix the coffee and sugar together in a large bowl.
Add vanilla and combine thoroughly.
Mix in coconut and castor oil. Transfer mix to an airtight container.
Apply a handful to damp face. Lightly scrub in then rinse clean.
Cleansing Coconut Wash
This everyday face wash is great for removing excess oil from the skin and cleaning dirt and sweat out of pores.
Ingredients:
2 tablespoons coconut oil
6 drops tea tree oil
2 drops lavender oil
1 teaspoon lemon juice
Instructions:
Mix coconut, tea tree, and lavender oils together.
Add lemon juice and combine well.
Pour mixture into an airtight container.
Apply to damp face and rub all over in a circular motion. Rinse clean with cool water.
Coconut Mint Face Cream
This homemade anti-aging face cream is a great alternative to store bought creams. Not only is it much cheaper, but also much healthier and more effective.
Ingredients:
1/4 cup almond oil
2 tablespoons coconut oil
2 tablespoons beeswax
1/2 teaspoon vitamin E oil
1 tablespoon shea butter
10 drops mint essential oil
Instructions:
Place all ingredients in a jar.
Bring a pot of water to a low boil and set jar inside.
Allow ingredients to slowly melt. Stir occasionally to combine.
Pour mixture into a sealable container and store.
Apply liberally to face after washing.
Coconut Oatmeal Mask
Sun and wind burned skin will benefit from this rejuvenating skin mask.
Ingredients:
1/2 cup coconut oil
1/2 cup chamomile tea
3 tablespoons oatmeal
1 teaspoon honey
1 teaspoon aloe vera gel
1 teaspoon cucumber juice
Instructions:
Soak the oatmeal in the chamomile tea for 15 minutes. Strain out oatmeal.
Combine the tea and coconut oil in a container.
Mix in honey and aloe vera.
Add cucumber juice and stir to combine.
Place the mixture in an airtight container and freeze for 15 minutes.
Apply mask to face and leave on until it dries. Rinse clean with cool water to revel rejuvenated skin.
Coconut Oil and Lemon Night Cream
Apply this cream before going to bed for healthy glowing skin in the morning.
Ingredients:
1 teaspoon beeswax
3 teaspoons coconut oil
4 tablespoons almond oil
2 teaspoons vitamin E oil
1/2 cup aloe vera gel
2 teaspoons honey
1 teaspoon bentonite clay
10 drops lemon essential oil
Instructions:
Place the beeswax, coconut oil, almond oil and vitamin E oil in a glass jar.
Put jar into a pot of boiling water until oils are melted.
Pour oils into a blender and allow to cool.
Add honey and aloe to the blender and mix until well combined.
Pour mixture into a plastic or glass bowl. Add bentonite clay and stir with a wooden or plastic spoon. Do not use metal bowls or utensils.
Add essential oil and mix well. Pour cream into a glass or plastic container.
Apply to face before going to bed and rinse off in the morning.
Coconut Rose Eye Serum
Apply this serum daily around the eyes to remove wrinkles and dark circles.
Ingredients:
1 tablespoon coconut oil
1 tablespoon almond oil
5 drops rose hip oil
Instructions:
Put all ingredients in a glass container and stir well to combine.
Store in a glass jar.
Add a few drops of serum around eyes and on wrinkles daily.
For 9 more reasons to use Coconut oil every day, click here ( 3 of them are shocking)
-The Alternative Daily