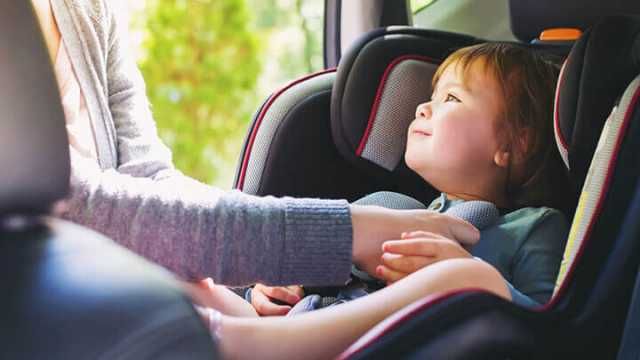 I have always had a thing for seeing little children in cars without parental supervision. I was always very careful when my kids were young to bring them in with me until they were at least old enough to "know better." I was especially careful not to leave my kids, someone else's kids or animals in my car during the summer months. In many states, it is actually illegal to leave children unattended in cars. California is one state with such a law that does not allow young children to be left in a car unattended at any time.
Surely of any state in America it must be illegal to leave a child in a car in Florida, right?  Well, I was surprised to read that the state law actually allows parents to leave their children ages six and under inside cars for up to 15 minutes as long as the vehicle is not running. Seriously, this can't be. In Florida where average summer temperatures reach well above 100 degrees with humidity levels through the roof, parents can leave little ones in the car? Police report that in a matter of minutes temperatures inside a car can skyrocket to 150 degrees in south Florida. A place where crayons melt and seat belts can burn human flesh is no place for a child.
Apparently, State Rep Emily Slosberg, D-Boca Raton, shares my horror over this issue.  She is working on a bill that would make it illegal to leave children inside of cars at all times — no loopholes!
"I don't believe a child should be left unattended in a hot car in the state of Florida for even one minute," Slosberg said Tuesday morning. "It's incredibly dangerous."
I would agree with this statement — no child should even be left in a hot car alone, especially those under six years of age! Young children are far more susceptible to heat stroke than adults and can succumb to the heat very quickly. In fact, a child's temperature rises three to five times quicker than adults. Another good point to note is that heatstroke can occur in children in temperatures as low as 57 degrees.
KidsandCars.org, a nonprofit that advocates for child car safety, reports that an average of 37 kids die inside hot cars each year. Another organization NoHeatStrke.org has been collecting data on kid's car deaths since 1998. Since that time the highest number of deaths in cars per year was in 2010, with 49 deaths. Texas had the most deaths from 1998 to 2015 with 100, but Florida was close behind with 72. Additionally, 725 children left in vehicles have died of heatstroke since 1998. All of these deaths could have been prevented.
I don't know about you, but I am rooting for Rep. Slosberg and challenge everyone to petition your government officials to move bills forward to protect children and make it illegal to leave children alone in a car at any time!
— Susan Patterson