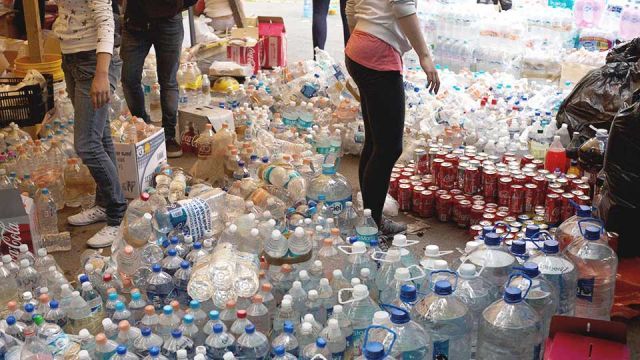 Since right after the 7.1 earthquake hit here in Puebla, Mexico, earlier this week, people have been mobilizing to help out. With almost 300 confirmed deaths, and thousands of collapsed buildings, everyone I know has donated provisions. Other friends are organizing caravans and building materials to go to the more isolated and poorer communities.

In fact, some towns have reported that they have more visitors helping out than they typically have during peak tourist season, and others in Mexico City said that there is more food being donated, at least in the short term, than is actually needed. As most of the living and dead have been removed from the rubble, the focus is now shifting towards housing and reconstruction.
Here are some images from the web of the many inspiring ways that people have chipped in to help in light of this tragedy.
A man in a wheelchair helps out.
No caption needed💪🇲🇽 #FuerzaMexico pic.twitter.com/NURceauetE

— Christo Official (@christoglz) September 22, 2017
People of all ages help out.
Mi vida. Mi pinche perro país. pic.twitter.com/43KdFmQBXk

— CHUMIBEBÉ (@ChumelTorres) September 21, 2017
So proud of my Mexican people. Proud to have Mexican blood running through my veins. #FuerzaMexíco pic.twitter.com/TMs6ec7xGa

— Diablito (@EL_DIABL1TO) September 21, 2017
Volunteers in Guadalajara have just finished loading a truck full of aid for earthquake victims in Morelos #JaliscoApoya #FuerzaMexico pic.twitter.com/o8R5BpnkXb

— Duncan Tucker (@DuncanTucker) September 22, 2017
Even the poorest people are giving something.
Así somos el Pueblo Mexicano, Hermosa tierra #RescatePrimero #TerremotoEnMexico
excluyendo a los que gobiernan y delincuentes sueltos. pic.twitter.com/mvZUrdLMC7

— Barlovento (@setareth) September 21, 2017
Reports are that seven people were rescued from this building.
#RescatePrimero Reportan hallazgo de siete personas con vida en escombros de Multifamiliar de Tlalpan https://t.co/pkodJCnQ9M pic.twitter.com/VemO8XgP1G

— Publimetro MX (@PublimetroMX) September 21, 2017
Donations of water.
¿¡Como no amarte México!? #SomosMexico #FuerzaMexico #mexicoestadepie pic.twitter.com/m5wJPaU8Mq

— Vikokoroko (@viqo_mr) September 21, 2017
A video of people helping to rescue those caught in the rubble.
After #MEXICOearthquake
our people #MexicoUnido
did the rescuing#Sismo #AyudaCiudadana#FuerzaMexico #Earthquakepic.twitter.com/cx5Q6oHzkq

— BROOKE CERDA GUZMAN (@DESCOLONIZADORA) September 22, 2017
People form a human chain to offload provisions to be distributed.
No importa cuando veas esta foto, así somos los MEXICANOS…#FuerzaMéxico

FOTO Alejandro Velázquez pic.twitter.com/MkPp1sPbff

— #ILoveFútb⚽L 46.7K (@REGIOMTY13) September 22, 2017
The Topos volunteers help throughout the night.
This is what @topos has been doing. I think you may want to see it @HamillHimself #FuerzaMexico pic.twitter.com/xxsdj0I0kF

— Hilda Kamui (@hilda_kamui) September 22, 2017
People sing the national anthem after managing to save somebody.
#GraciasRescatistas, de verdad MUCHAS GRACIAS
Entonan HIMNO NACIONAL después de lograr rescate en la #Condesa #FuerzaMexico #RescatePrimero pic.twitter.com/dOgPvHAgcv

— Subrayadomx (@subrayadomx) September 22, 2017
Migrants and refugees also lend a hand.
Solidarity knows no borders. This is how Central American immigrants are helping Mexico stand again. #RescatePrimero pic.twitter.com/pYG2N8UxRM

— teleSUR English (@telesurenglish) September 21, 2017
A lot can be achieved when everyone works together.
Today's Gallery: Looking For Life#FridaSofia #AyudaMexico #FuerzaMexico #SomosMéxico #MéxicoEstadePie #PrayforMexico #Sismo #CDMX #DF pic.twitter.com/ugCl5fo8E5

— Millennial Monitor (@kylemillennial) September 22, 2017
She doesn't have shoes, but she is still helping out.
No tiene zapatos como todos pero si un gran corazón como pocos. ❤️#RescatePrimero pic.twitter.com/xExEE4prSW

— COC ∆INE. (@Cocaainero) September 22, 2017
People cook and donate tacos to the volunteers.
Ya llegó el Heroico Cuerpo de Taqueros.
Alimentar a los voluntarios.
¡Muchas gracias!#RescatePrimero pic.twitter.com/W98jFOL2T1

— Massiosare (@massiosare_mex) September 22, 2017
One more #dog has just been rescued! They even cover her with a blanket 😭

💚 #GraciasTopos ❤#MexicoUnido #FuerzaMexico #PrayForMexico pic.twitter.com/DqhuomZb8G

— Maggie González (@emaglem) September 22, 2017
"I'm getting used to seeing people with helmets and worker vests in the street, in the subway, in the Oxxo (chain of corner stores). I like it, I like it a lot, I love you all."
Ya me acostumbré a ver a la gente con casco y chaleco en la calle, en el metro, en el oxxo. Me gusta, me gusta mucho, los quiero mucho 💕

— daralí (@Cocainelol) September 22, 2017
Civilians are heroes rescuing people and pets .#MexicoCityearthquake #EarthquakeMexico #Mexico #Eartquake #Solidarity #goldenretriever pic.twitter.com/fEUOlpYus2

— Photo Geo 🌎 (@PhotoTimeGeo) September 20, 2017
Overwhelmed with the support in the Laguna region. This is winning by serving👊#SinGuerrerosNoHaySantos #FuerzaMexico 🇲🇽💚 pic.twitter.com/OrD6umlzTV

— ClubSantosLaguna (@ClubSantosEn) September 21, 2017
This gesture, on the right, is a call for silence, in order to be able to listen out for survivors.
En las pedas // En los pedos 😊 pic.twitter.com/dZLsonfeki

— Rafael Poulain △⃒⃘ (@rafallopz) September 21, 2017
This is Mexico 🇲🇽 #FuerzaMéxico pic.twitter.com/bnfNpD74mZ

— Sofía M. Villalpando (@sofiabiologista) September 21, 2017
— Tamara Pearson