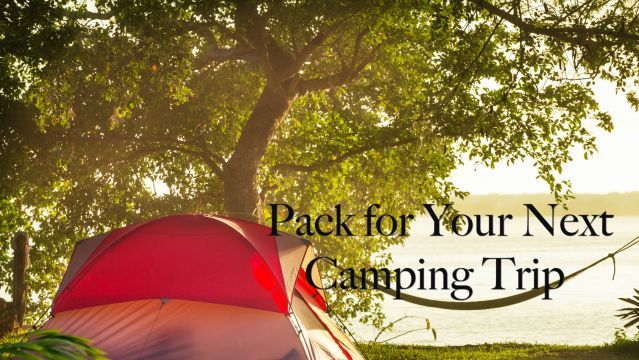 Ah, the great outdoors! Summer is fast approaching and camping season is upon us! If you're going to a populated campsite, you're probably in for pretty smooth sailing.
However, for more adventurous campers who like to go deep into the woods to pitch their tents, it pays to be prepared for the worst, just in case.
The following are a few basics that you should take with you:
A few more gallons of water than you think you need for the duration of your trip
Food for about three days more than you're planning on staying. Dehydrated items, such as dried meats, fruits, and veggies, work great, and don't take up much space
Guidebook to the area where you will be camping, including maps
Compass
Several lighters
Warm blankets (consider an emergency blanket)
First aid kit
Radio
Flashlight
Extra batteries
Whistle
Rope or sturdy cord
Swiss army knife
Sewing kit
Duct tape
Got 'em? Now check out these handy tips, which could help out in a pinch!
If you lose your compass, take a needle from your sewing kit and rub it against your shirt or jacket. Float a leaf on some water, and set the needle on top. It will point north!
Bring an egg carton or two with you on your trip, as well as some charcoal. To light a fire with ease, place the charcoal in the slots of the egg carton, and ignite!
Pack a couple of tarps. They may come in handy for catching rainwater for drinking, for waterproofing a tent, or for keeping important items dry.
Take a jar full of candlesticks along for the journey. To set up "torches," simply put one on the end of a sharp stick, and drive the other end of the stick into the ground.
Beeswax is a great item to have on hand. You can use it for waterproofing your shoes.
Bring along a pair of heavy gloves. If you have to rough it, you'll be thankful for the hand protection.
A small bottle of either clove or eucalyptus essential oil can be useful, as these oils naturally repel mosquitos and some other insects. Dab a drop or two on your wrists and clothes to help keep the bugs off.
Where will nature take you this summer?
—The Alternative Daily
Sources:
http://themindunleashed.org/2014/06/7-survival-tips-save-life-2-awesome.html
http://www.redcross.org/prepare/location/home-family/get-kit
http://survivallife.com/2014/04/14/camp-like-a-redneck-14-unique-camping-tips
https://www.thealternativedaily.com/5-natural-ways-to-keep-mosquitoes-away-and-10-ways-to-ease-their-bite