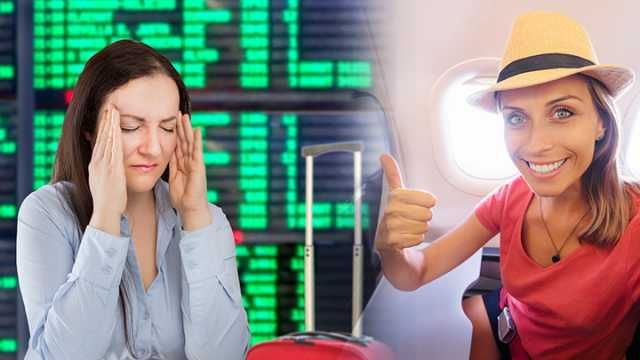 At one time, the getting there was as exciting as the arrival — not anymore. Today, delayed flights, cramped seats, long lines, snarky flight attendants, crying babies and wasted passengers have turned a once glamorous adventure into a cattle-prodding nightmare in the sky. So, what can you do to make airplane travel less annoying? Here are eight tips from an anxious traveler who's been there and back.
1. Keep calm and carry-on
Nothing is more annoying than waiting patiently for your luggage to come down the airport conveyer belt only to realize you're the last person standing and your bag isn't coming. Okay, so you're1. Keep calm and carry-on only in Vegas for three days, surely you didn't expect a change of underwear, did you?
With more and more airlines now charging a fee for luggage, you may want to consider flying with a carry-on bag only. The average charge for the first checked bag is about $25. That means a roundtrip flight will cost at least $50 more on top of your ticket cost. Most airlines will allow you to bring on board one full-sized carry-on bag plus one personal item free of charge. Just don't be that guy or girl… You know, the person dragging on a bag that's way too big to be carried-on. And then proceed to ram it in the overhead bin, shoving and denting everyone else's carry-ons in the process.
2. Get to the airport on time
Better yet, arrive early for your flight! So often, people will turn an already stressful travel situation into a full-blown panic attack simply because they didn't give themselves enough time to navigate through the airport. Consider potential traffic jams on the way to the airport, finding a parking spot, long lines at the ticket counter, long lines at customs, long lines at security — and of course, the mile-long hike between security and the departing gate.
Nothing induces panic more than racing to make your flight, only to find out the gate has changed. By the time you finally make it to the plane, flushed and sweaty, you'll be met with impatient snarls and a baggage compartment above your seat full of someone else's stuff. No point in asking "Who does this belong to?" Because you'll be met with blank stares — trust me.
3. Avoid long lines
Each time I fly, it befuddles me as to why more people don't use an e-boarding pass to save time and energy. The e-boarding pass replaces the traditional paper boarding pass and can be viewed on your mobile device. Once you receive and download your e-boarding pass (through email or text) generally via an airline app, you can proceed directly to security.
If you opted to check bags, go first to the baggage drop locations at the airport and present your e-boarding pass along with a valid government issued photo ID for the ticket agent to verify. Once you hit security you need to have the barcode image available on the screen of your device. And of course, you'll still need to bring a valid government issued photo ID. At the gate, simply show the barcode and your ID before boarding.
4. TSA pre-check, Global Entry or Nexus
If you're a frequent traveler or just can't bear waiting in those long annoying security lines, you may want to get a TSA pre-check, which allows eligible, low-risk travelers expedited security screening. The program is available at participating U.S. airport locations and for most international itineraries. You can jump the line and breeze through checkpoints without removing shoes, liquids and gels from your carry-on, laptop from your bag, light outerwear, jacket and belts.
Frequent travelers may even want to consider enrolling in Global Entry, a U.S. Customs and Border Protection program that allows expedited clearance for pre-approved, low-risk travelers upon arrival in the United States. Canadian citizens and residents are eligible for Global Entry benefits through membership in the Nexus program.
5. Stay far, far away from that sick person
Nothing evokes annoyance and fear more than sharing space with someone who's hacking up an emerging infectious disease into a tissue. Unfortunately, overbooked flights make it almost impossible to change seats. However, there's no harm in trying. If the passenger beside you is coughing up a lung, ask the flight attendant if you can change seats. You never know they might just bump you to business class for free.
6. Consider premium economy
If business or first class is out of your reach, consider premium economy. When compared an economy seat you'll you get extra legroom, a wider seat, a quieter, dedicated cabin, free meal, a bigger video screen, upgraded headphones, increased baggage allowance, and priority check-in and boarding. What you won't get is access to a separate restroom or the pre-boarding business class lounge. Additionally, you won't get the same attentive service you normally experience in business class. But it's a luxurious step-up from economy, and worth the splurge.
7. Improve your sleep
That never-ending "blah blah blah" just won't stop from the travelers behind you. You now know more about their jobs, shoes, pets and political views than you need to know. If you want a little shut-eye, invest in noise-canceling headphones. And to further improve your sleep, carry on a neck pillow and eye mask.
8. Just be nice… and smile
Let's face it, air travel, with all its advantages, seems to bring out the worst in people. Overbooked flights and cramped seats make flying a little too "up-close and personal" for the average person. But a positive attitude and a smile go a long way. In fact, it's no big surprise that smiling can actually improve your mood and even the mood of those around you — even when forced. Don't believe me? Science agrees that the simple act has a big impact on you and the world around you.
A study reported in Scientific American found that people whose ability to frown is comp­romised by cosmetic Botox inject­ions are happier, on average, than people who can frown. In fact, it can even make you appear more attractive to others. But what's even more interesting, it works the opposite way too. People who frown during an unpleasant experience report feeling more stress than those who do not. So, when that guy sitting next to you removes his shoes to air his tootsies, just sit back and smile.
— Katherine Marko