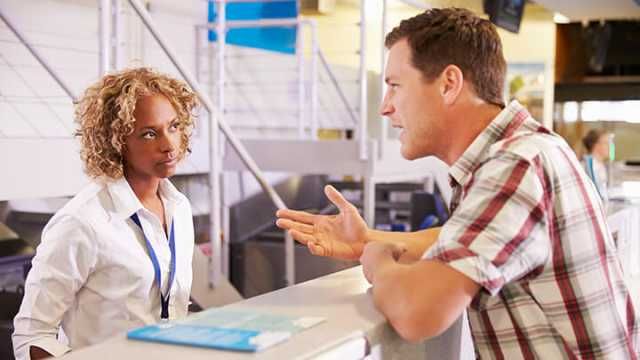 With more than 87,000 airplanes taking flight in the U.S. each day, there's bound to be unruly passengers on board. Although disruptive passengers may face possible fines and criminal charges, some aviation experts think the punishment is far too lenient.
Woman jumps from emergency exit
Recently, a United Airlines passenger jumped out of a moving plane at Houston's George Bush Intercontinental Airport. The flight from New Orleans arrived early and was taxing on the runway when suddenly a woman opened the emergency exit and jumped 20 feet onto the tarmac. This video shows the woman bolting towards the gate.
The fleeing woman was taken into custody, but there is no information as to why she pulled the emergency lever. Meanwhile, the Houston Police Department says the woman was transported to a neuro-psychiatric center for medical evaluation. However, prosecutors decided to not accept charges against the woman or release her identity. As for the other passengers on board, they had to wait for officers with canines to come on board and clear the flight before they could exit the plane.
When unruly airline passengers divert or delay flights, often, very little is done. That leaves many inconvenienced passengers — often placed in harm's way — and flight officials wondering if harsher punishment is necessary.
Delta Airlines bans Trump supporter for life after in-flight rant
This past Monday, another video emerged of an unruly passenger. The apparent Trump supporter stood in the middle of a Delta Airlines flight shouting "Donald Trump Baby." He's also seen yelling at women whom he believed voted for Hillary Clinton in this year's presidential election.
The video, which quickly went viral, shows the man shouting "Hillary b*tches" to fellow passengers for not supporting Trump.
Now Delta has banned this Trump supporter for life after his rant. The airline apologized to other passengers, stating that the "customer should not have been allowed to continue on the flight."
Man chokes woman on Southwest flight
In another incident, last year, a man choked a woman for reclining her seat on a Southwest Airlines flight. The altercation broke out just minutes into a flight from Los Angeles to San Francisco. The Southwest Airlines plane returned to its departure gate due to the "passenger disturbance," said police. No arrests had been made, but the man was detained and investigated by the FBI.
Why don't disruptive passengers face criminal charges more often?
It's common knowledge that federal law bans passengers from interfering with flight crew. Yet, Department of Justice figures between 2001 to 2014 show that only 11 percent of cases actually rose to the level of federal criminal prosecution, reports NBC News.
That's surprising since many troublesome passengers can cost airlines between $10,000 and $200,000 to perform an unscheduled landing, says Perry Flint, a spokesman for the International Air Transport Association. Airlines can also press charges and the FAA can fine an unruly passenger up to $25,000. However, most of the time, unruly passengers go unpunished.
That actually makes no sense. If a passenger is causing enough concern for the pilot to perform an unscheduled landing, then why wouldn't he or she be charged? I imagine the bottom line is bad press, avoided at all cost. But that's a scary precedence to set. It opens the door for repeat offenders.
Understandably, cases like the woman jumping from the plane are clearly the actions of a mentally unstable, drunk or drug-induced individual. The same may also be said for the unruly Trump supporter. But at the least, the unruly passenger should be placed on a temporary no-fly list.
Thanks to cramped seating, flying can be less-than-enjoyable for some. Add to that an obnoxious — or dangerous — passenger, and it inconveniences all on board. The experience can be downright horrible.
Perhaps if airlines implemented stiffer fines and punishments for disruptive passengers, people would think twice before coming on board drunk and rowdy. But what do you think? Should unruly flight passengers be punished more severely?
— Katherine Marko