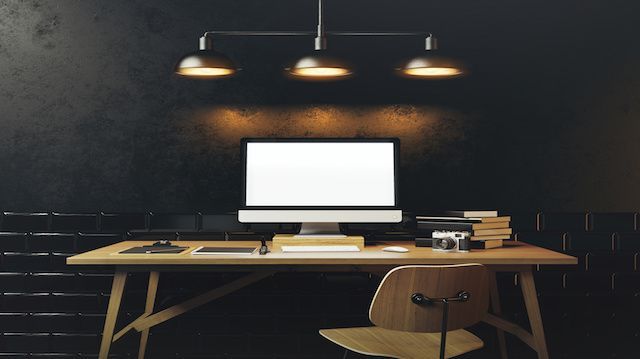 Working a 9-to-5 job in an office is the career choice of most Americans. But what if you're the kind of person who doesn't fit that mold?
Thanks to the Internet and other technological advances, working from home is more feasible than ever. In fact, a recent survey found that of 69 percent of entrepreneurs have started home-based businesses. And it even costs less than you might think, with that same study finding that the average home business costs $15,000 to start.
If you're one of the many Americans considering a home business the question becomes which one is right for you? Here are seven popular ideas of businesses that you could start that are potentially profitable and highly enjoyable:
Blogger
Despite popular belief, blogging isn't free. If you're goal is to make money from your writing, you could end up spending around $20,000 a year after you factor in web hosting, designing the site, paying your writers, and more. The good news is, you can make a good deal of money if you are successful. For example, the Becky and Paula blog makes around $45,000 per month for each writer combined. If you are a good writer and have a passion about a specific topic you can be equally as successful. How exactly do you make your money as a blogger? Other than display ads and pageviews, the majority of bloggers these days earn their cash through affiliate marketing and sponsored posts.
Graphic Designer 
Nearly every business needs a good graphic designer. If you are skilled (and certified) in software programs such as Photoshop and InDesign, this is a profession that can be very lucrative for you without ever having to leave your living room. While it is possible to be a self-taught graphic artist, most businesses will require their designers to have some sort of training, so if you haven't already got it, go take a course. Other than this cost, this profession has very little overhead and the salary you make is quite competitive. According to the Bureau of Labor Statistics (BLS), graphic designers average $45,000 annually.
Copywriter
Much like a graphic designer, this is a job that can be done anywhere so long as you have a computer. Nearly every company is looking for a good writer to create promotions for ads, websites, newsletters, commercials, direct mailings and more. While it's recommended that you have a degree in advertising, marketing or English, you can sell your services as a stay-at-home copywriter so long as you can prove you are an excellent writer. Copywriters are very well-compensated, making $55,000 annually according to the BLS.
Accountant 
This is one of the cheaper businesses to start on your own, costing an average of just $1,500, according to Entrepreneur. Obviously you will need to have an expansive knowledge of accounting and be certified as a CPA but you can make a pretty penny as a home-based accountant ($2,000 to $3,000 per month according to some studies). In order to get the most bang for your buck, you should consider creating a flier outlining your services and determine what those services will be. Do you want to just do bookkeeping for a small business or pursue a more involved level of accounting? The path you choose will ultimately determine how much money you will earn.
Computer Repair 
Know the difference between a motherboard and a hard drive? If so, starting your own computer repair business could be the right path for you. Before you get started with your business, you need to determine what your specialty will be and how to market your services. The more types of computers you can service, the more business you will receive since you won't be limited to just PCs or just Macs. This will be especially helpful for marketing yourself to small businesses or to larger corporations. According to the BLS, the average hourly rate for a computer technician is $18.53, but the top 10 percent earned $28.87 per hour, or $57,960 annually.
Dog Breeder
Becoming a breeder is no easy task. You'll have to apply for a business licence, dog breeder's insurance, and then there's the daily tasks of keeping all of your dogs healthy, happy and clean. While far from cheap, Entrepreneur estimates that actually starting the business costs just $1,500. How much you make will depend on the type of breed you choose and your overall level of expertise, but Rectruiter.com writes that breeders make an average of $24,000 to $36,000 annually. This is not a job for everyone: It takes a lot of patience and time. But if you are an animal lover it's a highly rewarding career.
Craft Business
Thanks to sites such as Etsy, the home-craft business has never been bigger. The site has more than 43.9 million active users, meaning you can make a good deal of money if you market your services right. Jennifer Garrison, whose Etsy store Winterberry Jewelry made more than 3,000 sales since 2009, offered a number of suggestions to The Week.com to help other home crafters be as successful. For one thing, she said  you can't just limit yourself to Etsy, she says. Garrison also uses Artfire and there are plenty of other sites to choose from. She also recommends being as specific as possible in order to differentiate yourself. There are thousands of jewelry stores on Etsy; by using the right keywords she ensures that her items turn up in search results. Most of all, it's important to not do more than you can handle so you don't burn yourself out, Garrison warns. 
So there you have it: Seven home businesses you can easily start to make some good money. Which one of these ideas do you think you'll be trying?
—Zach Halper
Zach Halper is a writer based in Brooklyn, NY. He graduated from Goucher College in Baltimore, Md., in 2009 with a BA in English. He previously worked for The NonProfit Times and Noodle Education.
Sources
https://www.entrepreneur.com/article/250045
http://smallbiztrends.com/2013/07/home-based-businesses-startup.html
https://www.quicksprout.com/2013/04/04/11-things-i-wish-i-knew-before-i-started-my-first-blog
https://amylynnandrews.com/how-much-do-real-bloggers-actually-make
http://www.goodfinancialcents.com/home-based-business-ideas-easy-to-start
https://www.entrepreneur.com/article/201588
http://www.morebusiness.com/home-based-accountant
http://smallbusiness.chron.com/start-business-breeding-dogs-4448.html
https://www.recruiter.com/salaries/animal-breeders-salary
http://theweek.com/articles/538050/how-make-living-etsy