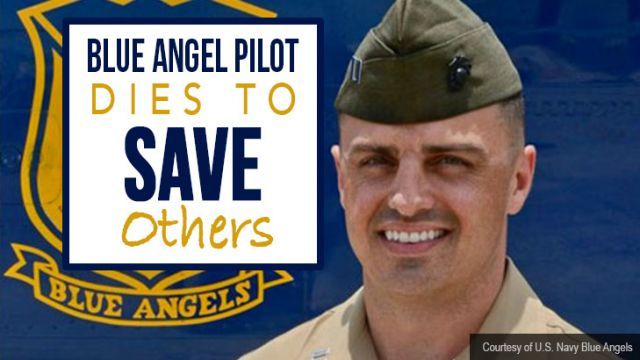 Two jets from the U.S. military's premier flight demonstration squadrons, the Blue Angels and the Thunderbirds, crashed in a single day. One pilot survived but the other died, reportedly after maneuvering his aircraft away from an apartment building before it crashed. Now some are asking if elite fighter jets a threat to safety and if they should be allowed to fly over civilian areas at all.
Military pilots crash hours apart 
Following a flyover at the U.S. Air Force Academy commencement ceremony in Colorado attended by President Barack Obama, a Thunderbird F-16 flown by pilot Maj. Alex Turner of Chelmsford, Mass. crashed. Thankfully, Turner managed to eject himself safely into a field. Turner has more than 270 combat hours over Libya and Iraq, according to The Air Force Combat Command. 
Sadly, only a few hours later, a Blue Angels F/A-18 fighter jet crashed near near Smyrna Airport in Tennessee, killing pilot Marine Capt. Jeff Kuss, shortly after he chose not to eject. According to reports, Kuss didn't eject so that he could maneuver his plane away from an apartment complex. Kuss was practicing for the upcoming Great Tennessee Air Show, according to The Associated Press. He joined the elite aerobatics team in 2014 and has more than 1,400 flight hours. Before joining the Blue Angels, Kuss had served in Afghanistan.
Five other F/A-18 jets landed safely moments after the crash. 
"It's hard to put into words right now, but it's beautiful that a person can live and die engaged in their life's pursuits," said the pilot's grandfather, Dolph Kuss, reached at his home in Durango, Colo. "This was his dream since he was a child, to be an aviator, a flier." 
San Francisco bans the Blue Angels 
Both squadrons, celebrated for their aerial acrobatics and skilled pilots, have been performing at air shows across North America for decades. But the double air disaster raises some questions regarding their future. Since the launch of The Blue Angels and the Thunderbirds in 1946 and 1953, respectively, both squadrons have been in a number of accidents.
Following the mid-May crash, San Francisco Supervisor John Avalos revived a proposal to ban the renowned Navy squadron from flying over his city. Avalos told the San Francisco Chronicle that the jets are a threat to safety and should not be allowed to fly over inhabited areas. Instead, he suggested, they should fly over San Francisco Bay, where boaters typically gather to watch the Blue Angels perform. 
"It's about them crashing and hitting a building, a place where people live," Avalos told the Chronicle. 
He sacrificed his life 
The crash was the Blue Angels' first since a South Carolina accident in 2007 in which Lt. Cmdr. Kevin Davis was killed attempting a sharp turn too close to the ground. The team stopped flying after that incident but resumed a regular schedule shortly thereafter. 
San Francisco Supervisor Eric Mar said that although many people enjoy the Blue Angels' shows, the potential dangers outweigh the benefits. He went on to say that the show "goes against the values of peace that San Francisco stands for. They promote militarism, and I don't think a city like ours should be promoting that."
Perhaps the military needs to reconsider the future of their elite demonstration squadrons, but for the moment let's not forget that Marine Capt. Jeff Kuss, father of two, sacrificed his life so that others would live. That's the military at its finest and the bravest thing anyone could do. In my eyes, Kuss is a hero.
What do you think? Should the military ban these prestigious flight shows?
—Katherine Marko