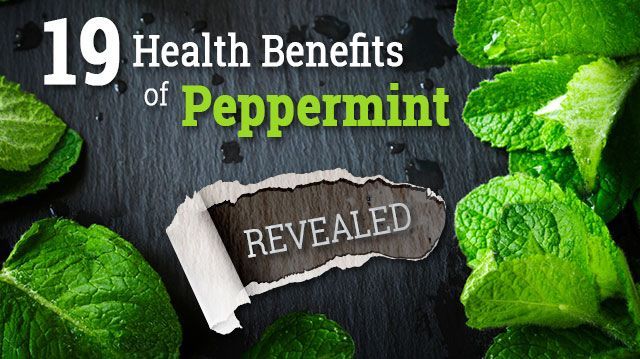 Experts say that peppermint oil may well be one of the most versatile essential oils! This powerful natural remedy is packed with active compounds that can help with virtually any ailment of the body, mind or spirit.
The peppermint plant is a hybrid of two different types of mint: spearmint and watermint. The leaves and flowers of the plant are gathered at peak potency and steam-distilled to make a fresh, cooling essential oil.
The main constituents of peppermint essential oil are menthol and menthone, and they have many therapeutic properties. It is no wonder that peppermint oil has been used for health and beauty since ancient times. It has even been found in the Egyptian pyramids!
Here are 19 of the best ways to make use of this amazing and versatile essential oil.
Relieve headaches: Peppermint oil is one of the best natural remedies for a headache. The cooling sensation helps ease tension and stress, which may contribute to headaches.
Clear respiratory congestion: The menthol content of peppermint essential oil makes it excellent for clearing the airways. The oil is also antiviral and antibacterial, so it will help rid the body of any bugs that are causing respiratory illness. In addition, peppermint oil has antispasmodic properties, so a cough should be calmed easily by inhaling this oil.
Boost mood: Dab a little bit of peppermint oil on your wrists for more energy and a brighter mood!
Soothe digestion: Peppermint essential oil has long been used as a digestive remedy. It is known to soothe spasms, gas, colic and nausea. Simply inhale, or use topically.
Natural oral health: You can make your own nontoxic toothpaste and mouthwash using peppermint essential oil! The antibacterial properties of the oil are perfect for keeping teeth and gums in great shape while providing a fresh, minty taste.
Improve learning and focus: Studies show that the compounds in peppermint essential oil help make the brain sharper and improve the ability to learn.
Relieve muscle tension: This oil is great for chronic muscle and joint pain, as well as nerve disorders such as fibromyalgia.
Reduce hunger and cravings: If you want to stop afternoon snack cravings, sniff some peppermint oil for a quick pick-me-up.
Ease allergies: Peppermint oil is one of the best essential oils to stop seasonal allergies. Try combining it with lemon and lavender essential oils for ultimate allergy-fighting power.
Natural hair and scalp health: For an energizing shower, use shampoo or conditioner with a little peppermint oil added. It also fights dandruff and lice.
Relieve skin conditions: Peppermint oil is a strong anti-inflammatory, and also fights bacteria and fungus, which may cause skin conditions such as eczema and rashes.
Reduce fever: The cooling and anti-inflammatory effect of peppermint oil is excellent against a fever.
Repel insects: Spiders and insects hate peppermint oil! This is a great alternative to toxic chemicals that are usually used to repel pests.
Clear acne: Banish acne-causing bacteria and the related inflammation with a dab of peppermint oil.
Promote hair growth: Peppermint essential oil is known to prevent pattern hair loss and encourage longer hair growth when applied regularly.
Treat digestive illness: Inflammatory digestive disorders such as irritable bowel syndrome (IBS) can be treated effectively with topical application or consumption of peppermint oil.
Relieve burns: The cooling effect of peppermint is perfect for burns and sunburn.
Prevent cancer: Peppermint essential oil contains compounds that are known to prevent the growth of cancer cells.
Balance hormones: Women suffering from hormonal conditions such as polycystic ovary syndrome (PCOS) have found that peppermint essential oil can help to restore hormonal balance.
Simple ways to use peppermint oil
In order to gain all of the benefits, learn these few simple ways to use peppermint essential oil.
The first is topical: Simply dilute a few drops of peppermint essential oil in a salve or lotion that you already have, or mix with a little coconut oil or olive oil. Remember that this oil has a strong cooling sensation, so start with just a drop or two. Apply to the skin in the affected area, or use the peppermint and coconut oil mixture as a natural toothpaste. You can also put the mixture into a roll-on bottle for easy use. Another option is to add a few drops to your shampoo or conditioner.
The second way to use peppermint essential oil is aromatically. Just inhale the aroma straight from the bottle, or use a diffuser or vaporizer. Some people wear a diffuser necklace that has a small pad onto which you can drop a little bit of essential oil to keep the aroma with you all day long.
Have you tried using peppermint essential oil? What has worked for you?
-Liivi Hess
Liivi is an Integrative Nutrition Health Coach and is training to become a doula. She inspires women to find peace and personal power by taking control of health and fertility naturally. Liivi's passion is ancestral nutrition and primal lifestyle design. She and her partner Will live between Toronto, Canada and Queenstown, New Zealand.
Sources:
http://www.sciencedirect.com/science/article/pii/S094471130470255X
http://onlinelibrary.wiley.com/doi/10.1002/food.200390021/abstract
http://europepmc.org/abstract/med/19768994
http://halitosis-research.com/articles/Antimicrobial_Activity_of_Essential_Oils_Toward_Oral_Bacteria.pdf
http://www.sciencedirect.com/science/article/pii/S0960852499000796
http://onlinelibrary.wiley.com/doi/10.1046/j.1468-2982.1994.014003228.x/abstract