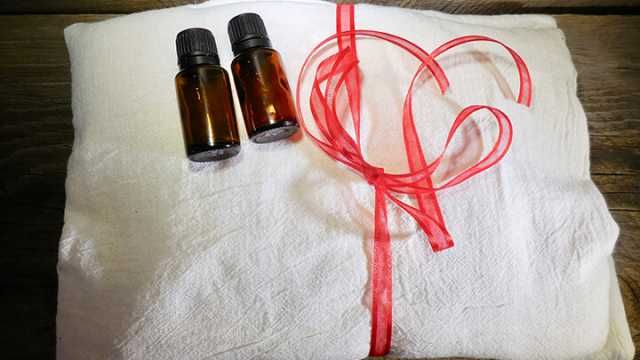 I am always trying to find more natural approaches to everyday medical issues. Headaches are one of those. This pillow is just what I was looking for — it's a way to get relief naturally. Plus, I can be reassured by the fact that I will not have any unwanted side effects. 
This project is so easy and quick to sew up. It is also very inexpensive to make. The cotton fabric is so soft and the rice keeps the pillow very pliable. Adding lavender helps me feel very relaxed and calm. The peppermint makes me feel invigorated. This combination is great when you have a headache.
Ingredients
6 cups long grain rice (makes 1 pillow, need to double for 2 pillows)

10 drops lavender essential oil (for 1 pillow, double for 2)

10 drops peppermint essential oil (same as above)
Equipment
1 cotton dish towel (or any other fabric you choose)
Instructions
1. Gather supplies. 
2. Using a gallon zip lock bag, pour 6 cups of rice into the bag. 
3. Add essential oils to the rice. 
4. Close the bag and mix well to make sure the essential oils are distributed into the rice. 
5. To make the pillow, cut the cotton towel in half. Then cut each half again to make 4 pieces. This will give you enough to make 2 pillows. 
6. Sew two pieces together, leaving a 4-inch opening for adding the rice. 
7. Turn the pillow right side out and fill with rice.
8. Sew up the opening. 
9. Heat the pillow up for 15 to 30 seconds. Microwaves are all different, so exercise caution. You might need a little more or a little less time for heating. Just make sure you do not overheat the bag.
10. Place on your head or over your eyes to ease headache pain. Placing it on the back of your neck is also a great way to fight that headache.
If the scent disappears, just add more drops to the outside of the pillow. The oils will soak into the rice. Mix pillow up after applying oils and it is ready to be used again and again.
— Leilani Hampton