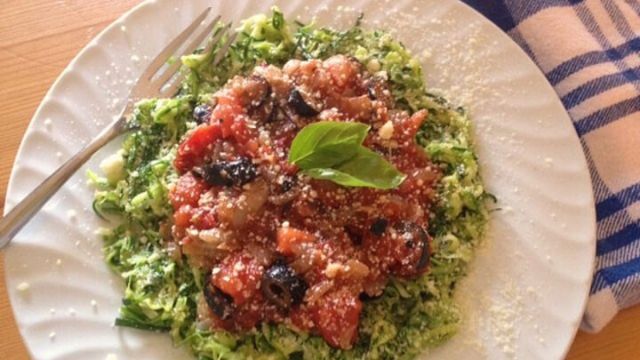 If you're watching your carbs or can't eat gluten — and you're missing your pasta — then you'll love zucchini pasta, or "zoodles." It's easy, simple, healthy and an exciting way to get more vegetables into your diet. Topped with a puttanesca-style sauce, you'll never know you're eating zucchini!
Surprising facts about zucchini
If you want to lose weight fast then zucchini is the vegetable for you. Zucchini is very low in calories, but still fills you up without leaving you feeling bloated like you might feel with wheat pasta. Zucchini, also called courgette, has a very low score on the glycemic index.
Due to its high water percentage, zucchini is low in carbs and sugars, but high in essential nutrients such as potassium and manganese. It's also loaded in antioxidants like vitamin C and vitamin A. Zucchini is also a high anti-inflammatory food, making this my favorite pasta replacement of all time!
Gluten-Free Healthy Zucchini Pasta Alla Puttanesca
Step One:

1/4

cup

extra virgin olive oil

4

large

organic garlic cloves, finely chopped

1

large

organic onion

6

organic tomatoes, chopped

1/2

cup

Kalamata olives, pitted and sliced

1/4

cup

fresh organic basil leaves, chopped

1/2

tsp

dried crushed red pepper

1

tbsp

capers, drained (optional)

1/4

cup

balsamic vinegar

Freshly ground pepper to taste
Heat olive oil in a large, deep sauté pan over medium heat.

Add chopped garlic and onion and sauté until fragrant, about 2 minutes.

Add chopped tomatoes, olives, basil, crushed red pepper and capers.

Simmer sauce over medium-low heat until thickened, about 8 minutes, and season with pepper.
Step Two:

Gluten-Free Zucchini Pasta
| | | |
| --- | --- | --- |
| | | Gluten-Free Zucchini Pasta |
6

medium

organic zucchinis

1

tsp

sea salt

1

tbsp

extra virgin olive oil
Julienne peeler, spiralizer or box grater
Wash zucchinis well, and dry with a paper towel.

Cut the bottom and top ends off of each zucchini.

Using a julienne peeler, start to pull strips from the zucchini on one side without stripping into the core. Turn the zucchini around and continue to pull strips. Discard the core.

Place the julienned zucchini in strainer and toss with the salt. Put the zucchini aside and let it sit for 30 minutes to remove excess water.

Rinse with clean water and drain well. Pat zucchini dry with paper towels.

Add olive oil to a large sauté pan and heat on medium-high. Add the prepared zucchini pasta. Sauté until just tender, about 1 to 2 minutes.

Divide between 4 plates and top with sauce.
Julienne and sweat the zucchinis up to five days in advance. Simply store raw noodles in a covered container in the fridge and enjoy whenever you want a plate of pasta — carb and gluten-free. Enjoy!
— Katherine Marko