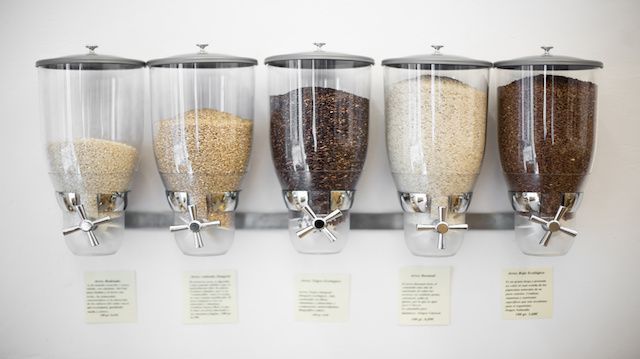 These days, it seems like every time we go to the grocery store, we come home with more plastic packaging than actual food! Even if we buy fresh produce and not the processed stuff, it's often still in bags or plastic shell containers, cinched with tape or twist ties. Plastic, plastic, plastic!
Where does all that plastic end up? Unfortunately, most of it goes straight to landfills. According to statistics compiled by the Environmental Protection Agency (EPA), just under one-third (29.5 percent, specifically) of total U.S. waste in 2009 consisted of containers and packaging.
Plastic waste isn't just a problem in the United States: it's a worldwide issue. However, Day by Day, a grocery store chain in France, is seeking to change the way that people shop, and to lessen the amount of plastic getting tossed into the trash.
To accomplish this, Day by Day offers a wide variety of items in bulk form. Customers bring their own reusable containers from home and fill them with the foods of their choice. At checkout, the foods are priced by weight. Simple, and no extraneous plastic in the equation. 
Didier Onraita, co-owner of Day by Day, stated:
"Over several years, we've noticed a constant decrease in consumers going to supermarkets. They are looking to shop closer to home, but they also want to know more about the products that they purchase, and because of the economic crisis, they look to save money, particularly in food. They also want to consume more responsibly, pollute less, and limit waste." 
Onraita added:
"All these factors made us want to launch a store concept that would be close, sell quality products in just the right quantity and without packaging." 
Many different types of foods are sold in bulk at Day by Day. Along with produce and dry items such as grains and legumes, snack foods are found in bulk, as well as vinegars and oils: staples in the kitchen. Hygiene products, such as bars of soap, natural shampoo bars, solid toothpaste, and reusable makeup pads are also offered in bulk. 
Onraita also assures that the bulk containers in which the store's goods are displayed meet hygiene standards. He said:
"A lot of consumers doubt the cleanliness of the containers, which is why we systematically dismantle, clean, and dry each container before refilling it. It represents a cost of labor that we had to include in our business model."
Not only is this business model great for keeping plastic and other food packaging materials out of landfills, it also saves shoppers money. TakePart digital magazine reports that the bulk foods sold at Day by Day are offered at prices between five and 40 percent lower than competing grocery stores.
Currently, Day by Day has nine locations throughout France, and has plans to open 25 stores by the end of 2016. By 2018, the chain aims to have 100 stores open in France.
Onraita stated that while he would be, "happy to eventually expand internationally," he wants to focus on France first and become "well established" before branching out to other nations. This definitely makes sense, although we'd love to see this concept alive and kicking in the United States soon! 
Not only is buying in bulk a great choice for the environment and your pocketbook, cooking in bulk can save you time and money too. Although we do not currently have a Day by Day in the U.S., many stores do offer substantial bulk sections, so grab a reusable container and go hunting for some healthy bulk treasures!
—Tanya Rakhmilevich
Tanya is a writer at The Alternative Daily with a passion for meditation, music, poetry, and overall creative and active living. She has a special interest in exploring traditional Eastern remedies and superfoods from around the globe, and enjoys spending time immersed in nature.
Sources:
http://www.takepart.com/article/2016/1/19/bulk
http://www.epa.gov/smm/advancing-sustainable-materials-management-facts-and-figures
http://www.inspirationgreen.com/plastic-packaging-waste.html