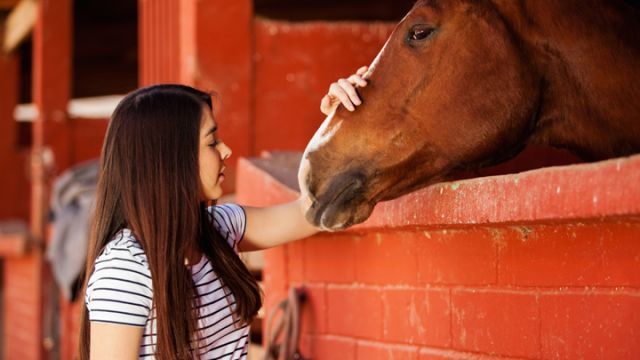 Hippotherapy has nothing to do with hippos, but it does involve another large animal. In Greek, "hippos" means horse, so hippotherapy is treatment via the help of equines.
There's a major reason hippotherapy benefits so many patients. Unlike some other forms of therapy, it's a lot of fun. Many kids don't even realize it's a therapeutic exercise. As Winston Churchill said, "There's something about the outside of a horse that's good for the inside of a man," and that applies to patients receiving this specialized form of equine therapy.
Hippotherapy
The American Hippotherapy Association defines its practice as "the use of equine movement as a treatment strategy." Although hippotherapy has much in common with therapeutic riding, they are not synonymous. Hippotherapists are already licensed as physical, occupational or speech and language therapists, and hippotherapy is an additional certification. Hippotherapy does not teach patients how to ride a horse. Its purpose is purely therapeutic, with the horse as part of the treatment model, and requires a doctor's prescription. Some insurance companies cover hippotherapy sessions, while others do not.
Conditions
Hippotherapy is used to treat a variety of physical and mental conditions. These include:
Amputations

Autism

Brain injuries

Cerebral palsy

Curvature of the spine

Down's syndrome

Multiple sclerosis

Muscular dystrophy

Paralysis

Spina bifida
The horses
Horses chosen for hippotherapy work may also double as therapeutic riding horses, but they must possess certain characteristics the typical therapeutic horse may not have. Equines working in any therapeutic capacity must have good, calm temperaments and behave in as "bomb proof" a manner as possible. Most, but not all, are older animals. Hippotherapy horses must also boast an excellent walk, and an overall quality of structure and movement. Horses with less than stellar gaits may pass muster as therapeutic riding horses, but they won't do for hippotherapy. A good hippotherapy horse is hard to find.
How it works
As the horse is led around the arena, every stride pushes his rider's pelvis forward. In an average 30 minute session, the rider experiences a constant back and forth movement of the trunk. These movements help build overall muscle tone while at the same time relaxing the thigh and hip muscles. The physical therapist may include additional exercises as part of the individual patient's treatment protocol. As sessions progress, the patient should show improvement in balance, coordination, strength and endurance. Neurologically, patients may experience cognitive benefits such as increased attention spans, as well as a better ability to communicate and express themselves.  
Patients with speech issues benefit because the horse's motions are repetitive, yet coordinated. This allows a speech and language therapist to walk alongside while manipulating the patient's cheeks or lips to make the desired sound.
A recent study published in Physical and Occupational Therapy in Pediatrics concludes, "Hippotherapy provided by a trained therapist who applies an intense and graded session for 10 weeks can improve body functions and performance of gross motor and fine motor activities in children with cerebral palsy." That's significant improvement in just 10 once-weekly sessions.
Volunteers
Even though hippotherapy sessions are run by licensed professionals, such programs could not exist without dedicated volunteers. One person leads the horse, while others walk on either side of the patient as "side walkers" to ensure the client does not slip, or fall off. Volunteers may also assist with getting the patient on and off the horse. They groom, tack and untack the animals. They are the lifeblood of any hippotherapy or therapeutic riding program. If you love horses and want to make a difference in the life of people with disabilities, inquire about volunteer opportunities at your local therapeutic riding organization.
There are some advantages to hippotherapy that might never make it into a study, as they are subjective rather than objective. It's hard to measure the satisfaction a normally wheelchair-bound child receives when he sits tall upon a horse, able to view the world from this unique vantage point. There are non-verbal patients whose caretakers know how much they look forward to this therapy. Horses have the power to transform those coming in contact with them.
— Jane Meggitt