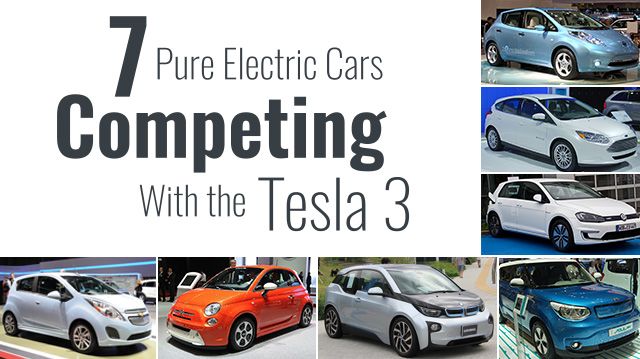 Tesla Motors CEO Elon Musk is known for making big promises. SpaceX, his space travel startup, is going to enable people to live on other planets. SolarCity is going to use the power of the sun to bring clean, affordable energy to the world. And Tesla, Musk's electric car company, is going to manufacture, market and sell sustainable, personal transport to the masses.
We haven't quite started terraforming Mars or running modern cities on sun power, but Tesla's mission is one step closer to fulfillment. The mass-market-priced Tesla Model 3 is here. But there's also a pack of low-cost, all-electric cars that promise to compete with the Model 3, suggesting a pure-electric revolution in motoring is at hand.
Since 2003, Tesla has been committed to bringing a consumer electric car to market. The 2008 Tesla Roadster could drive 245 miles each charge. It accelerated from 0 to 60 mph in only 3.7 seconds. But priced at $100,000 and up, a Tesla Roadster was hardly an affordable option.
The 2013 Model S offered 265 miles per charge and boasted an acceleration of 0 to 60 mph in five seconds. All this in a seven-person sedan. The price had improved, falling to $70,000 before tax credits, and Model S outsold a slew of other cars in its class. Tesla as a car company was well on its way. It had delivered a successful luxury sedan. In order to start the sustainable transport revolution, however, Tesla now needed to deliver on true affordability. 
It may have taken over a decade, but Tesla is finally making good on its promise to deliver a fully electric, affordable consumer car. The Tesla 3, set to be released in 2017, will start at $35,000 before tax credits, half the price tag of Tesla's sedans.
Tesla 3 promises to travel 215 miles on a single charge and accelerate from 0 to 60 mph in six seconds. The car features a slick glass ceiling, ostensibly for increased head space but the cool factor couldn't have hurt. Without a gas engine, Model 3 has the expected rear-end trunk and additional storage space up front. Add the promised five-star safety rating and standard "autopilot" self-driving feature and the Model 3 is something to get excited about. It is due to hit the market in 2017.
Musk's vision excites people. Pre-sales for the Model 3 have hit 276,000 and drivers are lining up to be a part of history. Tesla, however, was not first to market by a long shot. Many other car companies already have pure-electric cars on the road and Chevy, a behemoth with lots of market reach, is joining the fray.
In January 2015, Chevrolet promised to be the very first company to offer a consumer-friendly, fully electric car. The Chevrolet Bolt is that car. At 200 miles per charge and sporting a $37,500 price tag, the Bolt will be the very first 200-mile, fully electric consumer car to hit the market.
The Bolt is due to be released in late 2016 or early 2017. Here are seven options that might also give Tesla a run for its money:
Nissan Leaf
Range: 107 miles
Price tag: $29,000
Horsepower: 107
Wow factor: The Nissan Leaf is the most popular and widely available electric car in the world right now. You can go test drive one at Nissan today if you want — no waiting.
Chevrolet Spark EV
Range: 82 miles
Price tag: $26,000
Horsepower: 140
Wow factor: High torque design makes for a zippy, fun ride.
VW E-Golf
Range: 83 miles
Price tag: $29,800
Horsepower: 115
Wow factor: The E-Golf is touted as the best handling fully electric car for under $40,000.
Kia Soul EV
Range: 93 miles
Price tag: $34,500
Horsepower: 109
Wow factor: In true Kia fashion, the Soul EV delivers a quirky design. The car also features regenerative brakes, which put power back into the car as you slow down, placing it in the league of more expensive competitors.
Fiat 500e
Range: 84 miles
Price tag: $34,600
Horsepower: 111
Wow factor: A subcompact two-seater, the Fiat 500e is one of the most lightweight electric cars on the market. This helps keep range and power stats up.
Ford Focus
Range: 76 miles
Price tag: $29,200
Horsepower: 143
Wow factor: The Ford Focus was designed with a quiet ride in mind. The inside of the car has been decked out with extra insulation and sound-dampening materials.
BMW i3
Range: 81 miles
Price tag: $43,300
Horsepower: 170
Wow factor: The BMW i3 is a fully electric car that also comes equipped with the tiny gas tank. Though the aim is to never use it, it's nice to have a backup plan.
The 2008 Tesla Roadster was certainly the catalyst for mass production of electric cars, but competition will only speed up the revolution. We can expect electric cars to become even more efficient, affordable and widely available. 
Are you considering an electric for your next vehicle? 
—Erin Wildermuth
Erin is a freelance writer, photographer and filmmaker. She is passionate about moving beyond party politics to identify pragmatic solutions to social, economic and political problems. Her writing has appeared in the Washington Times, the American Spectator, Doublethink and Scuba Diver Magazine. She spends her free time scuba diving, snowboarding and ravenously reading popular nonfiction. Erin holds a master's degree in International Political Economy from the London School of Economics.
Sources:
https://www.teslamotors.com/about
http://www.usatoday.com/story/money/cars/2016/04/01/tesla-unveils-its-model-3-sedan-bid-mass-appeal/82503100
http://www.wired.com/2016/03/meet-teslas-model-3-long-awaited-car-masses
http://www.plugincars.com/cars
http://www.plugincars.com/nissan-leaf-116-mile-range.html