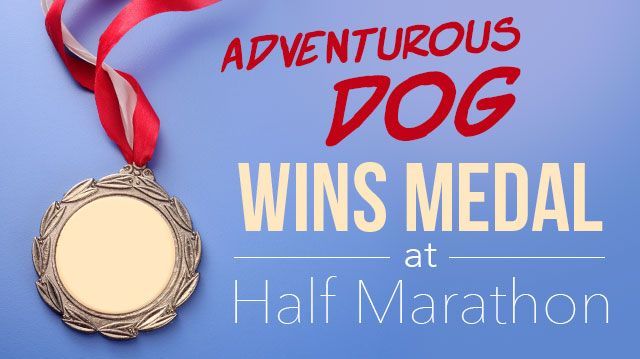 This past January, the Elkmont Half Marathon (formerly the Trackless Train Trek), an annual charity race through Elkmont, Alabama, had an unlikely competitor. Ludivine, aka "Lu," a two-year-old bloodhound, decided to join the race — and won herself a medal!
Lu's owner, April Hamlin, was not even at the race, nor was she aware that her canine friend was competing! Hamlin had let Lu out to do her business, and the next thing she knew, she was getting a call from a friend that Lu had won seventh place in the half-marathon race. 
Instead of just going potty and coming home, Lu wandered off to the nearby starting line of the race, got in line with the runners, and began running when the starting pistol was fired. The competitors, who followed the course through downtown Elkmont and then along the rural roads around town, were running to raise money for the track and cross country programs at Elkmont High School.
Lu finished the race in one hour, 32 minutes, and 56 seconds, placing her seventh overall out of 165 runners.
Hamlin later told CNN:
"Apparently she went to the race start and took off with the runners at the starting shot. She stayed with a few of the front runners, ran off to sniff some animal carcasses, romp in the water, and then back to the race. I understand she stayed on the course for 13.1 miles, finished seventh, and was the highest placed female."  
Hamlin also told news sources that she was worried that Lu had interfered with the race, or caused the human runners (many of whom were friends of hers) inconvenience. However, her worries turned out to be unfounded, as the race organizers awarded Lu with a medal. On top of that, they decided to rename the race scheduled for next year the "Elkmont Hound Dog Half."
Besides being very cute, Lu's medal-winning race, and her subsequent Internet fame, have inspired Hamlin to start running. This in itself is a highly positive outcome, as running, when done safely, has some enormous health benefits.
Running, as long as you are wearing proper shoes and not pushing yourself too hard, is a great cardiovascular workout. When incorporated as part of a high-intensity interval training (HIIT) regimen, and underscored by a healthy diet, it can be spectacular for fat loss. It has even been linked by recent research to potentially boosting intelligence. 
There are some differing opinions on the ideal way to run, but the most important thing is to warm up, stretch, and go at a pace that challenges you but does not overwhelm you. Start slowly and work your way up — don't ever try to push your body too hard, too fast. Listen to your body, and you will find your perfect pace.
Before you hit the track or the trails, fuel up with these yummy pre-run snacks. 
Can you beat Lu's half-marathon time?
—Tanya Rakhmilevich
Tanya is a writer at The Alternative Daily with a passion for meditation, music, poetry, martial arts, and overall creative and active living. She has a special interest in exploring traditional Eastern remedies and superfoods from around the globe. Currently, she and her son live in Wisconsin, where they enjoy spending time immersed in nature.
Sources:
http://www.cnn.com/2016/01/25/us/dog-runs-half-marathon/index.html?sr=twCNN012516dog-runs-half-marathon1037PMStoryLink&linkId=20661464
http://www.mnn.com/family/pets/blogs/dog-sneaks-half-marathon-finishes-7th