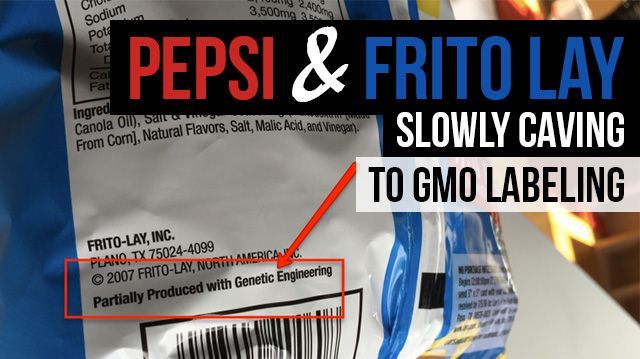 As America moves towards greater awareness of genetically modified organisms (GMOs) in its food, PepsiCo and Frito-Lay have been quietly starting to include GMO labeling on their products. Find out the reasons behind this move, and why they've kept it such a secret.
Across the country, many companies are beginning to see the value in adding labeling pertaining to the genetically modified nature of ingredients in their products. Consumers have repeatedly shown that they respect brands that are transparent about their ingredients, so many companies, including Mars, Campbell Soup and General Mills, have been vocal in their plan to implement these labels on their products nationwide.
PepsiCo and its subsidiary Frito-Lay, on the other hand, have been going about their GMO labeling campaigns unannounced. While the companies have not made it public, Consumer Union recently noticed a can of Pepsi in New Hampshire and a bag of Lay's chips in New York both with labels stating, "Partially produced with genetic engineering." This is presumably a precursor to Vermont's mandatory GMO labeling law, which is due to come into effect in July.
While this is a step in the right direction, the GMO labels on PepsiCo's and Frito-Lay's products were a little hard to find, and aren't immediately noticeable. PepsiCo has yet to issue a statement regarding the labeling change; however, a spokesperson from Frito-Lay informed Consumers Union that this was just the first step in the company's plans to provide similar labels on its products nationwide.
The Frito-Lay spokesperson stated that the word "partially" in the label means that no more than 75 percent of the product ingredients are from GMO sources.
With this apparently positive move by PepsiCo and Frito-Lay, the question remains as to why they've kept it on the quiet. It could have something to do with Frito-Lay's involvement in a lawsuit that challenges the passing of Vermont's proposed GMO labeling law. Coordinated by four trade groups — the Grocery Manufacturer's Association, the Snack Food Association, the International Dairy Foods Association, and the National Association of Manufacturers — the lawsuit claims that the labeling requirement runs against the constitution. The trade groups leading the lawsuit are seeking an injunction which will ban the state of Vermont from enforcing the law.
In April 2015, the district court turned down the trade groups' request for an injunction. The groups appealed that decision, and the Second Court Circuit of Appeals is yet to issue a ruling on the appeal.
Interested in the anti-GMO movement? Find out how more and more American farmers are beginning to make the switch to non-GMO, and reaping the rewards.

—Liivi Hess
Sources:
http://www.organicauthority.com/pepsico-quietly-begins-gmo-labeling
https://consumerist.com/2016/05/11/pepsi-frito-lay-quietly-adding-gmo-ingredient-labels-to-some-foods