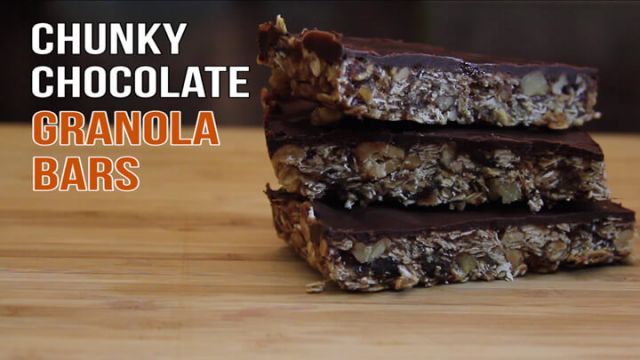 It is hard to turn down a delicious granola bar, but most store-bought brands aren't as nutritious as you'd think. Some deliver more high fructose corn syrup and preservatives than nuts and oats. The best way to make sure your granola bar is full of the best ingredients — and only the best ingredients — is to make them yourself.
Luckily, it is a simple process. Your homemade treats might even taste better than the store-bought brands. We think this recipe does. It also comes with the health benefits of honey, oats, nuts and dark chocolate. Feel free to modify. Less honey, more peanut butter or a nut substitution can make this bar your perfect snack.
Ingredients
1 cup dates

1 1/2 cups oats

1/4 cup pecans

1/4 cup walnuts

1/4 cup cashews

1/4 cup honey

1/4 cup natural creamy peanut butter

3.5 oz dark chocolate
Equipment
Food processor

8×8-inch baking dish
Instructions
1. Blend dates in food processor.
2. Add dates to large bowl with oats, pecans, walnuts and cashews.
3. Heat honey and peanut butter over medium heat.
4. Pour mixture in with your nutty date concoction.
5. Mix everything together, ensuring the dates are evenly distributed.
6. Line baking dish with parchment paper. Pour mixture in, place another piece of parchment paper over the top and squish everything down.
7. Refrigerate for 15 to 20 minutes.
8. Slowly melt chocolate on the stove.
9. Pour chocolate evenly over surface of granola and allow to set.
10. Slice into bars. Enjoy!
— Erin Wildermuth