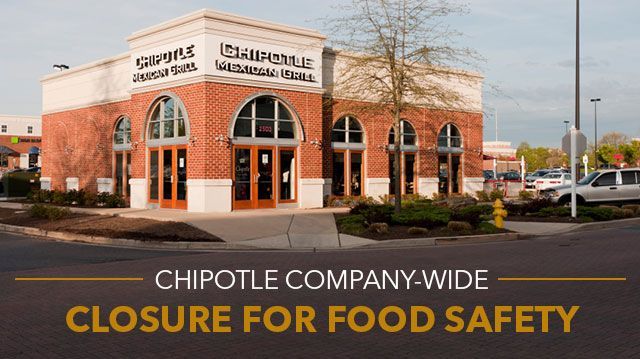 Despite Chipotle's E. coli, norovirus and Salmonella outbreaks in 2015, the Tex-Mex restaurant chain will continue to move forward, even if it means closing every one of its restaurants for an entire day. On February 8, 2016, Chipotle will close its doors to discuss the E. coli outbreak that has plagued the chain since October, according to reports.
Since October 2015, 53 E. coli cases have been recorded in nine states with 20 people hospitalized, according to the Centers for Disease Control and Prevention (CDC). The E. coli cases stretch across the United States, while the source of the foodborne illness remains unknown. Chipotle has been working with state and federal health officials to clean up their restaurants, and testing continues to ensure that all Chipotle locations are safe.
"I'm hopeful that the CDC will call this over soon," Steve Ells, Chipotle's CEO said at a press conference. "We know that Chipotle is as safe as it's ever been before." The foodborne illness outbreaks have certainly done some damage to the company's bottom line, but Chipotle stocks seem to be on the rise once again. After a 42 percent drop in three months  — from $750 a share to $428 — Chipotle saw a six percent jump this week with shares hovering at $454, according to CNN Money.
Chipotle has also partnered with IEH Laboratories and Consulting Group, a food safety testing and consulting company located in Seattle. The hope is that IEH will assist Chipotle in securing a future free of foodborne bacteria. According to Chipotle's food safety update, IEH will, "work directly with Chipotle's Supply Chain and Operations departments to implement a set of industry-leading practices, including some changes to our previous protocols."  
The February 8, 2016 company-wide shutdown may be an essential move for Chipotle toward safe food service in the future. Despite the constant problems of 2015, the Tex-Mex restaurant chain is making some responsible and ethical steps forward. However, we will have to wait it out and see what lurks in this year's burrito bowls.
Do you think Chipotle is taking more responsible steps to ensure the safety of its customers, or is the company just going through the motions in order to get customers back at order counters?
-Stephen Seifert
Stephen Seifert is a writer, professor, adventurer and a health & fitness guru. His flair for travel and outdoor adventure allows him to enjoy culture and traditions different than his own. A healthy diet, routine fitness and constant mental development is the cornerstone to Stephen's life.
Sources:
http://www.cdc.gov/ecoli/2015/o26-11-15
http://money.cnn.com/2016/01/13/investing/chipotle-e-coli-new-marketing-campaign
http://chipotle.com/food-safety?_ga=1.125885965.1077474042.1446566789
http://www.iehinc.com