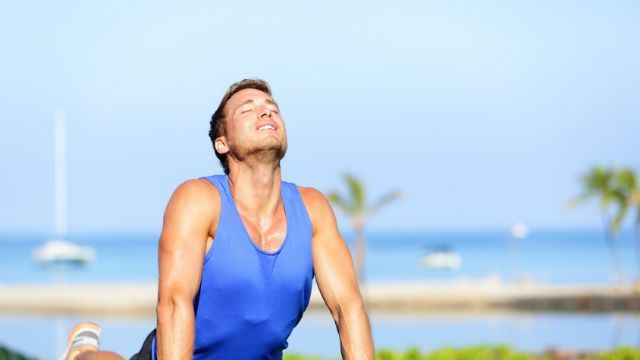 Do you have the old mindset that yoga is something that only women or weak men practice? Many men, and some women, have been under the impression that yoga is "just for girls," but that's certainly not the case. Quite a few big, burly men as well as tough athletes have been discovering the benefits of yoga recently.
One well-known wrestler, Diamond Dallas Page, successfully used his own form of yoga, D.D.P. Yoga, which he combined with traditional strength building exercises and calisthenics in order to help heal his injured spine, and even return to the sport to become a champion at the age of 43.
Page helped other wrestlers to manage chronic back pain and other health issues as well, including six-time WWE champion Chris Jericho, who declared that D.D.P. Yoga healed his herniated disc.
Page also assisted one of his best friends, Jake "The Snake" Roberts, who had not only been suffering from debilitating pain and depression, but a number of addictions that resulted from trying to relieve it, including pills, alcohol and cocaine.
Two years ago, Page gave Roberts a call, suggesting that he give yoga a try too. Roberts told the New York Times just last month, "I was like 'O.K., Dallas, O.K.,' " but, he said, "I was trying to get off the phone so I could go pick up my drugs."
Fortunately, the former wrestler finally gave in and started attending daily sessions. Today, he's sobered up, lost weight, and his body, which had become soft and inflexible, is now lean and limber once again.
Many NFL players, who are certainly not perceived to be "weak" in any way, have also turned to yoga to improve their game and decrease the chance of injury, including Detroit Lions' wide receiver Calvin Johnson. Johnson, who was credited with 12 touchdowns in 2013, does yoga as part of his pregame routine.
The specifics of it vary based on what he wants to stretch out, but says he believes it's very beneficial, telling CBSDetroit.com last season, "Whatever I'm feeling, if I need to work on my hamstrings, if I need a full-body deal or if I just need to work on my hips, whatever needs work. "I've seen definitely a positive impact from just being loose in my hips, hamstrings," adding, "I know it's something that worked for me. I've just been doing it ever since."
Pittsburgh Steelers' safety Troy Polamalu, who helped lead his team to two Super Bowls and was given the Most Valuable Player of the Year Award in 2010, in addition to being named the NFL's Defensive Player of the Year, has said that he doesn't believe in lifting weights and has practiced yoga for many years. On the field, he appears calm, yet he also plays very intensely.
Wide receiver Nate Burleson, formerly a member of the Seattle Seahawks, Detroit Lions and Minnesota Vikings, has said that yoga was "a lot tougher than he expected," but like many others, when someone advised him to try it, his first thought was, "that's for girls."
Burleson quickly changed his mind, discovering that exercises like yoga can make a "world of difference for football players because it stretches out the muscles that are so often compressed." He explains, "Lifting just makes you tight. You basically tear and re-tear your muscles.
That's how we build muscles, so if we're continually doing that, all your muscles are going to do is get tighter and tighter as it heals up. With doing yoga and pilates and whatever else you need to do, it helps out."
Making the body more flexible helps to reduce the risk of injuries, which is always a huge concern in such a tough profession.
The 33-year-old added, "What most guys are doing now, they're using it as a preventative measure, so it's almost like 'prehab' in a sense, and you're able to get your body more flexible, and your ligaments and tendons, all that stuff can give a little bit more when you have it already stretched out and worked out."
Flexibility is the key that far too many people are missing. Whether you're an athlete, or someone just concerned about your health, your fitness level or even simply maintaining the ability to perform daily tasks, you can benefit from becoming more flexible and increasing your range of motion through practicing yoga.
-The Alternative Daily
Sources:
http://detroit.cbslocal.com/2013/11/08/once-reluctant-nfl-players-say-yoga-is-not-just-for-girls-anymore
http://www.nytimes.com/2014/08/17/magazine/the-rise-of-beefcake-yoga.html?ref=health&_r=1