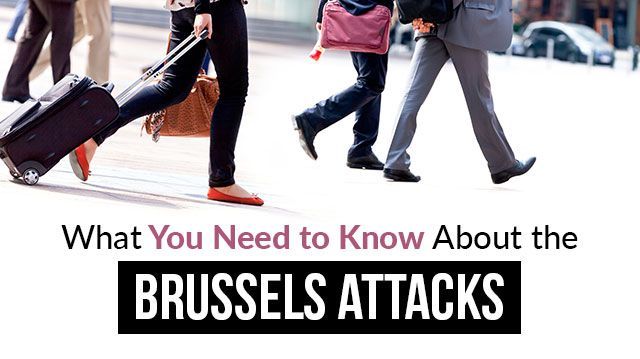 On Tuesday morning, Brussels became the newest victim of terrorism. Two explosions at Zaventem airport left 14 dead and many injured. One of the explosions is believed to have originated from a suitcase bomb, the other from a suicide bomber. The metro system was attacked an hour later, leaving 20 killed and many injured at the Maelbeek station. The Islamic State has claimed responsibility for the attacks.
Between the two attacks at least 170 are injured, according to new reports. "We were fearing terrorist attacks, and that has now happened," Belgian Prime Minister Charles Michel said at a news conference, reported by The New York Times. The attacks were "blind, violent, cowardly."
Molenbeek is a suburb of Brussels known as a hotbed for terrorist recruitment and activity. Salah Abdeslam, a Belgian-born French citizen, was apprehended four days ago in Molenbeek and charged for his involvement in the Paris attacks in November. Police believe the Paris attacks, in which more than 130 were killed, were planned in Brussels. 
Some residents of Molenbeek have spoken to reporters, though doing so is dangerous. CNN reports that young people there feel marginalized and have few economic opportunities, making them particularly susceptible to radicalization. Whatever the reason, more residents of Belgium have left to join fighters in Syria and Iraq than from any other Western European country.
Belgium has come under harsh critique for their response to terrorism in the past. Molenbeek's mayor was given a list of suspects in the neighborhood a month before the Paris attacks. She was criticized for not acting when two of these suspects were implicated in the Paris incident. 
Belgium's Interior Minister Jan Jambon promises that the country is doing all it can: "One-and-a-half years ago, we had 15 persons per month leaving for Syria or Iraq, now it's less than five," he told CNN.
Countries across Europe and the world have ramped up security measures in the wake of these latest attacks. Belgium's neighbors have tightened border security. France has sent hundreds of police officers to its transportation hubs — trains, airports and ports.
The international community has responded with support and solidarity:
French Prime Minister Manuel Valls said: "We are at war. In Europe we have been subjected to acts of war for several months."

 
British Prime Minister David Cameron called for Europe to "stand together against these appalling terrorists and make sure they can never win."

 
Russian President Vladimir Putin said the attacks "show once more that terrorism knows no borders and threatens people all over the world."

 
US President Obama announced that

"this is yet another reminder that the world must unite. We must be together regardless of nationality or race or faith in fighting against the scourge of terrorism."
Germany's Justice Minister, Heiko Maas Tweeted: "Today is a black day for Europe. The horrible events in Brussels affect us all. We are steadfastly at the Belgians' side.

 
Swedish Prime Minister Stefan Löfven called the attacks an "attack against democratic Europe."
European Union leaders issued a joint statement: "This latest attack only strengthens our resolve to defend the European values and tolerance from the attacks of the intolerant. We will be united and firm in the fight against hatred, violent extremism and terrorism." 
Commentators worry about the impact these and other attacks might have on open borders in the European Union. Immigration checks were already implemented in several countries following the attacks in Paris.
Meanwhile, Islamic State press operatives released this brief statement: "Islamic State fighters carried out a series of bombings with explosive belts and devices on Tuesday, targeting an airport and a central metro station in the center of the Belgian capital Brussels, a country participating in the international coalition against the Islamic State."

"Islamic State fighters opened fire inside Zaventem Airport, before several of them detonated their explosive belts, as a martyrdom bomber detonated his explosive belt in the Maalbeek metro station. The attacks resulted in more than 230 dead and wounded."
Story Developing….CNN Reports, at least 30 now dead as a result of these attacks.
—Erin Wildermuth
Erin is a freelance writer, photographer and filmmaker. She is passionate about moving beyond party politics to identify pragmatic solutions to social, economic and political problems. Her writing has appeared in the Washington Times, the American Spectator, Doublethink and Scuba Diver Magazine. She spends her free time scuba diving, snowboarding and ravenously reading popular nonfiction. Erin holds a master's degree in International Political Economy from the London School of Economics.
Sources:
http://www.bbc.com/news/world-europe-35869254
http://www.telegraph.co.uk/news/worldnews/europe/belgium/12201068/Brussels-bombings-terrorist-attack-on-Belgium-airport-and-Metro-live.html#update-20160322-1326
http://time.com/4267336/brussels-attack-world-respond
http://neurope.eu/article/brussels-attack-attack-european-democracy
http://www.cnbc.com/2016/03/22/the-belgium-terror-attacks-complete-coverage.html
http://www.cnn.com/2016/03/18/europe/salah-abdeslam-profile/index.html
http://www.cnn.com/2016/03/21/europe/belgium-terror-fight-molenbeek
http://www.nytimes.com/2015/11/25/world/europe/its-capital-frozen-belgium-surveys-past-failures-and-squabbles.html?_r=0
http://blogs.wsj.com/dispatch/2016/03/22/explosions-hit-brussels
http://www.business-standard.com/article/international/belgium-s-neighbours-tighten-borders-security-after-brussels-explosions-116032200929_1.html
https://amaqagency.wordpress.com/2016/03/22/bombings-carried-out-by-islamic-state-fighters-hit-belgiums-capital-brussels