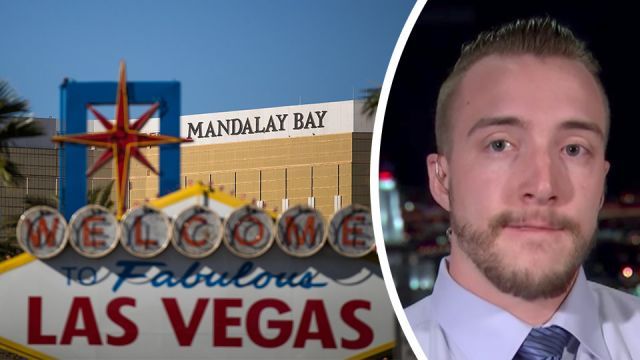 A hotel maintenance worker says he told hotel dispatchers to call the cops before the Vegas gunman opened fire from his broken windows.
Mandalay Bay maintenance worker Stephen Schuck apparently called hotel dispatchers before the shooter began his rampage.
This news comes after the unexpected revision to the timeline of events that took place leading up to the shooting.
Before, it was assumed that Mandalay Bay security guard Jesus Campos was shot after the shooter began his mass attack.
However, only a few days ago it was reported that he actually was shot before. He was attracted to the shooter's room after hearing drilling noises from a nearby distance.
After the shooter opened his door and fired shots down the hallway, it forced Campos to tell Schuck to get cover, possibly saving his life.
Schuck was already on the 32nd floor due to a report of a jammed fire door.
Schuck reported the shooting on his radio. He told a hotel dispatcher, "Call the police, someone's firing a gun up here. Someone's firing a rifle on the 32nd floor down the hallway."
Hotel reported shooter to hotel dispatchers before Las Vegas massacre
Watch the video of Schuck recapping the event,
While it doesn't seem like there is any chance Campos or Schuck could have prevented the mass attack, it does play into question whether communication among the hotel and first responders was at its strongest.
Perhaps, if communication was stronger, it could have allowed police to respond quicker, limiting the gunman's time to shoot, which is now estimated to be around twelve minutes.
What do you think about this updated news and timeline? Let us know in the comments.