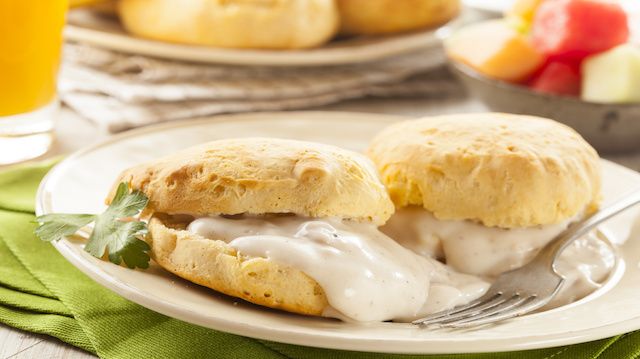 If you're hankering for a little down-home goodness but weary of traditional wheat biscuits and roux-thickened gravies, then try out this recipe. These almond-flour biscuits are buttery and fluffy, and topped with gravy that's rich and flavorful.
Easy Almond Biscuits
Serves 6 biscuits       
Prep time: 20 minutes   
Cook time: 10 minutes
This is not a traditional rolled-biscuit recipe, but rather a muffin-type batter that's scooped into a muffin-top tin, which is used to hold the shape. If you don't have a muffin-top tin, you can also use a traditional muffin tin — just fill each muffin cup half full. Your biscuits will be smaller but the result will be the same. You may also scoop the batter onto a parchment paper–lined baking sheet, but the biscuits will spread out.
However you bake them, the result is still the same — a soft, buttery and fluffy biscuit that pairs beautifully with sausage and mushroom gravy.
Ingredients
1 cup plus 2 tbsp blanched almond flour

1/2 tsp sea salt

1 tsp baking powder

2 tbsp cold butter (extra for greasing)

3 large egg whites
Instructions
Preheat the oven to 400 degrees Fahrenheit. Prepare a muffin-top tin, a traditional muffin tin with butter or a baking pan lined with parchment paper.

In a medium mixing bowl, combine almond flour, salt and baking powder. Next, with a fork or pastry cutter, cut the cold butter into the almond mixture. Work the butter in until the mixture is crumbly.

In a large glass measuring cup, separate the eggs — with the egg whites falling into the measuring cup. (You can retain the egg yolks for another use.) With a fork, whisk the egg whites until frothy.

Pour the egg whites into the almond mixture. Mix well to combine. The batter will be runny.

Place the batter in the fridge for 15 minutes so the batter can thicken. Do not omit this step.

Pour the batter into the tins and bake for 10 minutes until the biscuits are golden. Wait to cool before removing from the muffin tin.
These store well in the fridge for a few days and may be toasted to heat.
Gluten-Free Sausage and Mushroom Gravy
Serves 2 1/2 cups      
Prep time: 5 minutes    
Cook time: 10 minutes
Ingredients
6 ounces gluten-free organic chicken or pork sausage, pulled into pieces

1 tbsp cornstarch

1 1/2 cups of gluten-free organic chicken stock

2 tbsp unsalted butter

1 onion, finely chopped

2 cloves of garlic, minced

1/2 pound white button mushrooms, cleaned and sliced

1/2 cup heavy cream

1 tbsp dried parsley     

1/2  tsp sea salt

1/2  tsp freshly ground pepper

 
Instructions 
In a heavy nonstick skillet, cook the sausage meat over medium heat until caramelized. With a slotted spoon, remove the cooked sausage meat from the skillet and place into a bowl. Discard any oil from the pan, but leave the brown bits.

In a glass measuring cup, whisk the cornstarch into the chicken stock and set aside.

Add the butter, onion and garlic to the skillet and place back on the stove. Cook until fragrant over medium heat. Add the sliced mushrooms, and continue to cook until mushrooms are soft and brown, and any liquid from the mushrooms has evaporated. Add the cooked sausage meat back to the skillet.

Stir the cornstarch mixture and add to the skillet. Bring the mixture to a boil. Add the cream and bring to a simmer; cook for 2 minutes, stirring until thickened. Stir in parsley, and season the gravy with the salt and pepper.
You don't have to live in the South to eat biscuits and gravy. Enjoy them with eggs for breakfast, on their own for lunch or as a side for dinner. Yum!

—Katherine Marko
Katherine Marko is a freelance writer, author and blog creator. Her areas of expertise include food, health, style, beauty, business and nutrition. Marko holds a Bachelor of Arts in English, a diploma in photography, graphic design and marketing, and certification in esthetics.