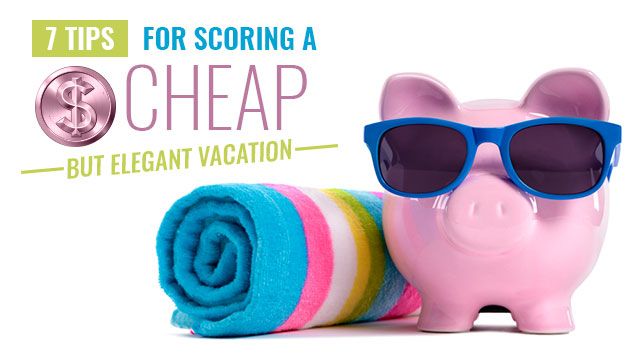 Getting away from it all doesn't mean you have to break the bank. With some flexibility and creativity, enjoying an elegant vacation on a budget is simple. Here are seven tips for doing just that.
Think outside the box
You can take your vacation anywhere, whether you want to stay Stateside or travel overseas. But it's the big destinations — New York, Beijing, Paris, London, Tokyo, Sydney — that are likely to cost you more than you'd like to spend. Instead, choose a less popular destination that offers the same amenities as more mainstream destinations. Warsaw, Jakarta, Istanbul and Bangkok are just a few out-of-the-ordinary destinations for less.
Book off-season
Take it from me, don't try to visit Key West over Christmas. Warm, beachy locations are a hit during cold months. As crazy as it sounds, think about where you'd like to go for a particular season and then flip it on its head. For example, visit a ski resort in Colorado or New Mexico during the summertime when there's no powder and enjoy reduced room rates, hot tubs and touring gorgeous sites without so many people. Some of the best destinations offer incredible price discounts off-season.
Be flexible
Vacation packages are a great way to book an elegant vacation on the cheap, but you need to be willing to give a little. Your cheapest vacation may not fall on your ideal dates. Rates for both hotels and flights tend to be most expensive on Fridays and Sundays when vacationers hit the road for a quick weekend getaway. In fact, flights are cheapest on Tuesdays, Wednesdays and Saturdays. Super early flights and red-eye flights tend to be less expensive too, so if you're willing to be a bit flexible, you can get away for less.
Plan early or at the last minute
It seems logical that planning and booking a vacation early will get you better deals, but sometimes jumping at the last minute will get you a better rate, too. Hotels and resorts want to fill their rooms, so often you can find huge discounts available just a couple of days before your vacation. If that makes you nervous, book your vacation six to eight months ahead of time for the best prices.
Take a cruise
Believe it or not, one of the best ways to get away for an elegant vacation without breaking the bank is to take to the high seas. Lodging, food and entertainment are all included when you book, so you only have to worry about budgeting for transportation to and from the ship's port — via plane or car depending on your preferences — money for bar tabs if you're into that, and food and souvenirs from off-site locations.
Use a booking site
Travelocity, Hotwire, Orbitz and other sites offer all-inclusive deals throughout the year, but again you'll probably have to be flexible with dates and flight times.That doesn't mean you can't get an amazing deal to a coveted location though. For instance, I found a flight and hotel package from Dallas to Paris for this October for less than $1,400 per person via one of these sites. Another site yielded flights from New York to New Orleans and a hotel stay in the French Quarter for less than $800 per person.
Rent a space
CouchSurfing.com connects budget-conscious travelers with people who have a free couch or bed available for a quick crash, while renting a room or entire apartment via Airbnb.com has become the trusted source for this kind of lodging. Many Airbnb hosts take their role very seriously and the experience is better than some of the expensive hotel alternatives. Read the reviews to get an idea of what you're getting into, but many travelers swear by Airbnb.
Whether you plan to travel within the States or you want a more exotic getaway, flexibility, patience and thinking outside the box can get you an unforgettable, elegant vacation for less than you think.
Do you have any travel tips that you'd like to share with readers?
—Megan Winkler
Megan Winkler is an author, historian, Neurosculpting® meditation coach, certified nutritional consultant and DIY diva. When she's not writing or teaching a class, Megan can be found in the water, on a yoga mat, learning a new instrument or singing karaoke. Her passion for a healthy mind-body-spirit relationship motivates her to explore all the natural world has to offer.
Sources:
http://www.wisebread.com/how-to-book-an-amazing-cheap-vacation-package
http://www.farecompare.com/travel-advice/tips-from-air-travel-insiders/#
http://www.budgettravel.com/feature/budget-travel-vacation-ideas-the-6-best-places-in-the-world-to-get-an-affordable-luxury-hotel-room-now,52482/?page=2