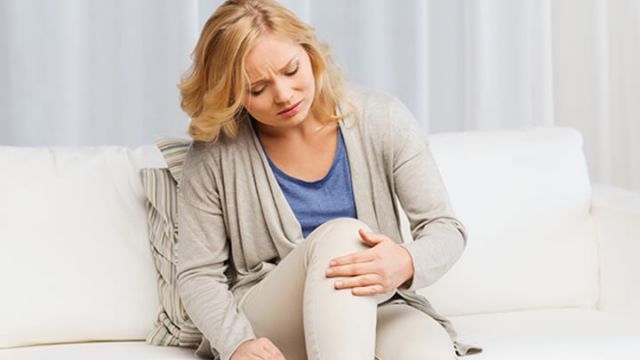 My poor dad has terrible knee pain. For more than four decades, he has worked a highly physical job, which has caused a number of "wear and tear" symptoms.

In my dad's case, his pain is caused by overuse. However, you may also experience pain in the general knee area due to a sudden injury, arthritis or an underlying condition.
Like any condition, the root cause of your symptoms will determine the most appropriate treatment. For those who suffer from arthritis, for instance, it will be important to address rising levels of inflammation. In comparison, a torn ligament will require plenty of RICE (rest, ice, compression, and elevation).
Why you should skip painkillers
In some severe cases of sudden injury, surgery may be your only option. However, when it comes to the prevention and treatment of chronic knee pain, there's plenty that you can do at home. Although many people reach for painkillers, these drugs are not as safe as you may think, including over-the-counter options.
Although these drugs are among the most popular, recent studies have questioned their overall safety. This led to an FDA warning in 2015, regarding an increased risk of stroke and heart attack upon taking COX-2 inhibitors. Being such a common remedy, many individuals do not fully understand the risks involved.
Try these six natural remedies to reduce knee pain today
Tired of living with painful, achy knees? Try these six natural remedies today!
Related: 6 Herbs That Fight Joint Pain And How To Eat More Of Them
1. Epsom salts
Epsom salts work wonderfully for muscle aches, inflammation and other common pains. Rich in magnesium, this salt effectively relaxes the muscles while improving circulation. Although you can certainly soak in an Epsom salt bath, an Epsom poultice will also deliver magnesium directly to the sore area. Make a paste, wrap your knee and allow it to sit for 20 to 30 minutes before rinsing.
2. Heat and cold
Hot and cold therapy is often the go-to remedy when suffering from knee pain. Heat effectively relaxes and soothes. Not only does this allow muscles and joint to rest and unstiffen, but by stimulating blood flow, you will also improve range of motion.
In contrast, cold therapy targets inflammation — which is a key contributor to pain. The result? A significant reduction in knee tension and pain. So remember, use heat when you are not able to move your knee well, and use cold to minimize inflammation and pain.
3. Exercise
The last thing you probably want to do is exercise. However, regular knee stretches and exercise can help treat pain — for good. By improving the strength and flexibility of your leg muscles, you will be able to not only reduce pain but improve function. There are specific exercises which are intended for certain conditions, so be sure to seek an expert opinion so that you do not do any further damage.
4. Turmeric
We have all heard about the power of turmeric — and for good reason. Containing an active compound known as curcumin, turmeric has a direct impact on inflammation. In one pilot study, when patients suffering from knee osteoarthritis ate just two grams of turmeric, they experienced pain relief and increased mobility. In fact, their improvements were equal to those who took 300 milligrams of ibuprofen.
Tip: Consuming two grams of turmeric daily is equivalent to less than a teaspoon. Make a habit of sprinkling this spice on your eggs, rice, vegetables or any other dish that benefits from additional seasoning.  
5. Ginger
Ginger has long been a superhero within the arthritis community. It has also been used within traditional medicine for thousands of years, acting as a natural anti-inflammatory. Unlike NSAIDs, which simply block the formation of compounds that cause inflammation, ginger works on a number of levels.
Although it blocks key inflammatory compounds, it also helps break down the existing inflammation present in joints. If consuming fresh ginger, aim for five grams daily. Simply add to soups, curries or tea blends. You can also make a simple ginger poultice. Create a paste, apply and wrap with gauze.
6. Willow bark
A popular remedy within the osteoarthritis community, willow bark is extracted from, you guessed it, the bark of a willow tree! Back in 400 BC, Hippocrates recommended chewing on this bark in order to reduce inflammation and fever. This is because the bark contains a natural source of salicin, which is similar to the compound found in aspirin. The best way to enjoy willow bark is by brewing it as tea.
Living with knee pain no longer needs to be your daily reality. If you have become reliant on painkillers, it is particularly important to explore other options. Focus on treating your pain at the source, instead of simply masking your symptoms. Begin with the above suggestions, creating a treatment plan that works for you!
FREE BOOK: 4,000-Year-Old Ancient Secret to Help You Fight Dangerous Inflammation =>
— Krista Hillis