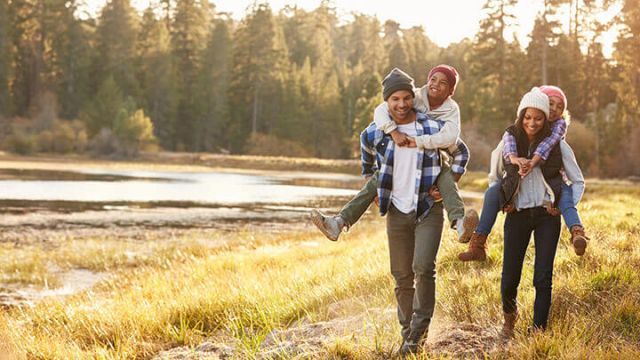 Summer is quickly coming to an end — but that doesn't mean you can't still have outdoor fun with the family. Autumn is an excellent time to take the kids on a hike — it's not too hot, but the cold temperatures of winter haven't set in yet.
A hiking trip is a great choice for a number of reasons. It gives you an opportunity for physical activity, and it's a chance to talk and bond with your kids. Plus, it'll give you what's probably a much-needed break from all the screens. If you're planning on taking a long vacation with the family this fall — or heading out of town for Thanksgiving break — here are a few great options to consider.
Mount Rainier National Park
This Washington park is widely recognized as one of the country's most beautiful — and for good reason. As with any large park, there are some trails that are more challenging than others. But there are certainly options the whole family can enjoy, like the Sourdough Ridge trail. There's a one-mile loop that takes you through meadows with excellent panoramic views. It's often closed due to snow, so plan your trip for early autumn.
Muir Woods National Monument
Located just north of San Francisco, this park is famous for its enormous redwoods. Some of the trees, many of which are between 600 and 800 years old, reach heights of 250 feet and bases with widths of 14-feet across. Pretty impressive! And there are paved trails along Redwood Creek that are easily walkable for the entire family. Plus, after your hike, you can hit San Francisco and enjoy Fisherman's Wharf, Ghirardelli Square and other popular hotspots.
Yosemite
No list of best hiking trails would be complete without mentioning California's Yosemite National Park. There are plenty of challenging hikes in the park, but you don't have to scale Half Dome to have a good time. The Glacier Point trail, for example, is about a mile and a half in length with views of Half Dome and the Mist Trail waterfalls. There's also the Lower Yosemite Falls trail, which is about half a mile round trip. You'll get to see the base of the falls, so be prepared for some spray if you're heading out in the chillier temperatures of autumn. Or try they Tenaya Lake trail. It's about two and a half miles around and you'll get fantastic lake views.
Stokes State Forest
For east coasters, Stokes is a hidden gem. Many people on the east coast are accustomed to heading up to New England for their dose of natural beauty. But you don't need to leave the tri-state area to find a gorgeous spot to enjoy the outdoors.
Located in northern New Jersey, Stokes is a pretty easy trip if you're coming from New York (or Philadelphia). Intrepid hikers can make the trek on the Appalachian Trail up Sunrise Mountain for amazing panoramic views. But there are plenty of easy hikes for the whole family, as well — many of which are paved. There are opportunities for heavily wooded hikes, as well as views of creeks and lakes. In addition to Stokes, there are a number of state forests and parks in the area, so if you're staying for a few days, you'll have plenty of options to choose from.
Mount Rushmore National Memorial
Even if you've never been there in person, you've seen the giant presidential heads a thousand times on TV, online and in books. It might be a bit of a tourist trap, but visiting this iconic South Dakota hot spot will certainly be a memorable experience for your family. The Presidential Trail is an easy, half-mile walk that takes you past the base of the mountain and the studio in which Gutzon Borglum, the sculptor, worked. Not only is this a good opportunity to get some outdoor time with the kids, it's also a great chance to learn a little history and provide the kids with an educational experience that's fun, as well.
Once school starts, it's easy for the family to get stuck in in the regular routine. We're all busy, and taking the time to go out of town can be a challenge. But if you plan in advance, going on a hiking trip with the kids can have a lot of benefits. Not only is it a great chance for you to spend some quality time with the family (away from the screen), it can also help instill healthy habits in your kids that they'll stick with as adults. Helping them learn to love nature and enjoy the outdoors at an early age can be beneficial to them as they get older and start building a healthy lifestyle of their own. Plus, it's just a lot of fun!
— Sarah Cooke