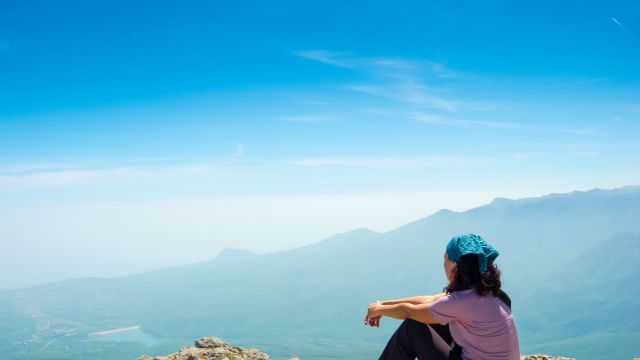 If you've ever thought about considering adventure travel for your next vacation, there are many reasons to go ahead and take the leap. If you really need an excuse, adventure travel even offers a number of physical and mental health benefits.
Improve your immune system
Adventure travel usually allows you to get a little, or sometimes even a lot, dirty. Whether you're mountain biking in Moab, horseback riding through Romania's Carpathian Mountains or rock climbing in Thailand, you're bound to get dirty, which can help improve your physical health.
Research is finding that our society's obsession with cleanliness may be leading to the rise in allergies, asthma and even inflammatory bowel disease. Getting dirty helps to build a stronger immune system, improving overall health.
Stay mentally sharp
Any new experience can help keep you mentally sharp, but one recent study found that physical activities like hiking, walking or biking help to grow the hippocampus, which normally starts to shrink in the later adult years, leading to impaired memory or even dementia.
A group of middle-aged adults that took three, 40-minute walks per week for a year were able to grow their hippocampus by an average of 2 percent, which could help improve memory retention for years.
Boost self confidence
One of the natural by-products of adventure travel is a boost in self confidence. Allowing ourselves to become immersed in unknown territory allows us to immediately recognize an internal shift in our confidence level.
Each experience builds more confidence, by challenging you just a bit further every time. Any time you take a risk or do something new, whether it's as small as venturing off your usual itinerary, or as big as embarking on an independent expedition, it presents a chance to increase self-confidence.
Spark the desire to explore
Our modern society seems to be extinguishing the childhood desire to explore – participation in outdoor activities has been on the decline in our youth, and often times, when there are scheduled activities, helicopter parents hover over children, killing the spark for wanderlust. Adventure travel can bring this spark back, igniting the desire to explore and learn more, ultimately expanding the mind and bringing joy to the spirit.
Help to cope with the challenges of life
By placing yourself in a situation where things may not go as planned, it helps you learn to cope better with the inevitable challenges and uncertainties in life.
Ideas for adventure travel are practically endless. If you aren't sure where to start, consider some of these ideas:
Swim with killer whales in Norway. See killer whales in their natural environment, not imprisoned in a tank. In the fjords of the northern regions of Norway, for three months every year, large numbers of orcas congregate with hardy snorkelers that brave the Arctic waters to visit them. If that sounds a bit too adventurous, they can also be seen atop the water via kayak. Check out Orca Safari.
Walk Australia's Larapinta Trail. This trail winds through one of the oldest mountain chains in the world, central Australia's West MacDonnell Ranges. Walk through oasis-like gorges, across desert plains and over rocky quartzite ridge tops, taking in spectacular vistas. Regular campsites as well as water tanks along the way help to ease the challenge without subtracting from the beauty of the region. Check out Trek Larapinta.
Bike, hike, and snorkel the Galapagos. Explore one of the world's most celebrated ecosystems, and even walk right up to lava lizards, penguins, sea lions and blue-footed boobies. Bike Santa Cruz Island, snorkel among brilliant tropical fish and hike Isabela Island in search of penguins through BikeHike Adventures. Learn more here.
Cycle Croatia's backcountry roads. Go cycling through the unspoiled forests of Croatia's National Parks, passing dazzling lakes and waterfalls, as well as scenic islands dotted with vineyards and olive groves at the edge of the vivid blue waters of the Adriatic Sea through REI Adventures.
Rock climb in Thailand. If you're dreaming of a tropical vacation combined with rock climbing, Krabi, Thailand may be the place to go. This is an independent journey, although guides and gear are available for hire at Ao Nang and Railay East Beach.
Krabi is world-renowned with rock climbers for its stunning limestone rocks. Some of the best instructors on the planet are found here, with a number of local climbing schools available leading trips for everyone from beginners to the most advanced.
Experience a world of wonder and get health benefits along the way. Take a jump into adventure travel. It just might be the start of a brand new you.
-The Alternative Daily