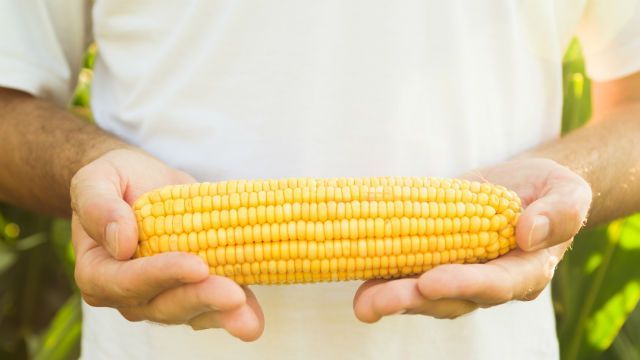 Fresh, organic corn is a delicious addition to any meal, and it just happens to be packed with phytochemicals that can help stave off a number of chronic diseases. Corn's nutrients also work to control diabetes and hypertension as well as to support the heart.
The fall harvest gives us just one more reason to enjoy the wonderful benefits of corn! Remember to choose all organic ingredients to avoid GMOs, pesticides, insecticides and other toxins.
Corn, Cilantro and Zucchini
Ingredients:
1 tablespoon unrefined coconut oil
3 ½ cups zucchini, cut into 1″ slices
1 cup whole kernel corn
1 tablespoon fresh cilantro, chopped
1 teaspoon lime juice, freshly squeezed
¼ teaspoon sea salt
⅛ teaspoon freshly ground black pepper
Instructions:
Heat oil in a large skillet over medium-high heat. Add zucchini and corn. Cook and stir occasionally, for about 7 to 8 minutes, or until zucchini is crisp and tender. Remove from heat, stir in cilantro and remaining ingredients. Serve.
Grilled Corn on the Cob with Roasted Red Pepper Butter
Ingredients:
½ cup grass-fed, unsalted butter, softened to room temperature
2 jarred roasted red peppers, drained well, patted dry, and finely chopped
1 large shallot, minced
1 ½ tablespoons apple cider vinegar
1 tablespoon chopped fresh thyme
2 teaspoons sea salt
½ teaspoon freshly ground black pepper, or as desired
8 ears corn, shucked
2 tablespoons extra-virgin olive oil
Place butter, red peppers, shallot, vinegar, 2 teaspoons of the thyme, 1 teaspoon of the salt and black pepper into a food processor and pulse until blended – a chunky consistency is fine.
Transfer to a large piece of plastic wrap and roll tightly, into a sausage shape, twisting the ends closed. You can store this butter in the refrigerator for up to a week. If you are not making the butter in advance, store in the freezer for a few minutes to firm it up while cooking the corn.
Heat a gas grill to medium. Cut each ear of corn in half. Toss with oil, the remaining one teaspoon of salt and a few grinds of black pepper. Put the ears on the grill and reduce heat to medium-low. Cover and grill corn, turning every couple of minutes until browned all over and tender, approximately 15 minutes. Transfer to a large platter. Remove the stored butter from its cooling location and slice into ⅓" thick rounds, topping the corn with these slices along with the remaining teaspoon of thyme.
Coconut Cream Corn
Ingredients:
4 ears corn, kernels cut from cob
1 cup coconut milk
¼ teaspoon sea salt
2 tablespoons chopped fresh cilantro
1 tablespoon freshly squeezed lime juice
¼ teaspoon crushed red pepper
Instructions:
Combine corn kernels, coconut milk and salt in a medium saucepan. Bring to a boil and then lower the heat enough to keep it simmering. Cook, stirring occasionally, until most of the coconut milk has evaporated, approximately 12 to 15 minutes. Stir in cilantro, lime juice and crushed red pepper.
Cajun Corn
Ingredients:
1 tablespoon coconut oil
1 small onion, diced
½ medium red bell pepper, diced
2 cloves garlic, minced
4 ears corn, kernels cut from cob
¼ cup water
1 medium tomato, chopped
3 scallions, sliced
½ teaspoon fresh thyme, chopped
½ teaspoon paprika
½ teaspoon sea salt
¼ teaspoon cayenne pepper, or as desired
Heat oil in a large skillet over medium heat. Add onion, cook and stir until it starts to soften, about 2 minutes. Add bell pepper and garlic and cook, stirring for another 2 minutes. Add corn kernels and water; cook and stir until tender and crisp, about 5 minutes more. Remove from heat and stir in tomato, scallions, thyme, paprika, salt and cayenne. Serve.
-The Alternative Daily