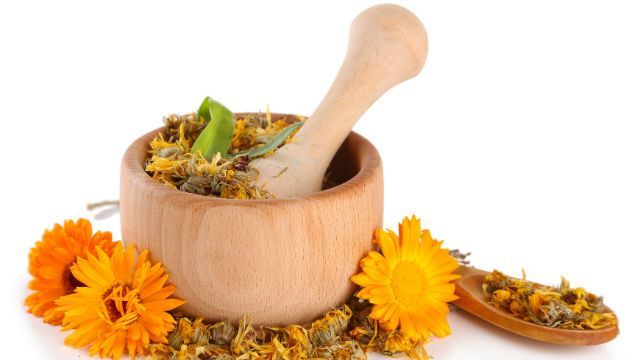 While many are drawn to the vibrant flowers of the calendula or pot marigold (though not to be confused with the annual marigold plant that inhabits many gardens), this centuries-old plant has been used medicinally for hundreds of years.
Traditionally cultivated in northern Mediterranean countries, the plant was most commonly used to treat digestive problems, ulcers and female menstrual conditions. Over time, healers realized its remarkable ability to treat burns, wounds and various skin conditions.
Calendula boasts numerous antiviral, anti-inflammatory and antifungal properties, making the herb an excellent natural option for treating skin ailments over chemical-laden lotions. When applied topically, calendula also stimulates collagen production, which results in less scarring.
When consumed as a tea or an added ingredient in a dish, the herb has immunostimulating properties, as well. While strong enough to treat adult wounds, the herb is also gentle enough to use on babies, pets and on delicate skin.
The bright orange or yellow leaves of the calendula flower can be used as a natural food coloring or simply added to any dish wanting a little color boost. Here are four more ways you can incorporate this medicinal herb into your daily life.
Infused oil
This oil can be used in cooking, dressings or marinades, or applied topically as a massage oil.
Ingredients:
Organic olive oil
Organic calendula flowers
1. Place Calendula flowers in a clean, dry glass jar. Wilt fresh Calendula for 12 hours to remove the moisture before adding to the jar.
2. Pour olive oil into the jar, making sure to cover the flowers by at least 1" of oil so they have space to expand. Stir well and cap the jar tightly.
3. Let the jar sit on a warm, sunny windowsill and shake gently at least once daily.
4. After 4-6 weeks, strain the herbs out, pour the infused oil into glass bottles and store in a cool dark place.
Lip balm
Apply this soothing lip balm to dry, chapped or sunburned lips.
Ingredients:
1 Tablespoon organic shea butter
3 Tablespoons calendula herbal oil (from above recipe)
1 Tablespoon plus 1 teaspoon beeswax
10-15 drops favorite organic essential oil
A few drops organic vitamin E oil
1. Coarsely chop the beeswax and place beeswax, butter, and oil in a small pot or glass measuring cup.
2. Gently heat in the top of a double boiler until the beeswax and butter have melted.
3. Remove from the stovetop and stir in the essential oil and vitamin E oil.
4. Quickly pour the mixture into lip balm tubes or small containers.
This recipe should make approximately 1.5 oz of lip balm, enough to fill 10 lip balm tubes.
Calendula tea
Calendula tea is a potent source of immune-boosting beta carotene, and when consumed three times daily, can act as a liver and gallbladder detoxifier.
Ingredients:
Organic calendula flowers
Boiling water
1. Fill a heatproof jar or mug with fresh calendula flowers.
2. Pour the boiling water over the flowers and allow to steep for 15-20 minutes.
3. Strain the flowers and sweeten with organic raw honey to taste.
Other herbs can be incorporated into the tea for added health benefits.
Calendula topical spray
When bees sting or a little one suffers a scrape, this potent yet gentle spray can take the sting away while protecting the area from infection.
Ingredients:
4 oz organic calendula flower water
15 drops organic Lavender essential oil
10 drops calendula herbal extract or tincture (optional)
Combine the ingredients and pour into a mister-topped bottle. Use as often as necessary.
-The Alternative Daily
Sources:
http://mountainroseblog.com/healing-calendula
http://evomag.co/2013/03/health-benefits-of-calendula-tea
http://umm.edu/health/medical/altmed/herb/calendula
http://thenerdyfarmwife.com/14-uses-for-calendula-tea