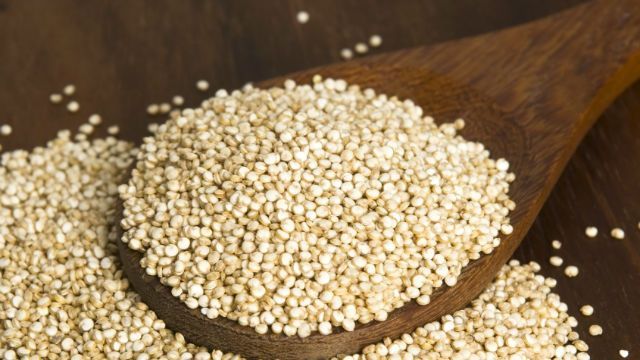 Long gone are the days when those avoiding gluten were forced to abstain from pasta dishes. Today's grocery store pasta aisles are loaded with a wide variety of gluten-free alternatives, most of which are as delicious as the original wheat pasta without the side-effects of gluten. Here are three to try.
Soba/Buckwheat Noodles
While pure buckwheat noodles are gluten-free, some varieties of soba noodles do contain wheat flour as well, so be sure to check the label. Buckwheat, being a grain-like seed, is an excellent source of protein, fiber, B-vitamins and minerals like calcium, iron, magnesium and phosphorous. While the quantity of protein found in buckwheat noodles is similar to that of wheat pasta, the quality is much higher as it is an excellent source of the amino acid lysine.
To cook soba noodles, bring them to a simmering boil, not a rolling boil as you would white pasta. Once they've cooked, you'll want to drain them through a colander and fill the pot with cold water. Return the noodles to the cold water and with your hands rub the noodles against each other gently. This washing technique removes the excess starch and reduces your chance of having gummy noodles. Soba noodles work well with Asian-inspired dishes, both cold and hot.
Soba Noodle and Raw Veggie Salad
8 ounces organic soba noodles
½ cup organic reduced sodium tamari
1 teaspoon sesame oil
2 tablespoons canola oil
2 tablespoons rice wine vinegar
1 ½ teaspoon organic red pepper flakes
1 bunch organic chopped green onions
¾ cup organic chopped cilantro
1 organic red bell pepper, sliced thin
¼ head of organic red cabbage, thinly sliced
3 organic whole carrots, shredded with vegetable peeler
½ cup organic toasted sesame seeds
Directions
Chop up all your vegetables and toss into a bowl with cooked and cooled soba noodles.
In a small bowl, whisk together the tamari, sesame oil, canola oil, rice wine vinegar and red pepper flakes.
Pour the dressing into the pasta and veggies and toss well to combine.
Rice Noodles
You've probably encountered rice noodles in dishes like Pad Thai or Pho. They are much softer than traditional wheat noodles and often appear somewhat clear. Nutritionally speaking they aren't as protein-dense as either quinoa or buckwheat pasta, but their unique texture works well in Asian-inspired noodle dishes.
To cook rice noodles, you'll want to handle them with care as they are much more delicate than other noodle varieties. Place the uncooked noodles in a large bowl, being careful not to break any. In another pot, bring water to a boil and pour the boiling water over the uncooked noodles. Every few minutes give them a stir, and within minutes the noodles will soften. Once cooked, drain the noodles and rinse under cool water to stop the cooking process. Add a little sesame oil to prevent them from clumping.
Quick Chinese-Style Rice Noodles
8-ounce package organic dried rice noodles
2 tbsp vegetable oil
1 clove minced garlic
1 tbsp tamari
½ tbsp chili sauce
1 organic chopped green onion
Salt and pepper to taste
Directions
Prepare rice noodles by pouring boiling water over uncooked noodles. Allow to cook for two to three minutes. Noodles should be al dente.
Saute garlic over medium heat.
Add noodles, chili sauce, tamari and chopped onion.
Season with salt and pepper to taste and serve.
Quinoa
Another grain-like seed, quinoa is a complete protein providing an ample amount of the amino acids lysine and isoleucine. Unlike white pasta, quinoa pasta is an excellent source of healthy fats including omega-3 fats, which help combat inflammation. It is also a more abundant source of the flavonoids quercetin and kaempferol than berries such as cranberries and lingonberries.
Quinoa pasta can be prepared using a similar method as cooking wheat pasta, by bringing it to a boil with just a pinch of salt. In many cases the pasta is a blend of other gluten-free flours such as corn or rice. The pasta has a slightly nutty flavor but the texture is most reminiscent of traditional spaghetti.
Quinoa Pasta with Spinach and Tomatoes
8-ounce package organic quinoa spaghetti
2 tablespoons olive oil
2 10-12 ounce containers organic grape tomatoes or cherry tomatoes
3 garlic cloves, pressed
2 5-6-ounce packages organic baby spinach
6 tablespoons finely grated organic Parmesan cheese
3 teaspoons organic chopped fresh marjoram
1/4 teaspoon organic dried, crushed red pepper
Directions
Cook pasta in large pot of boiling salted water until just tender. Drain, reserving 1/2 cup pasta cooking liquid. Return cooked pasta to same pot.
Heat oil in a large skillet over medium-high heat. Saute tomatoes until beginning to soften and brown in spots, about 3 to 4 minutes. Add garlic and stir 30 seconds.
Add 1/4 cup reserved pasta cooking liquid to skillet and stir. Add tomato mixture with juices, spinach, 4 tablespoons cheese, 2 teaspoons marjoram, and crushed red pepper to pasta in pot; toss over low heat just until spinach begins to wilt.
Season to taste with salt and pepper. Transfer to large bowl; sprinkle with 2 tablespoons cheese and remaining 1 teaspoon marjoram.
-The Alternative Daily